Manfrotto Introduces Next Generation Carbon Fiber Tripods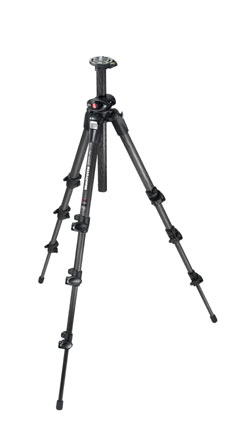 Manfrotto has announced a new line of carbon fiber tripods, dubbed "CX. " The new CX family is highlighted by redesigned locking levers, new leg angle selectors, and re engineered magnesium and aluminum castings. The new ergonomic locking levers are much easier for shooters to operate and thanks to their new design, become a seamless element of all CX tripods. Much like the aluminum 190XPROB, the new CX PRO models feature Manfrotto's innovative Q90° (Quick Center Column System). The Q90° system allows the center column to be rotated to a horizontal position with one simple motion, all without removing the head or disassembling the column itself, making switching between framing and positioning setups easier. Additionally, Manfrotto has redesigned the top plate on 190CXPRO4 and190CXPRO3 tripods. The magnesium top plate on the CX PRO series now incorporates a bubble to help aid in leveling the camera and tripod, and has also been refined for a more attractive look. The redesign of the plate also yields a significant reduction in weight.
In order to reach high-quality standards and high levels of performance, rigidity and lightness, the new Manfrotto CX tubes are made of 100 percent carbon fiber. When it comes to the use of composite materials-- especially carbon fiber -- in the manufacture of photographic supports, the end result can vary and ultimately depends on the production process and the ratio of carbon fiber material to epoxy present in the tubes. For its CX carbon fiber tripods, Manfrotto utilized nothing other than 100 percent carbon fiber and employed pultrusion, pull winding technology to manufacture the tubes. Pultrusion is a production process that allows for the manufacture of carbon fiber tubes that excel in both flexion resistance and torsion rigidity; features that matter most for camera support applications.
The 190CXPRO4 and 190CXPRO3 feature all carbon fiber tubes, including a tri-faceted center column, while the simpler CX3 version features carbon fiber tubes paired with an aluminum center column and aluminum top plate.
190CXPRO3
Street Price $300.00
Max Height Column Extended
Max Height Column Down
Min Height Low Position
Min Height Legs Closed
Weight
Max Load
57.5"/ 146 cm
48"/122 cm
3.15"/ 8 cm
22.8"/ 58 cm
2.84 lbs./ 1,29 kg
11 lbs./ 5 kg
190CXPRO4
Street Price $325.00

Max Height Column Extended
Max Height Column Down
Min Height Low Position
Min Height Legs Closed
Weight
Max Load
57.5"/ 146 cm
48"/122 cm
3.15"/ 8 cm
19.7"/ 50cm
2.95 lbs./ 1,34 kg
11 lbs./ 5 kg
190CX3
Street Price $250.00
Max Height Column Extended
Max Height Column Down
Min Height Low Position
Min Height Legs Closed
Weight
Max Load
57.5"/ 146 cm
46.9"/ 119 cm
2.36"/ 6cm
21.7"/ 55 cm
2.90 lbs./ 1,32 kg
11 lbs./ 5 kg
All CX tripods will be available March 2008

For additional information, please visit www.bogenimaging.us