Mac OS Meets Windows; Peaceful Coexistence Within Platforms Page 2
Two Heads Are Better Than One
Every photographer needs to print labels and making them on an inkjet printer isn't always the most cost- or time-effective way. I've been using the trouble-free DYMO LabelWriter Turbo to print labels, but sometimes I need to print smaller, stickier labels and don't want to give up the ability to print large mailing labels. Enter DYMO's (www.dymo.com) LabelWriter Duo that has two heads: one for the fast printing of die-cut paper mailing labels and the other for printing permanent and colorful plastic, nylon, and polyester labels in 1/4", 1/2", 3/8", 3/4", and 1" widths. It has all the features I loved in the Turbo, including Mac OS and Windows software that lets you maintain a mailing list of frequently printed addresses. LabelWriter Duo also prints from other programs through standard print drivers and includes Address Fixer, a utility that automatically checks any address in Word, Outlook, or the DYMO Label Software against the US Postal Service database, fixes errors, and adds the nine-digit ZIP+4 code. The ($200) LabelWriter Duo prints all standard DYMO labels, plus durable, colorful DYMO D1 tapes. If you print labels, you will love it.
DYMO LabelWriter Duo
Face On Body
FaceOnBody (www.faceonbody.com) is Windows-only software that lets you put any face on any body. The Image Library is a web browsing and download tool that lets you choose the funniest bodies and scenes to produce parody images. Tools include face re-sizing, rotation, and mirroring, allowing for perfect positioning. Paint tools allow you to touchup by painting more of the face or more of the scene. Background Painter allows painting from behind the heads in the original scene. The program's AutoFlesh technology automatically alters the colors, hues, shading, and brightness of the face you've chosen to match the picture as closely as possible. You can then manually adjust and fine-tune the settings to create a seamless FaceOnBody image. When your masterpiece is complete, you can save it to your hard drive or use the built-in Spreader to e-mail several friends simultaneously. FaceOnBody costs $24.95, but you can download a free trial version and give it a try.
Project Open Source, Part I
It's no secret that photographers like to tinker. My friend Mano Orel doesn't use any piece of photo equipment until it has been "manofied" for his use. This month I begin a project involving source imaging (see "Open-Source Software") and will build a computer from scratch and install the Linux operating system using only free digital imaging software. Step one is finding the right tools. My choice: the $49.99 36-Piece Professional Computer Tool Kit from Belkin (www.belkin.com). All the tools are demagnetized to protect your hard drive or magnetic media from damage. In addition to the screwdrivers, Allen wrenches, and tweezers you might expect, this kit includes important gear for working on computers, such as an Anti-Static Wrist Band, Integrated Circuit Extractor, and a Three-Pronged Parts Retriever.
ATX Computer Case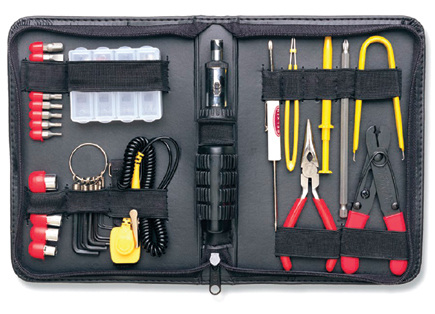 You can spend a lot of money on a computer case but I bought an ATX (www.formfactors.org) case for under $100. An ATX case is a middle-of-the-road case and I wanted a Plexiglas window so I can stick lights inside it. This has nothing to do with computing, but Project Open Source will have style. The case was purchased on eBay.com ($50) and has a 450w power supply, which should be enough for the modest amount of hardware I intend to install. I also wanted to protect the computer against power surges and added a Belkin 10-Outlet SurgeMaster Gold ($59.99) to my stack of parts. SurgeMaster Gold provides room for large, AC block-style plugs, without covering an unused outlet, and has lifetime unlimited connected equipment and data recovery warranties to ensure protection for your equipment and the information stored on it. Next month, it's time for a motherboard a.k.a. "mobo" and a CPU.
Belkin SurgeMaster Gold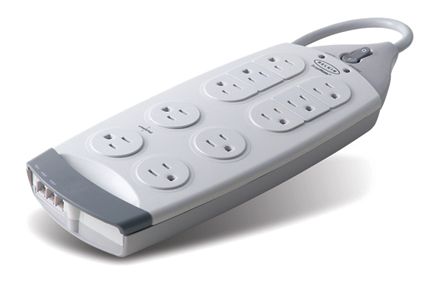 Open-Source Software
Open-source software is similar to "free" software but, according to some geekologists, is less rigid. Users of open source are generally able to view the source code, alter, and re-distribute the software. Typically, the producers of proprietary software have not made source code available. There is, however, less of an emphasis in the open-source movement on the right of information and source code to be free and, in some cases, companies develop proprietary products based on open source. Open-source licenses include the GNU General Public License (www.gnu.org). Other popular open-source software includes: Apache, PHP, Mozilla, and Linux.


LATEST VIDEO