The Luminous Portrait: Capture The Beauty Of Natural Light For Glowing, Flattering Photographs
Natural light is by far the favorite choice of most amateur, wedding, and portrait photographers, but many stick to conventional approaches, leaving the myriad, gorgeous possibilities of natural light unexplored. In this first book by an award-winning wedding, lifestyle, and portrait photographer, Elizabeth Messina shares her secrets on capturing flattering natural light in any setting. The book (The Luminous Portrait, Amphoto Books, ISBN: 978-0-8174-0012-5, $29.99) is beautifully illustrated with accompanying text that offers an insider's look into a wide range of subject matter and picture styles. This excerpt is part of an introduction to the many charms of working in natural light.—Editor
Why Natural Light Is Best
Over the years, I've been able to master the art of creating luminous portraits by merging the abundant natural light in our world with the light that exists within every human being. Keep in mind that whenever I talk about natural light I'm sharing a personal choice, discussing what works best for me. Ambient light has a softness and an ability to almost caress a subject and make anything and anyone more beautiful. When I'm taking photographs, I'm seeking out the natural beauty in everything around me: the light, the subject, a natural emotion. I always strive to capture something authentic, and to me natural light innately possesses that quality. It resonates with and envelopes its subjects, allowing their natural beauty to emerge, as opposed to bringing lights into a shooting situation to create the feel of what already may exist in an environment. When it comes to making beautiful images, I find it incredibly satisfying to use what is already there.
One suggestion for using natural light during a shoot that may sound very elementary is to make sure any bright light source (i.e., the sun) is behind or to the side of your subject. This way you won't have issues with your subject squinting or being unable to look at you. And more importantly, when you put the light behind (or to the side of) your subject and expose for the shadow (with her face in shadow, since the sun is behind her), you will get a luminous feel, with an overexposed background and an open, light aesthetic. It's a very flattering effect and allows you to use sunlight to create almost a halo around your subject. It is also important to make sure there is ambient light on your subject's face. You can do this whether you are near a window, in open shade, or sometimes by using a reflector.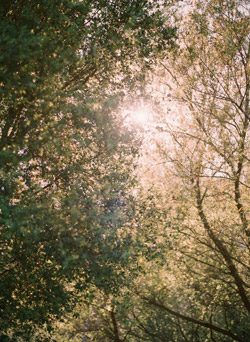 Natural light is especially flattering when you use a wide aperture to create a shallow depth of field. A low f-stop helps create a softer, more luminous image. If you set your camera to f/2 and you focus on someone's eye, for example, the rest of the image will soften up—the background, even other parts of the face. This shallow depth of field helps accentuate the impact of your image.
You can be a natural-light shooter under any circumstances, even the intense pressure of a magazine shoot. Most of my work, including the magazine covers I shoot, is done in natural light with film. On some jobs I use reflectors and/or scrims to balance out the light, especially if I'm trying to get the clean, clear look of a cover shot (as well as some of the more atmospheric images for which I've become known). For example, if I have a subject in front of me and the light is slightly behind her or to the side, I will have an assistant stand next to me with a white reflector to bounce that sunlight back toward the subject. It's much less intense than if she is facing the sun, so by bouncing it, you still get a little more light on the face but you won't have that extreme glare that you would have if the sunlight were directly in her face. It's a more gentle effect, and the bounced light still fills the skin tone with a little more light.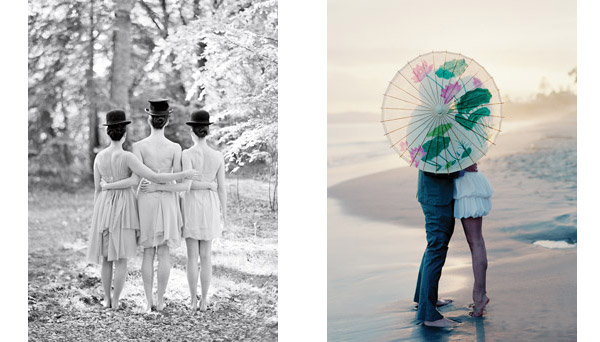 For groups and couples that I shoot outside, I love to use backlighting or open shade. I avoid dappled lighting, since that can be uneven and more challenging to work with. Flat, softer light is more flattering and ensures that everyone is lit more evenly. My aperture varies a little when I am photographing a group. This is basically the only situation in which I will stop down to f/5.6. I do this with a group of people to ensure that everyone will be in focus. Although I still expose for the shadows within the frame, setting my camera at f/5.6 gives me a more traditional portrait. The majority of my images, however, are created with my aperture at f/2. This setting gives me a very shallow depth of field, which is one important factor in why my images feel luminous and soft. The other critical factor is how I expose for light. It is this combination of f-stop and exposure that defines most of my work.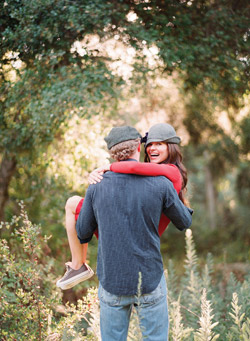 Author Bio
Elizabeth Messina is one of today's top wedding, lifestyle, and celebrity portrait photographers. She was named one of the top 10 wedding photographers of 2010 by Adorama, one of the top 10 wedding photographers of 2008 by Pop Photo and American PHOTO, and one of the 25 trendsetters of 2008 by Modern Bride. Her images have graced the covers of Us Weekly, Grace Ormonde Wedding Style, and Professional Photographer, and she has been featured in Rangefinder and Professional Photographer. Her blog, www.kissthegroom.com, was awarded Best Blog from TheWeddingChannel.com and Best Wedding Photography Blog by TheKnot.com. For more on Elizabeth Messina, please visit: www.elizabethmessina.com.
Where To Buy
The Luminous Portrait: Capture the Beauty of Natural Light for Glowing, Flattering Photographs by Elizabeth Messina with Jacqueline Tobin; Foreword by Ulrica Wihlborg.Amphoto Books, ISBN: 978-0-8174-0012-5, available online at www.amphotobooks.com and wherever photo books are sold.

LATEST VIDEO