Lowepro Pro Roller Lite AW Series
Lowepro has introduced its latest carrying solution for professionals who travel around the world with their camera and computer equipment. The Pro Roller Lite AW series is lean and light enough to carry onboard most airlines. Each bag weighs less than 10 lbs or 3.6 kg, without gear.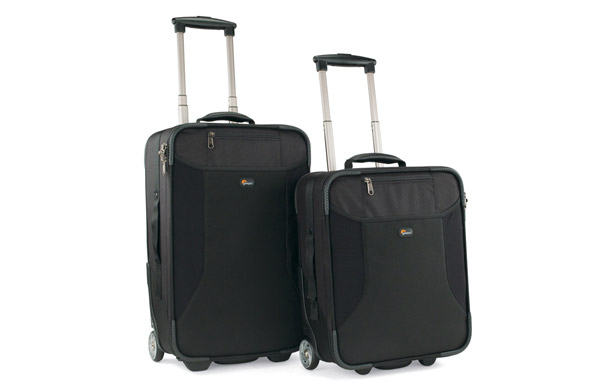 Each roller measures less than 45 inches (114.3 centimeters), the standard size restriction required by most domestic and international airline carriers. In spite of this lean profile, the main compartment is roomy, deep and specially constructed for pro-sized camera bodies, lenses and accessories. Padded and adjustable dividers make it easy to configure equipment in a variety of set-ups, depending on the scope of a shoot or assignment. A dedicated laptop compartment, padded and with a secure hook/loop closure, is conveniently located to the left of the main compartment.
Lowepro's innovative ProTech Trolley System is comprised of rails that angle out of the back of the roller via a smooth, telescoping handle. When not in use, the streamlined handle is covered by a magnetic flap for secure, yet easy access.
Complementing the easy operation of the ProTech Trolley System are Lowepro's premium wheels. Their engineered placement to the side of the roller help create a super-efficient stability as they move along city sidewalks or airport terminals. The wheels are replaceable with a simple Allen wrench (not included).
A patented, built-in All Weather AW Cover helps protect the roller and its contents from moisture and may be tucked into a convenient back pocket when not in use.
The Pro Roller Lite AW series also includes: an interior, zippered, see-through pocket for storing accessories or personal items; an exterior, zippered pocket for quick access to ID or travel documents; a deep front pocket with a padded center panel that offers roomy storage for folders or papers, and serves as a temporary holding place for a laptop; locking zippers (lock not included); padded grab handle and webbing side handles for extra carrying options; and durable, water-resistant materials that provide protection from abrasion and moisture.
The series is available in two sizes in black: Pro Roller Lite 250 AW and Pro Roller Lite 150 AW. For more information on this series and other products, please contact Lowepro or visit www.lowepro.com.

LATEST VIDEO

SPONSORED VIDEO