Locations; The Many Faces Of Berlin; History + Architecture = Great Photo Ops Page 2
Houses Of Worship And Museums
Berlin has some beautiful churches and synagogues located in the Mitte and surrounding districts, although many, if not most, of these structures have undergone restoration following WWII. Still, that doesn't make them any less visually appealing. Both the Berliner Dom (cathedral) and the Neue (New) Synagogue will easily grab your attention, respectively dating back to the turn of the last century and mid-19th century. The cathedral resides along the Spree (a river which joins the Havel in Spandau and originates in the Czech Republic). The synagogue is viewable a short distance away, along the river from the rear of the cathedral. Be sure to check out the park that fronts the Dom and the nearby museums, notably the Altes (Old) Museum, where you might catch some folk taking dancing lessons on the portico.

Some houses of worship, such as the Neue Synagogue and Deutscher Dom (at the Gendarmenmarkt) have been converted to postwar museums, whereas others, the Berliner Dom among them, retain their true function. Admission fees range from free to a few euros. Visitors have to undergo a security check prior to entering the Neue Synagogue, but not the cathedrals.
And Now Something New
The largely glass, ultra-modern Deutsches Historisches (German Historical) Museum, with its sweeping lines and curves, stands in sharp contrast to the buildings we've just visited. I came upon this structure quite by accident on one of my self-made walking tours.

Wherever I went in East Berlin, I used the huge TV tower as my beacon. I found myself photographing this soaring landmark from every angle—it's hard to miss, day or night. (A shorter TV tower stands in the Western sector.)
Zitadelle Spandau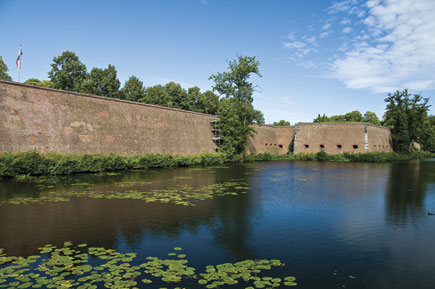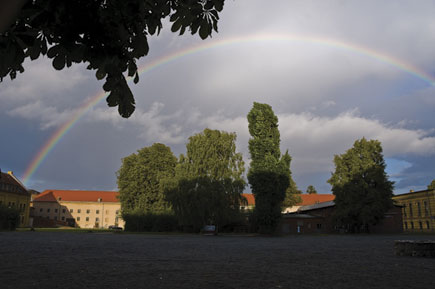 I first photographed Zitadelle Spandau (Spandau Citadel) from the outside, on the path leading to the fortress, and then, within its walls, was fortunate to capture a rainbow beneath a light rain. As you walk around, you'll come upon sculptures in various states of disrepair (behind a mesh wire fence) and other buildings, such as a museum with historic artifacts.
Only The First Chapter
I made the trip in early autumn without a tripod, although I might rethink that strategy next time. Instead I relied on a steady grip, my Nikon 18-200mm VR lens for most night shooting, and sometimes relatively high ISO levels to see me through. I also brought along a Tokina fisheye zoom. Some of the most dramatic moments came at dusk, when I used a Nikon SB-900 to fill in a fountain, against the available light exposure of a huge structure behind. On the other hand, I didn't let nightfall stop me from taking equally meaningful shots.

In all, I made over 1400 exposures. And yet I don't feel that's enough. I guess I'll have to go back, this time perhaps spending more time in the Western sector of Berlin. You might say this is the first chapter in a potentially growing volume of images, where I'll continue to explore the various facets of this colorful yet mysterious European city.

LATEST VIDEO

SPONSORED VIDEO
Testing Tamron's SP 150-60mm G2 lens while capturing birds and alligators in Apalachicola, Florida.