Live From San Fracisco, It Is Seybold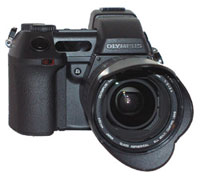 Olympus' black, aluminum-bodied E-10 is a 4 megapixel professional camera that captures images at a resolution of 2240x1680. The built-in 4x zoom lens has a 35mm focal length equivalent to 35-140mm with maximum apertures of f/2.0-2.4.
Seybold San Francisco 2000 provides the graphics community, including designers, photographers, and artists, with a place to meet and share information about new technologies. At this year's show, the focus was increasingly on the Internet and how it has transformed publishing, especially the need for content providers to master the disciplines involved in creating, displaying, as well as protecting their work. A sign of the times was the E-Books Showcase and Special Interest Day that kicked off the show. While there were some products displayed at the trade show that photographers might not care about, there were many that digital imagers will find interesting. So, join me and my sore feet as we stroll through the aisles at Seybold's trade show.
Digital Cameras. The new Leaf Cantare XY digital camera back, distributed in this country by Sinar Bron Imaging, combines single and multi-shot capability in a single digital camera back. The back shifts the CCD imager by one pixel (that's 12 microns), while the Cantare XY makes multiple exposures through pixel-sized filters to produce complete color information for each color channel. The 2048x3072 chip has an active cooling system that reduces noise and enables the CCD to capture subtle tones, such as dark shadows. Leaf used the 16 bit per color High Dynamic Range (HDR) file format to capture more color information than is possible with some other formats, and images are stored as digital transparencies without data loss. The Cantare XY back is compatible with cameras from Fuji, Hasselblad, Mamiya, and Sinar. Information can be found on Sinar Bron's web site at: www.sinarbron.com.
Nikon's new CoolPix 880 is a compact digicam that weighs less than 10 oz but delivers 3.34 megapixel image resolution.
Last year, I participated in a meeting along with several other journalists and a major digital imaging manufacturer to review new and proposed products. At one point, one of the company's major domos asked me, "Would you like to see a phone in a camera?" I joined everyone else in a round of laughter while we scoffed at the idea. Now I'm not so sure. At Seybold, FlashPoint showed Post, an application that runs on its Digita operating system for digital cameras. Digita, like any good OS, supports lots of cool applications and Post lets you e-mail messages with digital images attached without using a computer. You start by connecting the digicam, such as the Kodak DC290, to a cellular phone. Then, using Post, which is loaded into the camera through the CompactFlash card, and by walking through menus on the camera's LCD, much as you would on a computer, you can capture images and send them on their way via the web. A full-sized file takes about 10 minutes to upload, but a small-sized JPEG at web-like resolution takes only a minute. You can even add an audio caption (up to 90 sec) as a WAV file with the camera's built-in microphone. For more information, visit: www.flashpoint.com.
Kodak's new DC3800 digital camera has a 2.3 megapixel sensor and will capture pictures for quality output up to 8x10". It has a suggested price of $499.
Fuji's new FinePix 4900 Zoom digital camera is aimed at the prosumer. With its Luke Skywalker styling, the digicam has a 6x Super EBC Fujinon aspherical f/2.8 zoom lens with a 35mm equivalent focal length of 35-210mm. The camera's 2.4 million pixel sensor uses Fuji's Super CCD technology to capture images at 2400x1800 resolution, while providing ISO sensitivities of 125, 200, 400, and 800. The FinePix 4900 records JPEG images at three compression levels (fine, normal, basic) and TIFF images in two modes, including RGB and YC (Luminance and Chroma, sometimes called YCC). Depending on the compression selected, you can record 8, 18, or 45 images on the bundled 16MB SmartMedia card. Images may be viewed on the LCD viewfinder or 2" LCD playback monitor. The camera uses a lithium ion battery that's charged inside the camera. Street price for the FinePix 4900 Zoom is under $1000. More information can be found on the company's web site at: www.fujifilm.com.
Jobo was showing an entire family of digital camera backs at their booth. Their proFile 4000 is a single or multi-shot four million pixel back, while the proFile 6000s is a single shot six million pixel model. Their top of the line is the single or multi-shot proFile 6000, which has six million pixel image capture. Both the 4000 and 6000s models can be upgraded to 6000 specifications. Prices for the three backs range from $19,995 to $27,990. Jobo also has two 4x5 scanning camera backs: The proScan 10500 captures 394MB 24-bit RGB files at a resolution of 10,500x13,100 and costs $24,990. The proScan 8000 generates 8000x10,500 resolution images which produce 240MB 24-bit RGB files. More information can be found at: www.jobo-usa.com.
MegaVision introduced the S3 Pro, a new single shot digital camera back based on the Phillips 3072x 2048 pixel CCD. It features a three position ISO switch giving a choice of 100, 200, or 400. The chip's low-light sensitivity makes it well suited for wedding and environmental portrait photographers. The back costs $24,900 and is bundled with MegaVision's PhotoShoot QM 3.5 image capture and processing software. The S3 Pro fits a wide range of medium format cameras including Bronica, Contax 645, Fuji, Hasselblad, Horseman DigiWide, and Mamiya. For specific camera compatibilities, visit their web site at: www.mega-vision.com.
The eyes have it. At Seybold Adobe launched Photoshop 6, a major upgrade to its professional image manipulation program which has many web-oriented features, but recognizes that photographers use it to print their images on the desktop, too.
Nikon introduced several new products at Seybold, including a new digital camera--the CoolPix 880--as well as showing the N65 35mm autofocus camera and a variety of new lenses. (Details appeared in Bob Shell's "Sneak Preview" article in our October issue.) The CoolPix 880 is a compact digicam that weighs less than 10 oz, but delivers 3.34 megapixel image resolution. This black-finished camera has a zoom lens with the 35mm equivalent of 38-95mm and, when used with an optional step-down ring, is compatible with Nikon's series of auxiliary lenses. The CoolPix 880 has 11 different programmed modes, including fireworks, beach/snow, party, sunset, close-up, backlight. The camera can also capture up to a 40 sec long QuickTime video clip. The pocketable 880 is bundled with an 8MB Lexar CompactFlash card and has USB connectivity for Mac OS and Windows computers. The camera has a suggested price of $799.95. For more information, visit: www.nikonusa.com.
Olympus introduced two new digital SLRs and a cool new printer at Seybold. The black, aluminum-bodied E-10 is a 4 megapixel professional camera that captures images at a resolution of 2240x1680. The built-in 4x zoom lens has a 35mm focal length equivalent to 35-140mm with maximum apertures of f/2.0-2.4, but more important has been specifically designed for a digital camera. The E-10's hot shoe accepts Olympus' F40 digital camera flash as well as having a standard PC connection for studio-type flash units. There's a built-in, pop-up flash as well. The preproduction model I held in my hands felt just like a "real" camera with real controls for focus and zoom, and the camera has Olympus' IR-active focus for initial focus and TTL passive focus for fine, accurate focus. The dual-format camera stores images on Compact-Flash or SmartMedia. The optional grip provides a vertical shutter release as well as extra capacity for multiple Lithium Polymer (LiPO) batteries. Olympus expects the E-10 to have a street price of $1999.
Agfa's new Arcus 1200 color scanner features 36-bit color depth and 1200x2400dpi resolution and the 3.2 dynamic range provides and includes two multi-format transparency holders.
Olympus also showed the ES-100 RS (Rapid Shot) camera that's been designed specifically for photographing action. Not only does it capture images at up to 15 frames per sec, but its pre-capture mode starts making (and remaking) images when you start partially depressing the shutter release, so you never miss that decisive moment. Image resolution is 1368x1024 and the built-in zoom lens has a 35mm equivalent focal length of 35-380mm with maximum apertures of f/2.8-3.5. Other professional features include auto-bracketing and an electronic viewfinder that provides true WYSIWYG previews. Like the E-10, the E-100 RS has a dual memory card slot design and accepts Compact-Flash and SmartMedia cards. Price will be $1499.
It's not a camera, but Olympus showed me its Camedia P-200 battery-powered portable printer that easily fits inside a Domke F-1 camera bag. The Camedia P-200 uses four-color dye sublimation technology and outputs 3x4" prints at full-size or with 2, 4, 9, or 16 images per print. You can also make your own index prints with up to 40 images on a single sheet of paper. The image quality of the samples was impressive. All you have to do is insert a CompactFlash or SmartMedia card, select the image number from a small LCD screen, and press the print button. You can even sharpen, crop, or add the time and date to the prints. Paper and ribbon are supplied in 25-sheet packages with a price tag of $24.95. The printer itself costs $599. For more information, call (800) 622-6372 or visit www.olympus.com/digital.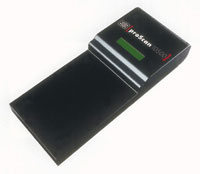 Jobo's proScan 10500 digital scanning back can capture 394MB 24-bit RGB files at a resolution of 10,500x13,100 and costs $24,990.
You Push The Button, They Do The Rest. At Seybold, Eastman Kodak unveiled a system of new digital imaging products. To capture pictures, they announced two new digital cameras: The DC3800 digicam has a 2.3 megapixel sensor and captures images suitable for output up to 8x10". It has a suggested price of $499. Joining it, is the EZ200 digital camera which lets pixographers take and share digital still images as well as capture short video clips. It doubles as a PC video camera for videoconferencing and has a list price of $149. Kodak, who makes high-end film scanners used in newspaper photo departments, introduced a new film scanner at the show. Priced at $1299, the RFS 3600 is a 35mm 36-bit film scanner that has an optical resolution of 3600dpi and a dynamic range of 3.6. It has batch scanning capability and can scan up to 36 frames in a row without requiring an extra film holder. At 3600dpi, it delivers a 48MB file in 1 min and 53 sec.
Once a photograph is captured, Kodak's Pictures Now software, that's bundled with the Kodak USB Picture Card Reader, makes it faster and easier to manipulate and share digital pictures. To simplify printing, Kodak's One-Touch Printing system automatically configures a printer to Kodak specifications for media type and color management. Users need only select the Kodak paper type and printer model and click the print button to get the best possible images. The software is bundled with the Premium Picture Kit for Borderless Inkjet Print Products and Picture CD software.
With its "Star Wars" styling, Fuji's new FinePix 4900 Zoom digital camera has a 6x Super EBC Fujinon aspherical f/2.8 zoom lens with a 35mm equivalent focal length range of 35-210mm.
To print a picture, the new Personal Picture Maker 200 from Lexmark, which doesn't require a computer to print your images, has a full-color screen that previews images before printing. Joining it are the Personal Picture Maker 120, a faster and affordable addition to Kodak's photo printer line-up, along with three new ink cartridges specifically designed for use by the Personal Picture Makers. The Personal Picture Maker 200 has a suggested retail price of $299, while the 120 model is $179.
The new Smart Picture Frame lets people display digital images in an electronic frame, one picture at a time or in a rotating display of up to 36 photographs. With the Smart Picture Frame's built-in modem, users can send and receive pictures to other Smart Picture Frame owners and view information, such as news, weather, traffic, sports, and entertainment through the Storybox Network. The Smart Picture Frame costs $349, and includes a six-month subscription to Storybox Network. For more information, visit www.kodak.com.
Microtek's new ArtixScan 2500 dual lens/dual platen flat-bed scanner lets photographers digitize for both film and prints.
Flat-Bed Scanners. Agfa introduced the Arcus 1200 color scanner which features 36-bit color depth and 1200x2400dpi resolution with a 3.2 dynamic range providing the quality needed for professional applications. The scanner includes two multi-format transparency holders and has a maximum scanning area of 8.5x11.7" (reflective) and 8x10" (transparency). The Arcus 1200 uses Agfa's Multiplate system allowing users to replace the glass scanning plate with a glass-free film holder for transparency scanning. The holders accommodate 35mm negative strips, mounted 35mm slides, as well as 6x6, 5x7, and 4x5" transparencies. The scanner is bundled with Agfa's FotoLook 3.5 software, ColorTune color management system, and Corel PhotoPaint. A SCSI II interface allows the scanner to connect to Mac OS and Windows computers. The Arcus 1200 has a suggested price of $799.
Agfa also introduced two other flat-bed scanners at Seybold: the DuoScan HiD and DuoScan T2500. Both have a SCSI II interface making them compatible with Mac OS and Windows computers. The HiD has an optical resolution of 1000x2000dpi, 42-bit color depth, a dynamic range of 3.7, and uses TwinPlate technology to digitize reflective or film images in separate scanning beds. It has a suggested price of $2895. The DuoScan T2500 is a TwinPlate scanner that has the ability to scan up to 8x14 reflective images. The 36-bit flat-bed scanner has an optical resolution of 2500x2500 with a dynamic range between 3.4 and 3.5. The DuoScan T2500 has a suggested price of $4495. For more information, visit: www.agfaphoto.com.
Kodak has released its first, affordable professional film scanner that has impressive technical specifications and a price tag of $1299.
Fuji showed their new F2750 professional desktop flat-bed scanner which can digitize photographs up to 11x17" and allows up to 100 35mm slides to be scanned at one time. Featuring a twin-lens design, the scanner has optical resolutions of 762 and 2743dpi and is FireWire and SCSI II compatible. Fuji's XY Technology lets the F2750 locate an image anywhere on the scanner bed and moves the scan head directly underneath it to ensure scans from anywhere on the platen at up to 2500 percent magnification. The scanner incorporates SOON (Scan Once Output Many) features to allow repurposing of a single scan for multiple applications. The F2750 has a suggested price of $9995. Fuji's new FineScan F5000 desktop scanner has identical features but can handle negatives and transparencies up to 18.5x13.8" in size. The F5000 uses a four lens design with optical resolutions of 762, 1666, 2743, and 5000dpi. The scanner is equipped with Fuji's Colourkit software to provide color control and editing in CMYK, RGB, and others. The F5000 has a suggested retail price of $19,995. More information can be found at: www.fujifilm.com.
Microtek Lab announced their new ArtixScan 6000XY color flat-bed scanner which has an optical resolution of 6000dpi with a 42-bit color depth. The XY mechanism allows scanning from 35mm slides up to A3 (11x19") sizes. The scanner is bundled with templates for standard film sizes and can be customized for unusual sizes. Microtek's new ArtixScan 400t is a professional film scanner that captures images at a 4000x4000 optical resolution and with a 3.4 dynamic range. Priced at $1795, it's bundled with a standard six frame filmstrip holder, unmounted slide holder, and four frame mounted slide holder. It can scan an image in less than one minute at maximum optical resolution. The bundled software contains more than 25MB of ICC profiles to link monitors, printers, third-party color output systems, and other peripherals.
The Olympus ES-100 RS (Rapid Shot) is designed specifically for photographing action.
Microtek also introduced the new ArtixScan 2500 dual lens/dual platen scanner for film and prints. The scanner's 36-bit color depth and 3.4 dynamic range combine the ability to scan film using five different sized templates, as well as an 8x10 holder for scanning larger or odd-sized pieces of film. The 2500dpi resolution allows 35mm slides to be enlarged larger than A3 format. Microtek's ScanWizard Pro software features color reproduction tools for on-screen proofing as well as color correction. The ArtixScan 2500 costs $4495. Microtek also showed their new ArtixScan 1000 flat-bed which features 42-bit color depth and an optical resolution of 2000x1000 and a 3.9 dynamic range. The ArtixScan 1000 also uses Microtek's dual platen design allowing users to switch between print and transparency scanning and has a removable lid for digitizing three-dimensional objects. Price of the scanner is $1999.99.
UMAX Technologies announced their AstraNET e5420 Internet scanner that combines 1200x2400 resolution with push-button scanning of images directly to the Internet. UMAX packages the scanner with free Internet access service through NetZero, along with a free one-year ImageOL.com membership featuring an online photo album, 50MB of web storage, and a personal web page. The AstraNET e5470 is a companion model that includes a built-in transparency cover enabling users to scan slides and negatives up to 4x5". On both models, four push buttons provide scan, copy, custom, and power saving function with a single touch. With a touch of a button, the scanners allow users to scan directly to a disc drive for storage, to a printer for making copies, to e-mail, or to a web-based personal photo album. The AstraNET e5420 automatically crops and rotates images and sets color, gray scale, or black and white automatically to provide optimal scans. Both models are single-pass, flat-bed, color CCD scanners featuring a 14-bit analog-to-digital output converter, and an enhanced MTF (Modulation Trans-fer Function). They scan images at 1200x2400dpi with 42-bit internal color and UMAX Magic-Match color matching. Both AstraNET e5420 and e5470 feature hot-pluggable connectivity through USB (Universal Serial Bus) ports and are designed for plug-and-play on Windows 98 (or later) systems. The suggested retail prices are $149 for the AstraNET e5420 and $199 for the AstraNET e5470. An optional UTC-5400 transparency cover will be available for the AstraNET e5420. For further information, visit: www.umax.com.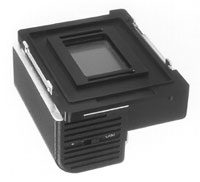 MegaVision introduced the S3 Pro, a new single shot digital camera back based on the Phillips 3072x2048 pixel CCD which features a three position ISO switch giving users a choice of 100, 200, or 400.
Photoshop 6 Is Here. Adobe Systems announced Photoshop 6.0, a major upgrade to its professional image-editing program. This update of Photoshop represents the first major upgrade to the program's interface since the program was introduced over 10 years ago, yet existing users will find everything where it should be plus some functions that have been there for a while, but have been tucked out of the way.
Photoshop 6.0 contains dozens of new features such as integrated vector graphics capabilities, improved web workflow, along with Image-Ready 3.0. It also has the best text handling capabilities to date. The combination of vector drawing tools and a Styles function allows for quick creation web graphics.
Tighter integration between Photoshop 6.0 and ImageReady 3.0 helps speed repurposing of images for the web. When exporting files for web use, weighted optimization lets you use gray scale channels to smoothly vary compression settings across an entire image. The vector drawing functionality lets you add vector clipping paths to each layer in a photo composition, allowing you to combine resolution-independent text and graphics with soft-edged photos. You can format and output these images as Adobe Portable Document Format (PDF) files or print directly to PostScript output devices while maintaining text as crisp, vector type. Photoshop 6.0's new content layers, layer styles, warping controls, and intuitive new context-sensitive tool options bar make it easier to use than previous versions. The estimated street price is $609. Registered users can upgrade for $199. For information on all of Photoshop 6.0's new features, visit: www.adobe.com/products/photo shop.
Graphics/Photography Software. Alien Skin Software whose creative employees would always win the "most colorful" coiffures award at a trade show (if one were presented) announced that their Eye Candy 4000 package of Photoshop compatible plug-in filters package will be released at the end of 2000. A free version is available as a public beta (which may or may not still be available, by the time you read this) at: www.alienskin.com The new and improved filters that are included in the beta and are expected in the final version of the program are: Chrome, Cutout, Fur, Glass, HSB Noise, Jiggle, Marble, Shadowlab, Smoke, Squint, Star, Weave, and my personal favorite Water Drops. The plug-ins feature unlimited Undo capability, and seamless tiling for texture effects. Eye Candy 4000 supports RGB, CMYK, and other image modes.
Andromeda Software introduced its oddly-named but practical LensDoc Photoshop compatible plug-in that solves many shutterbugs' optical problems. Remember that building you photographed with a wide angle lens and a low angle that looks like it's falling over? Well, LensDoc can straighten out those lines so it looks like you originally made the image with an (expensive) Perspective Correction lens or view camera. How about that collection of bargain lenses you bought at the last photo swap meet? LensDoc will also fix barrel and pincushion distortions using a two-level interface that novices and experts can use. The plug-in lets you use "generic" lens corrections or you can create your own lens correction curves for all those so-called bargain lenses. For more information, visit: www.andromeda.com.
Corel introduced CorelDRAW 10, the latest version of its graphics editing suite that offers vector animation, page layout, web publishing, bitmap image editing, and web animation in one box. Photographers will be most interested in PhotoPaint, which is typically also sold separately. The new version has a bunch of image-enhancing filters to improve the quality of scanned images and special effects filters that can dramatically alter your digital photographs' appearance. Photo-Paint 10 has a customizable interface and text tools have been enhanced and new ones added to make text creation and control easier. The Corel Web Optimizer makes it easier to convert your photographs into GIF, JPEG, and PNG files for use on the Internet. More details can be found at: www.corel.com.
Utilities And Other Useful Software. Out here in the real world, it seems that whatever graphics file format you're working in, your client/friend/fill in another name will be using a different kind of computer, operating system, or file format. Mediafour's MacDrive 2000 lets users of Microsoft's Windows 2000 open and save files on Macintosh software directly from within whatever software program they may be using. There's no interface to learn, it just reads the disks, including Iomega Zip and Jaz, Orb, as well as all forms of magneto-optical, optical, and CD-ROM discs. This also includes multi-session Macintosh CD-Rs and dual format (Mac OS/Windows) discs. You can tell when you've inserted a Mac OS formatted disk/disc because MacDrive 2000 adds a red apple to their icon. You can also format Macintosh disks, as well as use MacBinary and BinHex files and extract resources from within Windows. This practical utility lets you automatically see the correct icons and file extensions for files on Macintosh media. For more information, visit: www.mediafour.com.
DataViz, a long-time developer of file compatibility products, launched upgrades to its cross-platform products, including Conversions Plus 6.0 for Windows, and MacLink Plus Deluxe 12.0 for the Mac OS. Included in these upgrades are new translators for AppleWorks 6.0 and WordPerfect 9. In addition, MacLinkPlus now supports Apple's QuickTime, giving users the ability to view or print a wide variety of image graphics files. AppleScript is also supported in Version 12.0, giving Mac OS users the ability to automate the conversion of their files. More information can be found at: www.dataviz.com.
Manufacturers/Distributors
Adobe Systems Inc.
345 Park Ave.
San Jose, CA 95110
(408) 536-6000
fax: (408) 537-4031
www.adobe.com

Agfa Corporation
100 Challenger Rd.
Ridgefield Park, NJ 07660
(201) 440-2500
fax: (201) 440-6703
www.agfaphoto.com

Alien Skin Software
1111 Haynes St., Ste. 113
Raleigh, NC 27604
(919) 832-4124
fax: (919) 832-4065
www.alienskin.com

Andromeda Software
699 Hampshire Rd.,
Ste. 109
Thousand Oaks, CA 91361
(805) 379-4109
fax: (805) 379-5253
www.andromeda.com

DataViz, Inc.
55 Corporate Dr.
Trumbull, CT 06611
(203) 268-0030
fax: (203) 268-4345
www.dataviz.com

Eastman Kodak Company
343 State St.
Rochester, NY 14650
(716) 724-4000
www.kodak.com

FlashPoint Technologies, Inc.
152 N Third St., Ste. 400
San Jose, CA 95112
(408) 795-4900
fax: (408) 795-5050
www.flashpoint.com

Lexmark International, Inc.
740 West New Circle Rd.
Lexington, KY 40550
www.lexmark.com

Mediafour Corporation
1854 Fuller Rd., Ste. 1
West Des Moines, IA 50265
(515) 225-7409
fax: (515) 225-6370
www.mediafour.com

MegaVision
5765 Thornwood Dr.
Goleta, CA 93117
(805) 964-1400
fax: (805) 683-6690
www.mega-vision.com

Microtek Lab, Inc.
3715 Doolittle Dr.
Redondo Beach, CA 90278
(310) 297-5000
fax: (310) 297-5050
www.microtek.com

Nikon Inc.
1300 Walt Whitman Rd.
Melville, NY 11747
(516) 547-4200
fax: (516) 547-8518
www.nikonusa.com

Olympus America Inc.
Two Corporate Center Dr.
Melville, NY 11747
(800) 347-4027
fax: (516) 844-5262
www.olympus.com

Sinar Bron Imaging
17 Progress St.
Edison, NJ 08820
(800) 456-0203
fax: (908) 754-5807
www.sinarbron.com

FEATURED VIDEO