LIVE From PMA - Day 2
Paper Anyone?
There are a large number of new papers and inks being shown at PMA this year, with better archival properties and new surfaces - both traditional RC type papers and fine art textures. Oriental, long known for their papers in the traditional film market was showing a new line of inkjet papers, the Graphica Fiber Base Glossy, ideal for those looking for traditional silver halide print quality, Graphica RC Professional in gloss and luster finishes, Graphica Designer Art Canvas, which can either be stretched like traditional canvas or mounted and matted like traditional papers. The papers are available in cut sheet sizes for desktop printers and roll sizes up to 42 inches.
MediaStreet was showing their new black only ink set and papers. Currently for the Epson R series printers, MediaStreet has expanded beyond their Niagra continuous ink system into what looks to be a very strong entry for dedicated black and white ink jet printing. Their profiles have several tone curves that mimic traditional alternative processing. The Niagara system now supports the Epson 4000, R300 and R800 printers as well as the Canon i9900 printers.
Arches, who makes the popular Infinity fine art papers was showing a new line of papers from Canson. Surfaces include Torchon, Canvas, Mi-Teintes, and Watercolor for the fine art photographer, and both PhotoGloss and PhotoSatin for a more traditional look. The Canson line will be available in cut sheet and rolls up to 50" width.
Hahnemuehle introduced a new series of fine art papers - the White Etching 100% Rag in both 350 and 500 gsm as well as a new Photo Rag Bright White 308 gsm paper.
Good news for many though is that Ilford has announced that black and white film, paper, and chemicals will continue to be available, good news for the many fans of Ilford film products.
Ferrania has a new line of archival paper out that offers excellent fade protection. Compatible with dye and pigment printers, the paper is available in gloss and satin finishes.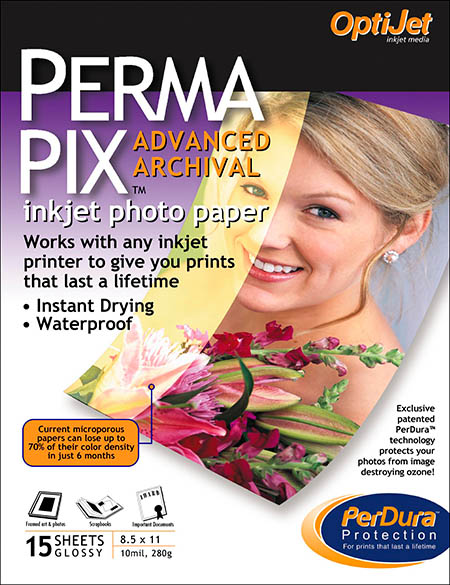 Kodak has finally made their Professional line of inkjet papers available in 10", 16", and 24" x 100' roll sizes. These papers have the look and feel of traditional Kodak gloss (F surface) and luster (E surface) paper with the familiar Kodak logo on the back.
Lighting
It's surprising how much is changing in the mature lighting market. New cold continuous lighting systems and updated strobes are all being shown here.

Westcott is showing their new continuous light Spiderlite, available in 500 or 1000 watt sizes. The SpiderLites are available in both tungsten and daylight balanced units, and the number of bulbs used can be selected from the back for variable lighting.




Bogen had their new Elinchrom 400 BX compact flashes on display. Available in kits with 2 heads, silver and translucent umbrellas and a carrying case, the 400 BX outputs up to 400 watt seconds and has a range of 5 stops. Elinchrom also showed updated Ranger RX battery packs that have shed much of the bulk associated with power packs. It's nice to see portable power in a smaller, lighter package!




Patterson announced their new Interfit Stellar line with units ranging from 300 to 1000 watt seconds, adjustable in 1/10 stop increments. reduction mode. These were just announced yesterday and won't be on the shelf until this summer but they look very promising. Another new item from Patterson is the Easy-Grip folding reflector. 36"x24" and in 3 different combinations, the built in handle makes holding these in position much easier.




Their new digital line of strobes includes a red-eye reduction feature that is unique in studio strobes.




The Camera Bright, a tripod mounted mini LED light looks like the perfect solution for those times you need a modeling light, or just some extra light for auto focus. The lights can be stacked for more output and are available in daylight and warm balance.


An interesting 617 back for view cameras was on display from KT Camera that lets you turn your 4x5 view camera into a 6x17 panoramic. The unit, including ground glass viewing screen replaces the sheet holder.


It seems like everyone is selling some type of compact digicam. They range from the gimmicky tiny model with low resolution and internal only storage to very full featured cameras that are amazingly compact. An example of this is the Casio EX-P505, a 5 MP camera with 5x optical zoom, a 2" rotating LCD and an innovative Best Shot mode that includes help text and a very cool print feature for movie mode that prints not only the frame you've selected, but thumbnails of the 4 frames before and after. A "Short Movie" can be created with a single shutter press that captures up to eight seconds of video - great for analyzing your golf stroke or other motion.


Casio had their new EX-Z750 EXILIM out with a 7.2MP sensor and 3x optical zoom packed into a pocket size. The large (2.5") LCD display looked great and it was nice to see that Casio retains an optical viewfinder as well. The camera has full manual mode in addition to aperture and shutter priorities, and features a live histogram display. One feature that I liked was the live update for white balance. Any changes made are shown on the LCD to give you a better idea of what the final image will look like with those settings.


SanDisk previewed their new Ultra II Memory Stick Pro Duo card with capacities up to 2 GB and a lifetime warranty. The company has a memory card for every conceivable format including the latest TransFlash format for cell phones, about the size of a pinky fingernail. The new SD card with built in USB connection will be out in May in 512 MB and 1 GB sizes. These slick little cards don't need a reader. Just fold it in half to expose the USB connector and plug it into any USB port.
SanDisk has opened a new fab in partnership with Toshiba to increase production and lower costs.
Tomorrow, look for more camera, printer, and software news. Until then, I'm going to bed!

LATEST VIDEO