LIVE From PMA 2005 - Day 1
Welcome to Shutterbug's live show coverage from PMA 2005. The Photo Marketing Association's annual show is considered to be the photographic industry's most important annual event and is being held in Orlando FL from Feb 20-23 this year.
Every day throughout the show I'll be providing updates of major announcements and new products that will most likely be on your list of future purchases. While digital is the dominant theme at PMA this year, there is plenty out there for the film shooter to get excited about.
The trend in digital this year seems to be Bigger, Faster, and Smaller. Sounds like a contradiction, but many cameras have bigger LCD displays, longer zoom ranges, and faster startup times all packaged into smaller bodies. And, prices continue to fall with a number of very capable 7 MP digicams available under $500. Ready to dig in and see what will be showing up in your stores this year?
FujiFilm
Film users will have mixed emotions about FujiFilm's (www.fujifilm.com) announcement that Velvia 50 is being discontinued and replaced with the new Velvia 100 Professional. FujiFilm claims the new Velvia 100 has an improved grain structure and better color stability than the 50 speed film it replaces. Portrait and wedding photographers will find the new Fujicolr Pro films on the shelf soon as well. The new 160 is available in S and C variations, with S being more suited to skin tones and the C films having higher contrast and saturation for the landscape photographer. FujiFilm claims the new 160S and 160C have been optimized for scanning and printing.

The current NPH 400 and NPZ 800 films will be renamed Pro 400H and Pro 800Z to fit into the new naming line.


On the digital front, Fuji has several new FinePix cameras out. I was particularly impressed with the FinePix F10, a 6.3 MP point and shoot with fast startup and low shutter lag. FujiFilm also claims better battery life than earlier cameras. For those of you that want a true pocket size camera, the FinePix Z1 should be high on your list. With a large 2.5" LCD and a 3x optical zoom, the 5.1 MP Z1 is smaller than a deck of cards but offers excellent performance - even producing useable photos at ISO 800.

Canon
Canon is looking to shake up the market yet again with the new Digital Rebel XT.


Boosting the resolution to 8 MP, the XT can blast out 14 JPEGs or 5 RAW files at 3 frames per second - about 3 times the number of images the original Digital Rebel can handle. The new Rebel has inherited some of the features found in its big brother, the 20D, including a black and white mode, white balance bracketing, E-TTL II flash support and the latest generation DIGIC II processor. Startup time is 10x faster than the original Rebel and battery life is about 35% better as well. The new Digital Rebel XT has the same price ($899 body, $999 with EF-S 18-55mm zoom) as the original Rebel which will continue to be available for $100 less.

The new EF-S 60mm Macro 2.8 USM is just for users of the Digital Rebels and 20D and will run about $450, along with the LC-5 wireless remote for those times you want the camera closer to the subject than yourself.

I was able to take a look at the new Powershot SD500 and SD400 Digital ELPH point and shoots. The SD500 (about $500) is a 7.1 MP 3x zoom (37-111mm equivalent) that has a new curved shape that fits the hand beautifully.

Nikon
Nikon's announcements were pure digital this year. At the high end, the new D2Hs looks to be an incremental improvement over the existing D2H model. The resolution stays at 4.1 MP, but the buffer size is increased, allowing up to 50 JPEG or 40 RAW images (about a 25%-40% increase). Other new features include support for the sYCC color space, improved histogram displays on a new higher resolution LCD display and the newest 3D Color Matrix metering found on the D2X.




And, speaking of the D2X, Nikon's flagship D-SLR was on display as well.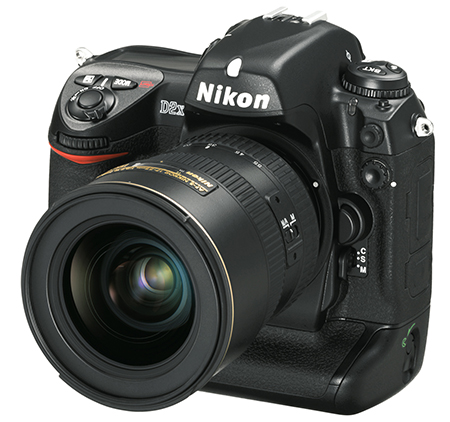 The D2X ups the pixel count to 12 MP and includes the newest 3D Matrix metering and AF system in a rugged body.

The new F6 film body, which surprised many people is a solid update to the F5.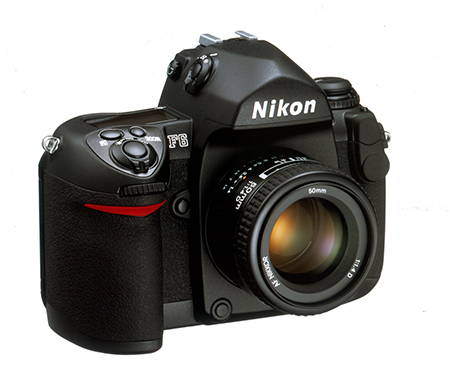 The body is styled more like a D100 but offers the new Nikon 3D metering as well as an updated LCD display and built in data back. With optional card reader, you can even download shooting data from up to 53 rolls of film to a compact flash card.

Along with the new D-SLRs, Nikon had 5 new CoolPix cameras on display. Ranging from 4 MP up to 7.1 MP, the CoolPix 5900, 7600, and 7900 all offer 3x zoom lenses and range in price from $199 to $450. They include Nikon's new Face Priority auto focus that works amazingly well to find and focus on faces in your image. It's interesting to see the camera examine a scene and detect faces, locking onto them even as the person moves. No more out of focus faces!
HP
HP is showing off the new 13x19 PhotoSmart 8750 printer.

The first 9 color photo printer, the 8750 uses the Vibera inks with a dedicated blue ink. Sample prints from the 8750 looked stunning, with rich saturated colors, and excellent black and white output. The archival life on prints from the 8750 are over 100 years - amazing for a dye ink printer.

Along with new printers, including a 18x24 format DesignJet 90, HP had a number of new compact cameras, with the focus on small size and large bright LCD displays.
Tamrac
I was very impressed with Tamrac's new Expedition line of bags.




The bags are very well designed with easy access to small items in front pockets that don't require you to remove the tripod. The memory card pouches are designed to help you easily tell which cards are full or empty.
My next report will include updates on what's hot from the other Shutterbug writers, as well as more hardware and software products.


LATEST VIDEO

SPONSORED VIDEO
Testing Tamron's SP 150-60mm G2 lens while capturing birds and alligators in Apalachicola, Florida.