Lightroom Web Tutorial: How to Easily Create B&W Conversions with Color Toning Effects (VIDEO)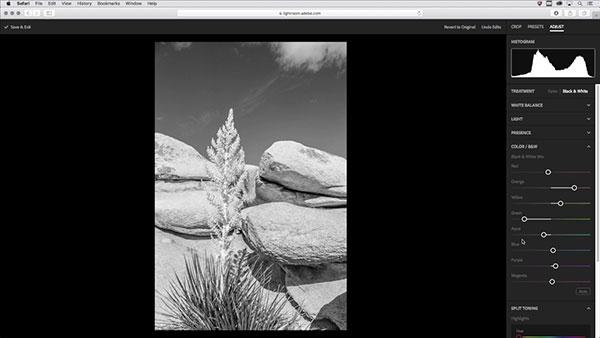 Adobe's Julieanne Kost calls herself a "Digital Imaging Evangelist" and she's widely known for her expert Photoshop and Lightroom tutorials. In the three-minute video below she demonstrates how to use Lightroom Web to create beautiful black-and-white conversions with creative toning effects.
For the uninitiated, Lightroom Web is one of three ways that Lightroom CC subscribers can access Lightroom (the other two being on a computer or with a mobile device via Lightroom mobile). While Lightroom Web is the least familiar of the three platforms, it packs a lot of punch and you can read about it here.
For this quick project, Kost demonstrates how to convert a color image to B&W and make a few simple adjustments for a dramatic effect. She then shows how to add color toning to either the shadows, highlights, or both, to come up with a really nice custom conversion.
You can find more tutorials on the Adobe Photoshop Lightroom YouTube channel, and be sure to check out our earlier story with one pro who insists that every photographer should use Lightroom.

LATEST VIDEO