Lighting; Studio And Mobile Lighting: Strobe & Continuous—Plus Accessories Page 2
Novatron focused attention on the M600 Digital Monolight. This 600 ws self-contained strobe boasts a digital LED display and offers a six-f/stop range in 0.1-stop increments, recycling fully in 1.5 seconds. When the output variator is used to reduce power to minimum, color temperature shift is stated to be only 55K. The M600 comes with a UV-corrected plug-in flash tube, fully tracking 250w modeling lamp, 6" reflector, built-in photo slave, and can be accessorized with most Novatron family dishes and modifiers, including honeycomb grids, snoots, and barn doors. The M600 has been designed with future expansion in mind with internal firmware upgrades performed at the factory.
Paterson Photographic showcased the EXD200, which follows in the footsteps of the EX and Stellar lights introduced last year. The EXD200 is rated at 200 ws (GN at ISO 100 = 160, with standard reflector). This monolight may be high tech, with digital display and touchpad controls, but it is fashioned for ease of use and boasts a stylish design. The 5v sync voltage makes it suitable for use with any digital and film SLR. As with its predecessors, the EXD has the added benefit of a pre-flash override via the control panel, so it can be properly triggered by any on-camera or shoe-mount flash. Output control is in 1/10 increments over a five-stop range. A built-in infrared slave cell can be used with the optional Interfit IRX transmitter. Pricing is modest at $209, with kits (comprised of two lights, umbrella, softbox, stands, cables, and case) going for $489.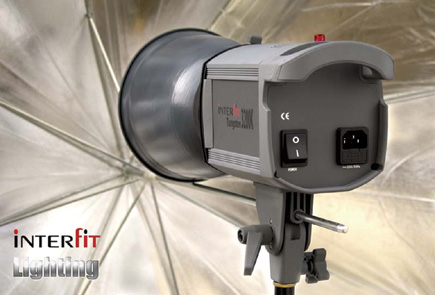 Paterson also showed the EX150A entry-level flash kit for the budget-minded photographer ($299). In the kit are two 150 ws monolights, with stands, softbox, umbrella, and standard accoutrements--in a carry carton. If you'd prefer hot lights, several made their debut on this stage. The Tungsten 3200 lights are stylish, accepting the same S-type fitting as used on the Stellar flash range for greater versatility among Interfit users, priced at $314 for the twin umbrella kit. The kit contains two 500w flood light bulbs/heads and all the trimmings needed to do the job right. Also shown were the more robust Halogen 1000 and Halogen 1300, both 3200K quartz-halogen continuous lighting systems.

The Norman division of Photo Control Corporation debuted Norman Battery Portable kits with lamp heads that include a built-in PocketWizard radio transceiver, which will work with any PocketWizard transmitter (optional) on any channel for wireless, radio-remote strobe triggering. These new lamp heads plug directly into existing Norman Battery Portable power supplies with no additional modifications and existing Norman 200B, 200C, and 400B Battery Portable systems can be upgraded to wireless actuation by adding a lamp head with the built-in transceiver. Also new is a high-temperature, 24" square softbox for use with the Norman Allure C1000 (1000w) Constant Light. Each softbox comes with a travel pouch, and includes a snap-in inner baffle, a removable front diffusion panel, and four flexible rods for mounting on the standard BDAL Speed Ring Adapter.
Rololight made its PMA debut with the Rololight Softbox. What's remarkable about this system is that, first, it uses fluorescent bulbs, such as the popular Kino Flo daylight- or tungsten-balanced tubes, and, second, each tube fits inside its own fixture that attaches, like a chain-link fence, to other fixtures to form a lighting drape--the entire assemblage rolls up and fits inside a duffel bag. You can add countless tubes/fixtures to create a totally wraparound light. While components are available separately, kits come at under $1000, with bulbs. FYI, Kino Flos are becoming increasingly popular as a continuous light source among pro photographers for their distinctive light quality.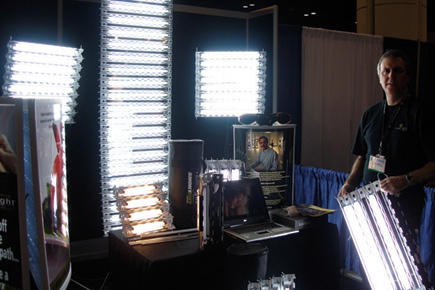 Joining the fray with their own tabletop setup is Sakar International. While it appears similar to other diffusion boxes out there, this company's Portable Lighting Studio (under $100) comes complete with a pair of AC-operated 2800K tungsten lamps equipped with legs to stand on either side of the box, and includes a dual-sided sweeping backdrop. The diffusion material is constructed of heat-resistant nylon mesh for uniform illumination. Folded, it can be easily carried by a built-in handle.

The Explorer 1500 Portable Power Supply is a new member of the legendary Black Line of high-endurance strobe equipment from Speedotron. At $2100, this 1500 ws battery provides a portable alternative to gas-powered generators for Speedotron users. It provides up to 225 full power flashes and can be quickly switched out with a spare battery, which goes for only $400. The Explorer 1500 can use electric current from virtually any AC source worldwide. The low current draw even allows recharging batteries with an inexpensive inverter connected to a car's cigarette lighter. Supports a total of two heads for asymmetric or symmetric distribution on two channels, over a five-stop range. Provided lamps are limited in wattage, the battery also drives a modeling light by way of a 10-second timer to conserve charge. The unit also features a built-in slave cell.
The Sunpak Studio Tent, from ToCAD America Inc., is yet another variation on the compact and lightweight cubical light tent theme. Measuring 20x20.75x21" when assembled, it folds down flat to form its own carrying case. The dual-sided blue/gray fabric sweep gives you a choice in backdrops suitable to practically any small tabletop subjects. As a case, it has loops to carry a small tripod so you're ready to shoot anywhere and everywhere.
F.J. Westcott Co. has expanded the capabilities of the Spiderlite TD5, so that this one light source now accepts tungsten, 5500K fluorescent, or flash tubes. The advantage to the Spiderlite is that it allows you to change your light source, light output, and color temperature instantly. Three separate controls on the back allow you to run from one to five lamps and quickly change lighting ratio without changing color temperature. The Spiderlite TD3 is the portable counterpart to the TD5, weighing less than 10 lbs. The TD3 operates off a battery pack and inverter or standard 120 or 220v AC. Batteries offered through Westcott include NiCd and lead acid and can drive either three 50w tungsten lamps, three fluorescents, or two strobes with a modeling lamp. Kits include the Spiderlite TD3, 12x16 silver softbox, and an 8-foot light stand.
Manufacturers/Distributors' addresses can be found on page 174.

LATEST VIDEO

SPONSORED VIDEO
Testing Tamron's SP 150-60mm G2 lens while capturing birds and alligators in Apalachicola, Florida.