Lighting; Studio And Mobile Lighting: Strobe & Continuous—Plus Accessories
If there's one thing I learned from working on my latest book, Studio Lighting Solutions (Amphoto, 2005), there is a light specially suited to every subject and situation. Pro photographers find exactly what they need, and if it's not the exact solution, they fashion it to their needs with the addition of various accessories.

So when I entered the PMA exhibition hall, I did so with an open mind, looking for any and every tool that would help me take better pictures, and I came away from the show with a laundry list of studio and mobile lighting gear I'd love to own and use. The one trend I could discern in flash lighting is that these lights are getting smaller and easier to handle, and becoming increasingly high tech while leaving the intimidation factor at the factory. This year we've expanded our coverage of studio lighting to encompass tungsten and fluorescent lights. There was a proliferation of cubical light tents--those diffusion housings that simplify still life and tabletop photography, in various sizes and configurations, many including a set of hot lights. I also came upon some interesting backgrounds to round out the home studio.

In lighting gear, American Recorder showed us the Photo Studio In A Box-Supersized--a cubical light tent measuring 30" on each side (big brother to this company's original box) for still life photography. The tent is made of heat-resistant, 100 percent nylon fiber mesh material. As with other diffusion housings of its ilk, it is designed to deliver uniform illumination while eliminating harsh shadows and reducing glaring reflections. Following the trend begun a year or two back, this tent also comes complete with its own pair of lights--2800K halogen lamps in this case. The kit is economically priced at $299 and includes camera stand and various backgrounds, in a carrying case.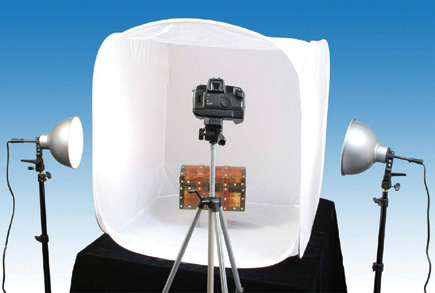 APV showed a variety of studio-related products. For all you online sales folk, there are a variety of tools to simplify lighting small products. The Magic Silo is a collapsible light tent that expands into a cylindrical shape, with the camera positioned through an opening at the top (held in place by a tripod with horizontal arm)--for tall items. The Magic Pyramid, as the name implies, opens into a pyramid-shaped tent--for the small stuff, such as jewelry. The Twistfold reflector is a five-in-one collapsible disc with white, black, silver, and gold reflector surfaces, and can double as a diffuser--in two sizes. And if you want to add a window-like reflection to a shiny surface, consider The Magic Studio, with its window-shaped aperture through which the light is pumped.
Bogen Imaging Inc. debuted the Elinchrom D-Lite 2 and 4, at 200 and 400 ws, respectively. These monolights are essentially scaled-down 400BXs marketed as a studio flash for the budget-minded photo enthusiast. They feature user-interchangeable flash tubes, auto dumping of flash power, proportional modeling light (also on/off/full), and 0.1-stop strobe output increments over a five-stop range. Also showcased were the Lastolite TriFlips--a new collapsible reflector kit with seven different surfaces: black, gold, silver, and white, plus the unique sunfire, sunlite, and softsilver. TriFlips fit over a TriGrip, which can easily be handheld in position to bounce light back where needed ($228 for the combo package).
Showcased at Booth Photographic was the Cameron Digital Imager Metal Halide 800. This continuous 5200K, flicker-free light source uses a 150w bulb and gives you 8000 hours of use. It features a thermal protector, with air cooling, which means noiseless operation. Warm-up time is 5 minutes. Standard reflector included. Also new are Aurora Mesh Lite Filters. These collapsible light discs measure 31" across, with a fully adjustable gooseneck for easy positioning. Aurora Mesh Lite Filters are available in black, white, and translucent mesh. And if you're looking for a monolight, three models made an appearance from Aurora: the Uni-Lever PRO 300, 600, and 1200, each with variable power output, and fan-cooled with 300w quartz modeling light. Soft-touch controls are on the side, along with a digital LED read-out of the output.
Dot Line Corp. displayed the new portable RPS Desktop Studio, which comes with a pneumatic stand/support for half-width seamless paper and three rolls of paper (white, black, and ChromaKey green), and two light stands with light heads for tungsten or incandescent bulbs ($249)--available with 250w quartz bulbs or with 500w photofloods, with or without umbrellas. For more robust applications, you might opt for the RPS Studio Variable Quartz Light ($189), which features three 250w quartz bulbs that can be operated independently or together for a total of 750w of light, without affecting the 3200K color temperature. A slide switch will adjust output, while also modifying color balance. The reflector may be replaced with optional accessories, such as a snoot and a 3x3-foot softbox. Also available in kits.
HP Marketing Corp.'s Kaiser division introduced the portable Folding Table System 205888. The new system is comprised of a nylon bag that opens into a cubical shooting table/tent measuring 15x15x15", with translucent white sides and top to ensure even lighting and eliminate glare on reflective surfaces. It comes with a reversible blue/gray fabric sweep that attaches with hook-and-loop material. The entire assemblage folds down to a carrying case complete with carrying handle. Economically priced at $75.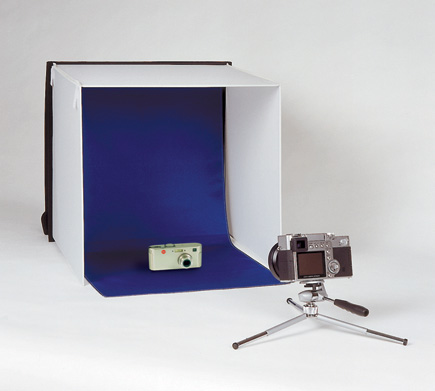 JTL debuted the Versalight E-series--a stylish monolight designed for ease of operation. Each light features an improved user-replaceable flash tube design for more efficient output. All controls are easily accessible on the back of the unit. It also has a continuous output variator, auto power dumping, redesigned mounting hardware for strength, durability, and flexibility, plus a new double-locking security system which comes to the fore when a light is mounted upside down. The CPU inside this head ensures precision power settings. An optional add-on is the eight-channel, digitally-controlled DigiFirer radio-triggering system with a retractable antenna, covering a 300-foot diameter (under $199). The E-series consists of several models, ranging from 250 ws to 1000 ws. Prices start at $279. Customized kits are available.
JTL is also coming out with a series of milk-white plastic diffusion Photo Cocoons, to be priced competitively with existing products, in two different sizes, the small one especially suited to jewelry and things of similar size. The unused camera apertures can be sealed with special light-blocking baffles to prevent stray reflections. Light loss is limited to a 1/2 stop. The MSRP for the large cocoon is $190, and $79 for the small size. Also on display was the Everlight TL-1500 Boom Kit (931503), which includes three tungsten heads and all the accoutrements needed for portraits or product photography, including a boom stand, which enables you to strategically position a light overhead ($679). The kit includes softboxes and a strip light (which can be used as an accent or hairlight). A grid attachment for the softbox and roller cart accessory for the included padded case are sold separately. Boom stand comes with its own bag.

The Lowel-Light Ego is a compact, simple, and inexpensive ($125) solution for anyone with a digital camera who wants to light small products for online sales on a basic tabletop, without the need for light tents or expensive backdrops. This diffused continuous light source sits on the table or can be mounted to a tripod. Remove the reflector and use it as a bounce card for fill. Fancy it up a bit with the optional $25 sweep backdrop. The Ego uses two 27w full-spectrum screw-in fluorescent lamps with an average life of 5000-10,000 hours.


The OPUS Pro division of Nadel Enterprises showcased the L300 AC/DC Travel Kit ($750), which consists of two 300 ws monolights and a battery pack that can power them both for 180 flashes or individually for 360 pops. Output is variable in full, 1/2, and 1/4 power settings, plus each unit has a variable power modeling light (for AC use). A deluxe kit is also available. The OPUS Pro OPL-L30088 Deluxe Kit ($1195) includes two monolights, umbrella, and softbox, as well as a four-channel wireless remote-triggering system, all packaged in a wheeled carrying case. Other included accessories are 7-foot light stands, one four-leaf barn door, one medium honeycomb grid spot, one snoot with honeycomb grid spot, and one set of four color gels. Also on display was the CL275, a 6400K fluorescent lamp housing with three 26w bulbs ($139)--also available in kits.

LATEST VIDEO