Lexar Professional Series Memory Cards With Encryption Technology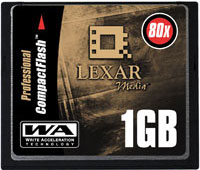 Lexar Media, Inc. has announced plans to incorporate encryption technology into its Professional CompactFlash and, in conjunction with technology-compatible digital cameras, will provide users with a secure digital media solution. Professional photographers and other security conscious users worldwide will have added confidence knowing that access to stored images and information is protected by a high-end encryption code technology.
Central to this unique security solution is an easy-to-use software tool for establishing security settings on the memory card and corresponding digital camera. Digital content stored on the memory card can only be accessed via the digital camera(s) with the corresponding encryption key or via a PC with a valid username and password. This unique security system utilizing the memory card and the camera offers a secure digital imaging solution.
Eager to provide their customers with a way to safeguard their images, Nikon will be the first camera company to incorporate Lexar's technology into a digital camera. Nikon is incorporating the new security technology into the Nikon D2X.
The system's administrative tool will enable the highest level of security, without sacrificing any camera performance. Developed by Lexar, the new security solution is based on a 160 bit encryption technology and uses SHA-1 (Secure Hash Algorithm), a standard approved by the NIST (National Institute of Standards and Technology.) 160-bit encryption technology is among the most effective and widely accepted security solutions available.
For further information visit www.lexar.com.


FEATURED VIDEO