Lexar Media Announces Crucial Solid State Drive (SSD) Product Line
Lexar Media announced its line of Crucial solid state drives (SSD). Crucial SSDs are said to be more durable, require less power, and offer greater overall system performance than traditional hard disk drives. The SSDs will be available in capacities of 32GB and 64GB in an industry standard 2.5-inch drive enclosure with an industry-leading native SATA 3.0Gb/s interface. Additionally, Lexar Media will offer the Crucial SK01 external drive kit and various online customer tools--including the Crucial SSD Advisor tool, the only tool of its kind on the market today--available at
www.crucial.com/ssd
or
www.crucial.com/uk/ssd
. Product availability is expected in Q1 2008.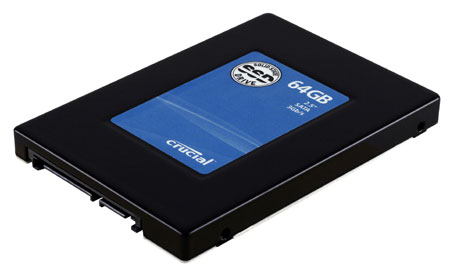 Crucial SSDs have no spin-up time, seek time, or rotational latency, resulting in faster system boot times and application load times. Other user benefits include:
· Low power consumption -- Less than 2W active power
· Rugged -- Resistant to high levels of shock (1,500G/0.5msec) and vibration (20G (20-2000Hz)
· Reliable -- 2 million MTBF
· Low latency -- Access time less than 1ms
· Light weight -- 82g
· Silent operation -- Operating sound of 0 bels
· Runs cool -- No moving parts to create excess heat
· Versatile -- Hot Swappable design
· 5-year limited warranty
External Storage Kit
Lexar Media is also announcing the Crucial SK01 External Drive Storage Kit (sold separately), a device that delivers the benefits of SSD technology to a user's desktop and beyond. The innovative SK01 kit will allow users to enjoy SSD technology installed in their desktop or as a portable storage device via a USB port. The kit includes a 2.5-inch USB 2.0 external enclosure, 3.5-inch SATA 3.0Gb/s hot-swappable drive bay, and a 5.25-inch drive bay bracket. The Crucial SK01 comes with a limited lifetime warranty.

In hot-swap capable systems, the SSD can be removed from a desktop drive bay without the need to power down the computer--a feature that allows for immediate, portable data security.
Online Tools
Crucial offers many free customer tools on its Web site at www.crucial.com/ssd or www.crucial.com/uk/ssd. The Crucial SSD Advisor allows customers to find a compatible SSD by choosing their system make and model from a drop-down menu. Crucial also offers an online flash-based installation guide showing how easy it is to install an SSD.

www.micron.com

FEATURED VIDEO