Lexar Announces Picture Perfect Pets Online Photo Contest
Is Fido ready for his close-up? Lexar Media, Inc. (Nasdaq: LEXR), a leader in advanced digital media and accessories, today announced the start of its online Picture Perfect Pets amateur digital photography contest, in conjunction with its sponsorship of the upcoming publication of "DOGS 24/7" and "CATS 24/7," by Rick Smolan and David Elliot Cohen, follow-on books to the hugely popular "America 24/7" book series. Entry details for contestants are at
www.lexar.com/pets
.
"Pets are one of the most popular photography subjects and this contest promises to bring notoriety and fame to pets and photographers alike, just like those featured in `Dogs 24/7' and `Cats 24/7,'" said Jim Gustke, Vice President and General Manager, Lexar. "More and more people are discovering the advantages of digital photography and they're also discovering the dependability of high-quality Lexar memory cards. We appreciate that people trust their digital pictures they love to Lexar memory cards and look forward to receiving them in this contest."
To help amateurs interested in entering the contest, Lexar is featuring "Tips for Photographing Pets" by Nick Kelsh, Lexar Elite Photographer and author of "How to Photograph Your Life." Kelsh's tips offer professional insight and techniques on such things as lighting, proper lens and accessory usage and the advantages of shooting with digital, as it allows the photographer to experiment with their camera. Kelsh's tips can be found at www.lexar.com/pets.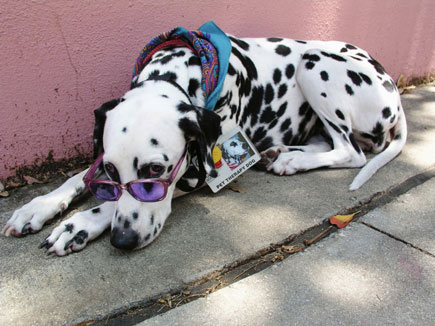 STAR POWER!
Daisy the dalmatian is between gigs as a therapy dog. It's a role that has patients cheering at hospitals in Fort Lauderdale, Florida. But wait, there's more: Daisy is an actress who has appeared in a beer commercial and is a card-carrying member of the Screen Actors Guild.
Photo © 2005 Lori Bale for Dogs 24/7
How The Contest Works
The Lexar Picture Perfect Pets online contest will run from June 15 to June 30, 2005. Photographers should submit photos of their cats or dogs into the competition categories provided. Lexar is partnering with Webshots, the leading photo-sharing website, serving as the official photo submission site, and Purina PetCare, a leader in the pet products industry, providing grand prizes for contestants.
A panel of Lexar professional photographers will first consider entries in all categories, and will select three finalists to be judged online July 15. Visitors will then vote on their favorites for both overall Grand Prize winners in the Cats and Dogs categories, as well as for winners in each of the special categories. Winning images will be profiled on Lexar.com.
Categories for submission include:
DOGS
Youth -Under 14 Entrants
Man's Best Friend
Runway Models (Fashion and Accessories)
Four-Legged Phenoms (Action Shots)

CATS
Youth - Under 14 Entrants
Close-Up Shots
Furry Friends (Fashion and Accessories)
Friendly & Frisky (Action)

The Prizes
Grand Prize winners in both the Dog and Cat categories will receive a Lexar Memory Card of their choice (up to 1GB), a Lexar MultiCard Reader, a year's supply of Purina pet food, a complimentary one year premium membership to Webshots and a customized copy of either "DOGS 24/7" or "CATS 24/7" featuring their winning photograph on the cover. The winners in each of the special categories will each receive a customized copy of either "DOGS 24/7" or "CATS 24/7" with their winning photo on the cover.

LATEST VIDEO

SPONSORED VIDEO
Testing Tamron's SP 150-60mm G2 lens while capturing birds and alligators in Apalachicola, Florida.