Lexar 16GB Secure Digital High Capacity and CompactFlash Memory Cards
Lexar Media, a leading global provider of memory products for digital media, announced today that the company has further increased the capacity of its widely popular Platinum II flash memory card line by introducing a Platinum II 60x 16GB Secure Digital High Capacity (SDHC) card and Platinum II 80x 16GB CompactFlash® (CF) card. The new, high-capacity cards give value-conscious video and photo enthusiasts the ability to shoot longer and faster, while taking advantage of new higher-resolution and high-definition digital camcorders, digital SLRs and point-and-shoot cameras. When used with many of today's popular flash-based digital camcorders, the Platinum II 16GB memory cards allow up to six hours of 1080 high-definition video recording. The Platinum II SDHC memory card is speed-rated at 60x, capable of a minimum sustained write speed of 9MB per second, while the Platinum II CF memory card is speed-rated at 80x, which represents a minimum sustained write speed of 12MB per second. The high-speed cards provide faster transfers of high-resolution video and photos, as well as large audio and digital multimedia files.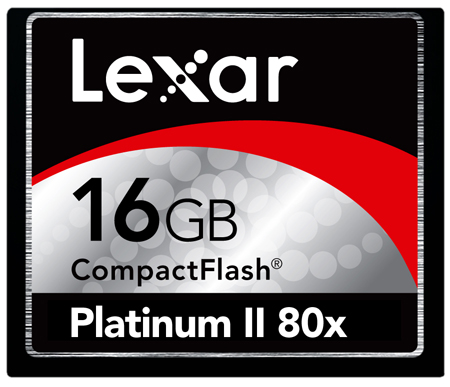 "With the rapid increase in camera resolutions now exceeding 10 megapixels resulting in larger image file sizes from newer digital cameras, flash-enabled digital camcorders, and digital SLRs, consumers need a higher-speed, higher-capacity memory card to ensure optimal performance while shooting," said Manisha Sharma, director of product marketing, Lexar. "The new Lexar Platinum II 16GB cards provide the quality and dependability that customers expect from Lexar, with the increased capacity required to record and shoot longer."
The new Lexar Platinum II SDHC and CF cards include a limited lifetime warranty and valuable image-related software—the full version of Lexar Image Rescue™ 3, Lexar's award-winning image recovery software, and a six-month trial of Corel® Painter™ Essentials 4. The Lexar Platinum II 16GB SDHC and CF memory cards will be available in September.
Lexar will be displaying the Platinum II SDHC and CF cards at Photokina 2008 at stand F022 E023 in hall 04.1.
For more information about Lexar, visit www.lexar.com.