LensRentals Offers Shutterbug Readers an Exclusive 20% Discount to Celebrate Merger with LensProToGo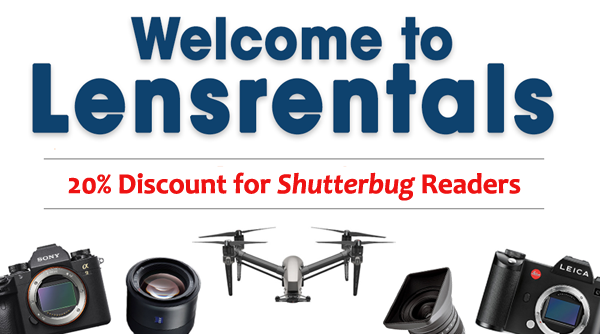 Our friends at LensRentals, a leading online source for renting photo and video equipment, is offering a 20% discount to Shutterbug readers for orders placed before March 1, 2018. This is a pretty sweet deal, and is in celebration of the recently announced strategic partnership between LensRentals and another great rental source, LensProToGo.
LensRentals Co-Owner Drew Cicala says both brands will continue to operate under a combined management team, with enhanced resources and customer access "to the largest inventory of equipment for rental in the photo and video industry." CEO of LensProToGo Paul Friedman has a similar take on the new partnership, saying, "On a day-to-day basis, our customers will now be able to access cameras, lenses, lighting, drones and more, in the largest inventory of photo and video equipment in the country."
All you need to do to claim your 20% Shutterbug discount on the LensRentals website, is use the promo code "Shutterbug20" at checkout. And remember, this deal is effective until March 1 of next year, so this is a great opportunity to check out some new gear before making a purchase.
You may also want to look at our recent story with a list of LensRentals' top cameras and lenses of 2017.