Leica's M8; Does The 10MP Digital Leica Live Up To The Leica M Legend?
The moment you take the eagerly anticipated Leica M8 in your hands you know that the design engineers at Leica have gone to great lengths to preserve the look and feel of perhaps the greatest 35mm rangefinder camera of all time, the legendary M-series Leica that debuted in 1954 as the original M3 and continues as the classic retro MP and autoexposure M7. The M8 retains the classic rounded-end body, beautifully finished in satin chrome or black, and incorporates the superb Leica range/viewfinder. Built on a die-cast magnesium-alloy chassis, the camera is solid, well balanced, ergonomically contoured, and easy to grasp securely thanks to its grippy black synthetic leather covering. The body weighs precisely the same as a Leica M7--590 gm (20.8 oz) with battery--but it's 3mm (1/8") thicker front to back, mainly to accommodate a large 21/2" (diagonal) LCD panel and an array of adjacent controls.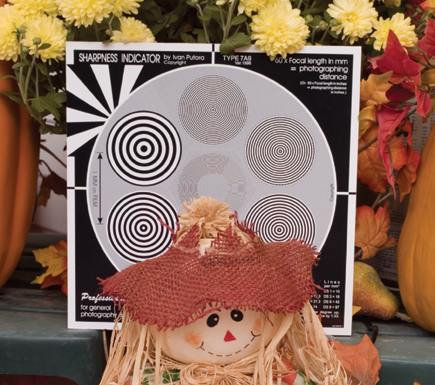 The close-up display shows individual comparison images made with the Leica M8 (top) using a 35mm lens and the Canon 5D (bottom) also taken with a 35mm lens. Results are similar to that of the yellow Victorian house as mentioned in text.
Photos © 2006, Jason Schneider, All Rights Reserved

Look through the viewfinder and you can easily imagine that you're shooting with a Leica MP or M7. There's an extremely bright rangefinder patch in the center framed by a pair of crisp white projected, parallax-compensating viewfinder frame lines. In the M tradition, they change automatically as you mount the lens, and cover six focal lengths ranging from 24-90mm. The actual field of view covered by each includes a 1.33x extension factor--more on that later. As before, the frame lines can also be selected manually with a spring-loaded lever just below the front finder window to preview the coverage, a unique advantage pioneered by the Leica M system. The traditional lens-release button has likewise been retained, and amazingly the base plate is not only removable, it even sports the classic Leica D-shaped twist-lock Leica has used for eons. The bottom plate comes off not to load film of course, but to gain access to the battery and the SD (Secure Digital) memory card--"a comfort feature for Leica traditionalists" as Adorama's Mason Resnick astutely put it.

One of the M8's prime attractions for Leica aficionados is that it provides a digital imaging platform for Leica M lenses, a generally outstanding optical arsenal that represents a substantial investment on the part of Leica users. And while the M8 is not the first digital rangefinder camera to accept M lenses (that honor going to the cleverly innovative 6-megapixel Epson R-D1, now out of production), it is the first to incorporate all the classic Leica features and styling cues, along with a specially configured, Kodak-made 10-megapixel CCD and sophisticated firmware designed to optimize imaging performance with M-mount lenses. But configuring a sensor and dedicated software capable of capturing the inherent image quality of Leica M lenses, and delivering high-caliber digital images was challenging to say the least.
The Optical Challenge
Since M lenses have a much shorter back focus than comparable D-SLR optics (27.8mm to be exact) and because digital imaging sensors, unlike film, have image quality issues (e.g., vignetting) when image-forming light rays strike them at oblique angles, Leica's engineers took a multi-pronged approach to resolving the resulting engineering problems. To start with, to eliminate the most oblique rays, they opted for an 18x27mm sensor, which is larger than those in consumer D-SLRs, but 25 percent smaller than full-frame 24x36mm, and provides the classic 2:3 ratio that Leica shooters love. Next they modified the sensor by removing the image-blurring moiré filter and designing a super-thin cover glass, both measures aimed at enhancing image quality. Then they came up with sophisticated firmware designed to deal with moiré patterns electronically and to enhance the off-axis (edge and corner) imaging performance with M lenses, particularly wide angles. Finally they coupled the firmware with a 6-bit coding system that identifies (coded) lenses to the camera body and enables it to substantially reduce vignetting and other off-axis artifacts at the point of capture.
Six-bit code at pointer is engraved on lens flange of all current Leica M lenses and can be added at extra cost to most older Leica M lenses (see text).

All recent-production Leica M lenses have the 6-bit code engraved on the flange inboard of the lens mount (see photo, left) and a sensor inset in the M8 lens mount flange reads the code, identifies the lens, and relays its performance parameters to the camera's electronic circuitry. The code can be added to most older Leica M lenses going back to the '60s at a cost of $125 per lens, but not to non-Leica M-mount lenses.
ISO test was shot with Leica and 35mm lens only. Strip comparison shows vertical strip (classical column) shot at ISO 160, 320, 640, 1250, and 2500, left to right. Vertical shots of entire building façade are individually ISO labeled. See text for conclusions on ISO.
Photos © 2006, Jason Schneider, All Rights Reserved

Unique Features And Controls
Of course, despite its model name and vintage look, the M8 is hardly just the next model in the venerable Leica lineage. It is, at heart, a thoroughly modern digital camera with vastly different features and controls than its predecessors. One thing that had to go into making the digital transition was the horizontal cloth focal-plane shutter, a signature Leica feature since '25. In its place is an electronically controlled, vertical-travel metal-blade focal-plane shutter with speeds of 4 seconds to 1/8000 sec plus B, a red "A" (Aperture-Priority autoexposure) setting and X-sync to 1/250 sec. The rearward-pointing SPD exposure-metering cell is nestled in the bottom of the chassis and reads the light coming through the lens off a white blade on the first shutter curtain. Located atop the camera next to the big knurled shutter dial is the threaded shutter release with the main switch placed concentrically below it and set with a convenient front-facing knurled tab. There are click-stopped settings for OFF, S (Single frame), C (Continuous bursts of up to 10 frames at approximately 2 fps), and a self-timer setting (with 2- and 10-second) options.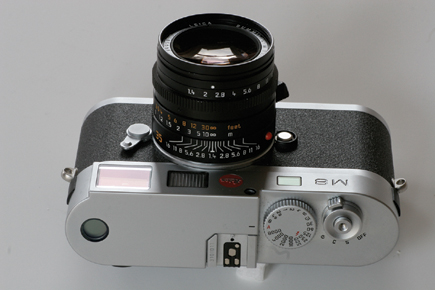 View from the top: Main controls are Spartan--on right, engraved shutter speed dial and main power switch under shutter release. In center, dedicated hot shoe for TTL flash via Metz module system. At left, LCD frame counter that displays number of frames remaining.

FEATURED VIDEO