Laowa 4mm f/2.8 Circular Fisheye Lens Review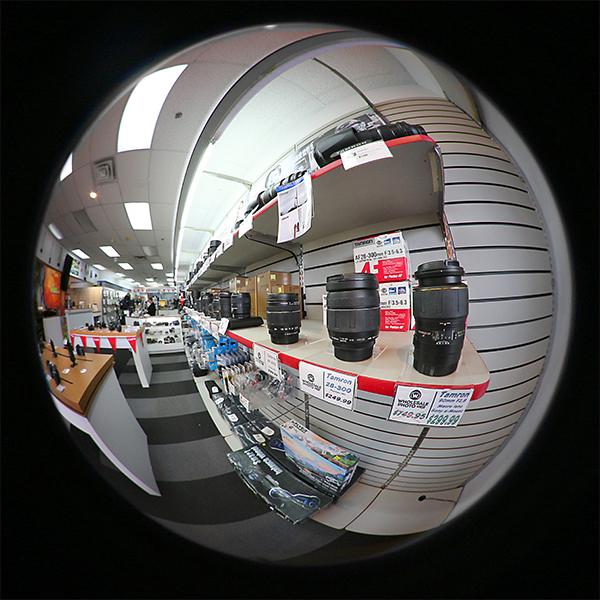 Laowa just released a 4mm f/2.8 circular fisheye lens in four mirrorless mounts and we've put one to the test. Here's our hands-on review of this $199 fast prime.
Image above was taken at Wholesale Photo in Midland Park, NJ. ©Jon Sienkiewicz
This isn't the first Laowa single-digit wideangle lens we've tested but it might be the best. Check below for links to our reviews of the Laowa 7.5mm f/2 MFT and Laowa 9mm f/2.8 Zero-D.
Top Features
• 4mm f/2.8 circular fisheye for APS-C format sensors
• Manual focus
• Manual diaphragm
• Aperture range f/2.8 to f/16
• Angle of view 210°
• Focuses to 3.15 inches (8 cm)
• Maximum magnification ratio 1:9
• Super compact and light weight
• Nicely designed, fully-protective lens cap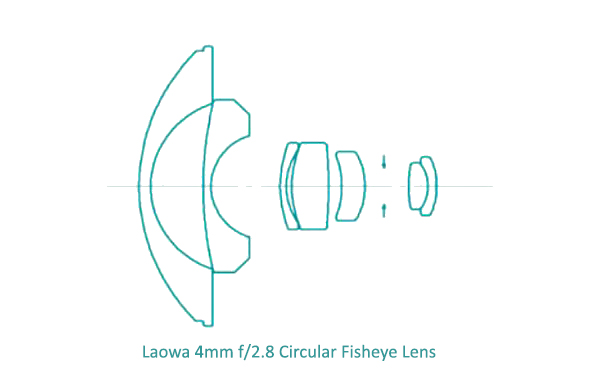 Construction
• Optical formula: 7 elements in 6 groups
• Aperture blades: 7
• Filter size: none compatible
• Dimensions: 1.8 x 1.0 inches (45.2 x 25.5 mm)
• Weight: 4.8 ounces
Typical of fisheye lenses, the front element extends one centimeter or so beyond the lens barrel. It's perfectly well protected by the extra-deep lens cap when not in use, but it naturally demands extra care when in the field. Don't wanna scratch that glass.
Laowa 4mm f/2.8 circular fisheye lens is well made, right down to that oversized metal lens cap (which you will appreciate). Even the packaging is top notch. Focusing is smooth, aperture ring has clean and distinct click-stops and all finished parts are superb.
Lens mount is nicely finished metal and locks securely to the camera body. No skimping on quality anywhere.
Lens Mounts Available
• Micro Four-thirds
• Sony E
• Canon EOS M
• Fujifilm X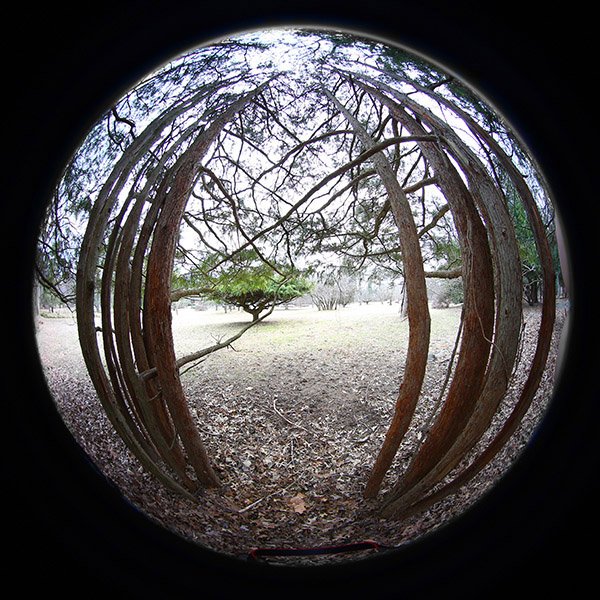 Operation
It's very hard to decipher the focus scale but it's not the fault of the lens. Depth of Field for a 4mm lens focused at 10 feet and set on f/5.6 extends from roughly six inches to infinity. So, seriously, how precise must focus be? Even wide open at f/2.8, DoF extends from about 12 inches to the moon. (Calculations based on APS-C size sensor and standard size moon.)
Engage Aperture Priority on your camera, select an f/stop and set the focus ring on the hash mark that's just left of 0.2 meters indicator. That's it. If your camera offers 1:1 Aspect Ratio, set that because the circular image occupies only the center portion of the frame anyway. Experiment with different apertures and focusing distances depending on the shooting situation. I got excellent results with the Laowa 4mm f/2.8 circular fisheye lens wide open at f/2.8 and excellent results stopped all the way down to f/11 (I never use the smallest aperture on any lens unless it's absolutely necessary because most lenses suffer from unavoidable diffraction).
The biggest problem I had was keeping my fingers, toes and neck strap out of the shot. This fisheye sees 210° including both of your hands if you're not careful. Look closely at the images in this story and you might see chunks of my body on some of the edges. I finally used a JOBY GorillaPod to hold the camera at arm's length and tripped the shutter via the Self Timer. GorillaPods are invaluable and I discovered this new use for mine.
Performance
As they say, the proof of the pudding is in the eating. Same applies to the Laowa 4mm f/2.8 circular fisheye lens. The accompanying images speak for themselves. The images are sharp, well saturated and relatively neutral in color shift.
Distortions? Well, that's like asking the ocean if it's wet. Fisheye lenses are all about distortion. On the plus side, I found—for the most part—that edge sharpness nearly equaled center sharpness. Not that it's strictly necessary, but it's beneficial, particularly if one plans to crop fisheye images into more-or-less rectilinear panoramas.
There is more than just a touch of color fringe in some of the bright highlights that border the black edge of the image. I've seen worse, and it was easy to cancel out.
So overall I give the Laowa 4mm f/2.8 circular fisheye lens high marks for performance. And when you consider ease-of-use and exceptional compactness, I give the lens high marks across the board.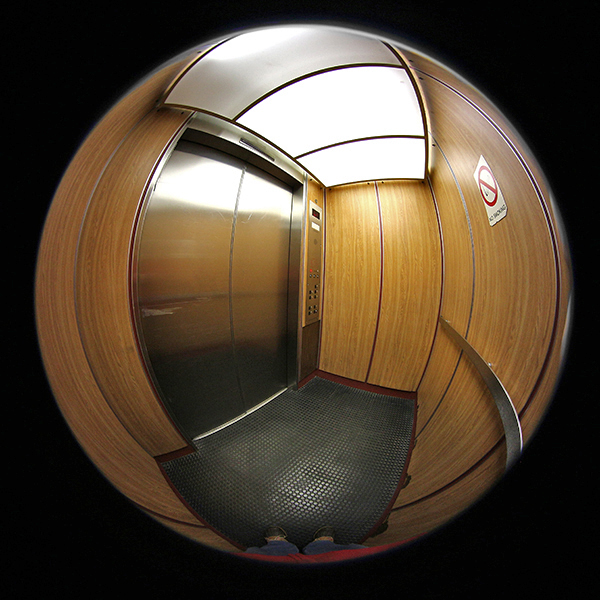 Conclusion
Priced at $199 the Laowa 4mm f/2.8 circular fisheye lens is a steal. It's a creative tool that forces your photographic eye to see differently. And it's a fun lens to just go out and bang around with. I can easily many photographers using this lens for a quick caffeine shot of inspiration when they're feeling a little flat creatively.
Order from Amazon for $199.
Fisheyes are fun, no two ways about it. But it requires a slightly different mindset to get good results. Circular fisheye lenses produce round images and that causes some folks to stumble. And when you use a lens with an angle of view of 180° or greater, you must be very careful to not include your fingers, feet and even (for some of us) stomach. If you want to take a deeper dive into the ins-and-outs of the genre, read 10 Tips for Shooting with a Circular Fisheye Lens.
About Laowa
Seems like every year I review another new and exciting ultra-wideangle lens from Laowa. Laowa is the brand name for lenses manufactured by Anhui Changgeng Optics Technology Co., Ltd, also known as Venus Optics. They are fairly new to the game, having first surfaced in 2013. To their credit they have accomplished a great deal already.
Although the company is young, their engineers have many years experience and previously designed lenses for Japanese and German manufacturers. Their headquarters and manufacturing facilities are in Hefei, located at the eastern part of China, about a five-hour drive from Shanghai. Sales and marketing office is located in Hong Kong, and they have a distribution office in the United States.
Two Other Laowa Single-Digit Lenses
Laowa 9mm f/2.8 Zero-D SLR Ultra-Wide Lens
This lens has been updated since I reviewed it, but the main specs are the same. I was very impressed by the compact size, speed and coverage, but I did lament the presence of light falloff (vignetting) and lack of tack sharpness. Read my reviewed from 2018 here.
Available on Amazon, priced at $499.
Laowa 7.5mm f/2 MFT
Micro Four-thirds only, this lens is currently the widest rectilinear lens available in its class. It delivers a 110° ultra-wideangle field of view. I remember writing, "I was truly amazed by how well it performed under a wide variety of situations." Read my review from 2017.
Available from Amazon for $499.
About the Canon EOS-M Camera
This camera got a bad rap from some reviewers who alleged the AF was too slow. Well, I don't shoot many horse races and I found everything else about the camera to be awesome—including the sub-$300 price I paid when I bought it from B&H on close-out. Introduced in 2012 with an MSRP of $799, Canon's first mirrorless EOS camera came with a fast, razor sharp EF-M 22mm f/2 STM pancake-style lens (equivalent to 35mm wideangle on a 35mm camera). It was also available with the EF-M 18-55mm IS STM zoom lens.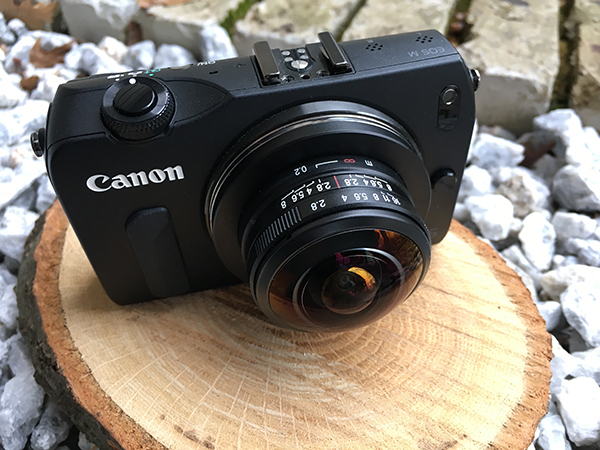 Canon EOS M Major Specifications
18-megapixel, APS-C format CMOS
Captures in Raw, JPEG or Raw+JPEG
Accepts Canon EF-M interchangeable lenses
Weight (w/batteries): only 10.5 ounces (298 g)
Compact Size: 4.3 x 2.6 x 1.3 inches (109 x 66 x 32 mm)
—Jon Sienkiewicz
(As an Amazon Associate, Shutterbug earns from qualifying purchases linked in this story.)

FEATURED VIDEO