Konica Minolta Maxxum 7D
First D-SLR Camera With Built-In Anti-Shake System Page 2
Image Quality Issues
The Maxxum 7D offers three JPEG size and quality options plus raw capture for recording data from the CCD sensor. In both raw and JPEG Large/Extra Fine mode, image quality is superlative: suitable for making gorgeous 11x17" prints or very good 13x19" glossies. Because compression is minimal, there's no evidence of JPEG artifacts or jagged edges even at 200 percent magnification on a monitor. A higher compression ratio is used in JPEG Fine mode, but image quality is still very good at 100 percent magnification.
Start with a technically excellent image file, optimize it for printing, and increase the Document size to 13x19" at a resolution of 240 ppi (with bicubic interpolation) in Photoshop. The resulting image file will allow you to make a good 13x19" print, as confirmed by the small crop from the full image. (Large/Extra Fine JPEG; ISO 100; color saturation at -2; skin tone tweaked in Photoshop CS; sharpness adjusted in
post-processing.)
Digital noise is exceptionally well controlled making ISO 400 suitable for all-purpose use in serious photography. The camera is great for low-light shooting as well, because ISO 800 images are surprisingly clean and richly detailed. By ISO 1600, colored specks are visible in some areas at high magnification, as with every camera; still, the Large/Extra Fine JPEGs make for highly satisfactory 8.5x11" prints. An ISO 3200 option is available, too, but must be selected as a custom function; it's not recommended for routine use because digital noise obliterates fine detail. I resorted to the ultrahigh ISO only when absolutely necessary: for action-stopping shutter speeds during equestrian action in the darkest parts of an indoor arena.

Evaluation: The Maxxum 7D offers a full slate of overrides, and yet, it often produced pleasing photos at the default settings. Sharpness is moderate but the images respond well to sharpening with Unsharp Mask or Photoshop plug-ins designed for that purpose. Color saturation is very high, with particularly vibrant reds and blues. In my opinion, it's sometimes excessive. In wedding and portrait photography, I would set the saturation level to -2, or tone down certain colors in post-processing. Other aspects can also be adjusted in camera: exposure, white balance, hue, and sharpness. Even so, many advanced photographers will insist on shooting in Raw Capture mode to take advantage of the processing features available in converter software, such as the bundled DiMAGE Viewer.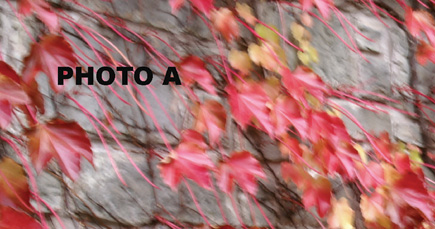 PROS
· Exceptional versatility in all respects, including flash with optional HS(D) Program flash units
· Ease of basic use; many features can be accessed quickly with familiar analog controls
· Anti-Shake system provides stabilization with most Maxxum lenses
· Quick response, fast framing rate, and great burst depth
· Excellent image quality; digital noise and JPEG artifacts are very well controlled
CONS
· Too many options in the electronic menu, some not intuitive and not well explained in the instructions
· Some Anti-Shake system limitations, described in the Anti-Shake sidebar
· DiMAGE Viewer software (for raw file adjustment and conversion) is not particularly fast or versatile; optional DiMAGE Master software is preferable
· High price in the 6-megapixel category but Anti-Shake system adds substantial value
During testing of the Anti-Shake system, I made these images with a 1/15 sec shutter speed at 85mm--a 127.5mm equivalent--focal length. Photo A exhibits obvious blur from camera shake. Photo B, made with Anti-Shake active, is substantially sharper. (A 24-85mm zoom; handheld; at f/10; ISO 100; Color Saturation at -1 level, in camera.)
Technical Specifications
Image Sensor: 23.5x15.7mm CCD with RGB filter array; 6.1 million recording pixels; 1.5x field of view crop
Anti-Shake: Built-in CCD-Shift system provides stabilization with most Maxxum lenses
Shutter Speeds: 30 to 1/4000 sec plus Bulb; top flash sync speed of 1/160 or 1/125 when Anti-Shake is active
Operating Modes: Full Auto Program, Shiftable Program, Aperture Priority and Shutter Priority AE plus Manual mode
Drive: Single frame and continuous at up to 3 fps advance; self-timer; interval shooting mode
Autofocus System: Nine-point sensor, with cross-hatched central sensor; any sensor selectable; single-shot autofocus and continuous predictive tracking autofocus available; focus-assist beam with pre-flash
Exposure System: Center-weighted, spot, and 14-segment honeycomb pattern (evaluative) metering; exposure compensation, AE Lock, and AE bracketing for ambient light or flash
White Balance: Automatic, Daylight, Shade, Cloudy, Tungsten, Fluorescent, Flash, Custom, Color Temperature also selectable
Image Adjustments: Five (+/-) levels of contrast, color saturation, hue, and sharpness
Flash: Built-in, with manual control and pre-flash TTL; ADI metering with D-series lenses; fill flash, flash cancel, redeye reduction, and rear curtain sync modes; wireless off-camera TTL flash and high-speed sync available with certain flash units
Other Features: sRGB plus Adobe RGB color space; long-exposure Noise Reduction available; Exif Print, PRINT Image Matching, and PictBridge compliant; USB 2.0 High Speed plus Video output; numerous custom functions; accepts CompactFlash Type I and II cards
Power: One NP-400 lithium ion battery; optional AC adapter; optional VC-7D Vertical Control Grip accepts NP-400 or Ni-MH AAs
Dimensions/Weight: 5.9x4.2x3.1"; 26.81 oz
s$1599

Anti-Shake System Technology
Previously available in some DiMAGE cameras with built-in lenses, the Anti-Shake mechanism used in the Maxxum 7D is quite similar. However, the new device is more robust, designed to match the larger CCD in the digital SLR camera. As well, it was designed to be effective with a very broad range of lenses, from ultra-wide to super telephoto, with only two exceptions: the Maxxum 16mm Fisheye and the 3x-1x Macro Zoom. Quite different in principle than the optical stabilizers used in some Canon, Nikon, and Sigma lenses, Anti-Shake achieves a comparable effect: producing sharp images in handheld shooting at longer shutter speeds than conventional equipment.


The Konica Minolta Anti-Shake system works in the following manner: When the built-in motion sensor detects camera shake it sends information on the angle and speed of camera motion to a microcomputer. The latter combines that information with data on focal length, the current f/stop, and focused distance to make a sophisticated analysis. Then, it sends a signal to a "Smooth Impact Drive Mechanism" (SIDM) that mechanically shifts the entire CCD sensor unit to compensate for a sharper photo with less blurring from camera movement.

A five-step LED indicator in the viewfinder keeps the user informed of the extent of Anti-Shake activity. The more of the blue LEDs that are illuminated, the greater the amount of camera shake compensation that is occurring. When all five are lit, maximum CCD shift is under way. That's a signal that the system may not be fully compensating for camera shake; switching to a faster shutter speed will increase the odds of blur-free images.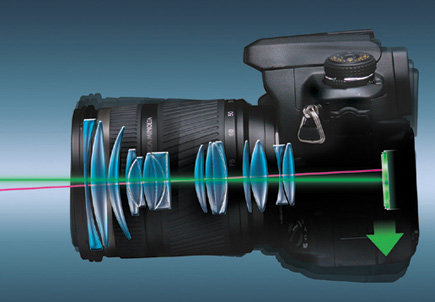 Regardless of the technology used, no stabilizer system is perfect, because it cannot compensate for subject movement; only a fast shutter speed can "freeze" motion. Also note the following comment in the Maxxum 7D Owners Manual:
"Anti-Shake is less effective with moving subjects or when the camera is panned, at shutter speeds of 1/4 sec or longer and at short object distances [as in macro photography]." Konica Minolta also recommends turning the Anti-Shake system off when the camera is mounted on a tripod. That's not a drawback because there's no need for shake compensation when using a firm support.
Final Assessment
The Maxxum 7D costs more than most 6-megapixel cameras, probably because of the Anti-Shake mechanism that provides stabilization with numerous types of lenses. Although it would be the most logical choice for anyone who already owns Maxxum lenses, this digital SLR should appeal to any advanced photo enthusiast because of its unusually rich feature set. Add an optional 5600HS(D) flash unit, and the combination becomes highly desirable for most every type of serious photography.

For more information about the Maxxum 7D, visit Konica Minolta's website at: http://konicaminolta.us.
A long-time "Shutterbug" and "eDigitalPhoto" contributor, stock photographer Peter K. Burian is the author of two recent books: "Magic Lantern Guide to the Konica Minolta Maxxum 7D" (Lark Books) and "Mastering Digital Photography and Imaging" (Sybex).

LATEST VIDEO

SPONSORED VIDEO
Testing Tamron's SP 150-60mm G2 lens while capturing birds and alligators in Apalachicola, Florida.