Key Camera Settings for Nature & Wildlife Photos: PART 2 (VIDEO)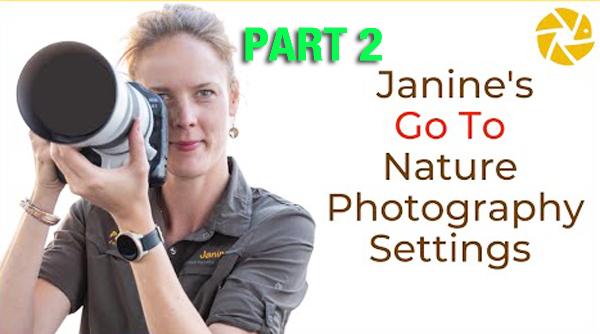 Last week we featured the first of a two-part beginners guide to nature and wildlife photography from expert Janine Krayer—a photographer and instructor who spends much of her time teaching workshops and photographing exotic animals in the wilds of Africa.
Krayer is part of the team at Pangolin Wildlife Photography a group of experienced safari guides and photography experts in Northern Botswana. In her first episode Kayer discussed five basic camera settings that are essential for every budding nature shooter to master.
Today's tutorial, Part 2 of the series, digs deeper as Krayer reveals her go-to camera settings for both novice and intermediate photographers. These straightforward tips are sure to improve your imagery, whether you go on safari abroad or shoot at a local park.
Krayer shares what she says are all the little details she wishes someone would have taught her from the start. She begins with a review of the Exposure Triangle, paying particular attention to dealing with rapidly changing light that's so common when shooting outdoors. As she says, "If you understand the Exposure Triangle it becomes easy to play with the light, explore the stories that wildlife tell us, and capture artistic images that grab attention."
Next Krayer discusses her top priorities when photographing wildlife—the first of which is achieving a fast shutter speed. As she explains, this is especially important with moving subjects—and depends upon the focal length of your lens. Her other key concerns are equally worth noting.
You'll also learn Krayer's go-to settings for capturing portraits of stationary animals, how to employ slower shutters speeds to convey a sense of motion, the implications of shooting in Manual exposure mode under various conditions, and much more.
Krayer also provides valuable hints and tips for avoiding common pitfalls in the field. You can find much more of interest on the Pangolin Wildlife Photography YouTube channel, so pay a visit and subscribe.
And if you missed Part 1 of this series, be sure to take a look,

FEATURED VIDEO