Kevin Kubota's Lighting Notebook: 101 Lighting Styles And Setups For Digital Photographers
Kevin Kubota is an internationally recognized speaker who has presented programs for every major photographic convention in the US. His Kubota Image Tools have won numerous "Hot One" awards and his Digital Photography Bootcamp workshops, and book by the same name, have been recognized as high energy creative environments in which photographers come away inspired and educated about the great creative potential of their work. In his new book, Kevin Kubota's Lighting Notebook (2011, John Wiley & Sons, Inc., ISBN: 978-1-118-03510-8), Kubota shares creative lighting techniques that help create mood, define the subject, and give unique dimension to your images. In this excerpt we show but two of the 101 teaching lessons in this handsomely done and fully illustrated 298-page book.—Editor
Fountain Diva
"Trash the Dress" bridal portrait sessions have become very popular lately, although I prefer to avoid the term "Trash" when talking to a bride about her expensive wedding dress. Maybe we can start to call them "Recycle the Dress" sessions, or something a little more environmentally friendly.
In Bend, Oregon, there is a groovy spot called McMenamins Old St. Francis School. This site is one of a series of McMenamins establishments around Oregon. It is unique in that they have taken an old schoolhouse and turned it into a lodging spot, complete with restaurant, brew pub, theatre, and spa—all wrapped up in one. The sauna pool, in particular, is one of the most beautiful in town. Again, a little friendly asking got us access to this steamy room during their slower hours.
And, yes, it was steamy in there. Steamy conditions can dramatically affect the clarity of the images, so I chose to do something a bit more impressionistic—especially at this shooting distance. Later in this section is another image from this spa, but I was closer to the subject, which minimized the effect of the steam in the air. The steam, however, creates particles in the air for the light to reflect off of, which formed the beams of light that resemble angel wings (to me, anyway).
In the background, my LED diving light created the illumination. The evenness of its illumination pattern was important to the uniform glow. When shooting in a warm location after entering from colder temperatures outside, make sure to allow time for lenses and equipment to acclimate so as to avoid condensation. I kept the bags out in the hallway for a while to slowly warm up before entering the hot spa with them.
Exposure Info:
24mm lens setting
f/2.5 at 1/50 sec.
ISO 800
Tools Used:
Nikon D3s
24mm f/1.4 Nikkor lens
Intova 500 lumen LED diving light
Hollywood In Portland
High above the city hustle and bustle in Portland, Oregon, we found this penthouse party deck at Indigo 12 West. It also had beautiful guest suites that we were able to use for some boudoir portraits. Shae had beautiful platinum hair and perfect features for a vintage Hollywood-style portrait.
I used a 50mm f/1.4 lens, set to f/2 because I wanted to throw the background out of focus as much as possible. To be able to shoot at f/2 in bright daylight, however, and keep the shutter speed below 1/250 second to sync with my studio flash required the use of a neutral density filter.
We were on the shady side of the building, so the existing light was flat and needed a little kick. Since we shot a variety of images, from full length to close up, we wanted a single light box that would light our model head to toe but keep the light from spilling too much to the sides of her. A Profoto strip box was perfect, and when coupled with their powerful D1 Air 500 lighting system, it provided consistent output and easily provided the power needed to burn through my neutral density filter. I adjusted the output of the D1 so that the effect was subtle, adding a soft kick of illumination, while maintaining a natural-light look. I wanted to balance the exposure with the brightly sunlit deck showing toward the top of the reflection. Fill light was provided by the existing open shade illumination.
The Profoto system has a proprietary remote control for the flash heads so that you can adjust every parameter, of multiple heads, from the camera position. It's extremely convenient and a significant timesaver on busy shoots. The build quality of the covetable Profoto system is exquisite; it's made to last and is one of the most precise flash systems I've ever tested.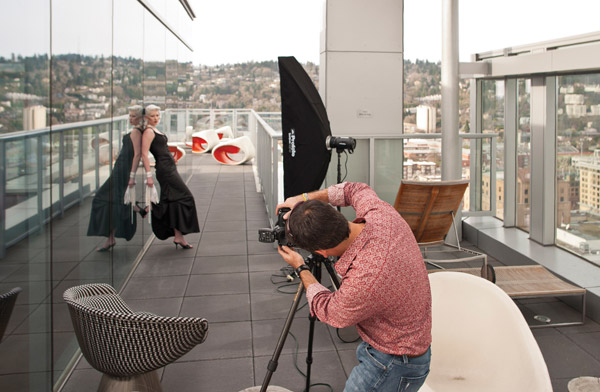 Exposure Info:
50mm lens setting
f/2 at 1/250 sec.
ISO 200
Exposure comp. +/– 0
Tools Used:
Nikon D3s
50mm f/1.4 Nikkor lens
Profoto D1 Air 500 Monolight
Profoto 1 × 4 Strip Softbox
Profoto wireless flash trigger and controller
Singh Ray Vari ND neutral density filter
Options
A less expensive monolight and strip box could be used. Photoflex, AlienBees, and Westcott make good quality systems for less. The wireless controller is very helpful, but not necessary.
Where To Buy
Kevin Kubota's Lighting Notebook: 101 Lighting Styles and Setups for Digital Photographers (ISBN: 978-1-118-03510-8, $34.99, US softcover) is available at all major retail and online bookstores. There is a companion interactive Lighting Notebook app for the iPhone and iPad. For more information, visit TheLightingNotebook.com/wiley.

LATEST VIDEO