Kata Pro-Light Rollers
Manfrotto Distribution has introduced a slimmed down lineup of Kata rollers, shoulder bags, video backpacks and rain covers. Designed especially for professional videographers, Kata's products offer a wide selection of carrying and protective solutions.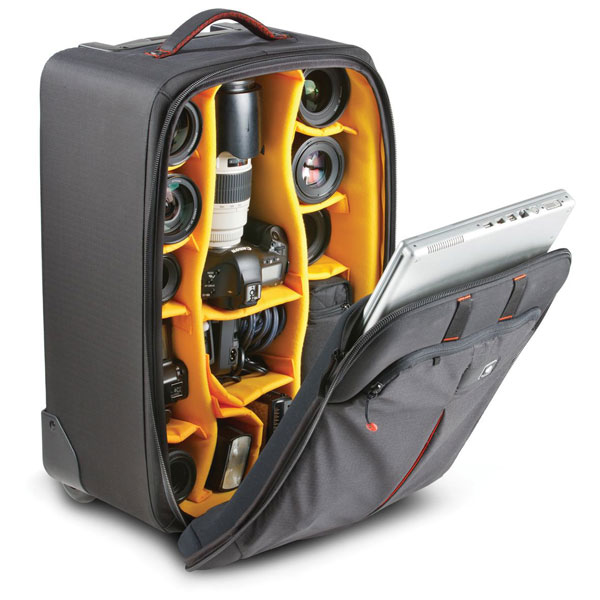 "Kata Pro-Light products are designed to protect professional gear while minimizing weight, so you never miss a shot," said Doug Feldner, Product Category Manager. "The focused 2013 product line makes finding the right bag or rain cover with the online Kata Bag Chooser (www.kata-bags.us) simpler than ever."
The Pro-Light FlyBy is a sleek, low-profile, on-board* camera organizer, with integrated wheels. It provides hard-case protection with the advantages of a soft case – light, modular, with a multitude of pockets and storage options. The FlyBy looks like any onboard luggage so you are not targeted as a shooter with "overweight" gear. Perfect for carrying a camera and laptop, the Flyby holds almost any gear you need for a job across town or across the country.
There are two sizes in the Pro-Light Flyby Series
Pro-Light Flyby 75 Rolling Case: FlyBy-75 PL Photo Roller for and interchangeable lens video camera and accessories or 1-2 Pro DSLR Bodies + 6-8 Lenses (up to 400 mm) and 15'4 or smaller laptop. Street price $249.99.
Pro-Light Flyby 77 Rolling Case: FlyBy-77 PL Photo Roller for 2-4 Pro DSLR Bodies + 8-10 Lenses (600 mm) and 17" or smaller laptop. Street price $299.99.
The company notes that while the dimensions of the FlyBy are within the strict international and domestic flight regulation, constant changing airline regulations means that you should check with your carrier prior to departure.

LATEST VIDEO