Kaiser's Studio Out Of The Box
A Handy Tool For Photographing Small Objects Page 2
At a guess, the Studio Out of the Box could do well over 40 percent of the small pack and product shots we do in our conventional studio, including pictures of classic cameras. This is pretty impressive. When not in use, it packs into a plastic box some 24x19x4" (60x49x10cm) and weighs just 10 lbs (4.5 kg).
The Studio Out of the Box, out of the box.
Pull up the parallelogram arm and slide out the baseboard extension: 3 seconds.
Unfold the background support frame and slide the baseboard extension back in, the other way up. Put the background support strip (the square-section clear plastic channel) on the background support frame: 10 seconds. .
Its success in Europe has surprised even Kaiser. Is it for you? We can't tell you. But from what we have said, and from the pictures, you should be able to work out for yourself whether it would save you time and effort. If it would, then go for it.
Note: The Studio Out of the Box lists for $223 (but may be available for less) and is imported by HP Marketing Corp.
For more information, visit www.hpmarketingcorp.com.
Drape the background over the support strip. The bar at the narrow end of the background is retained by the parallelogram arm: 10 seconds. Add the camera: 15 seconds. Put your subject in place; light it; and you are in business.
Other backgrounds can be used: here, purple velvet.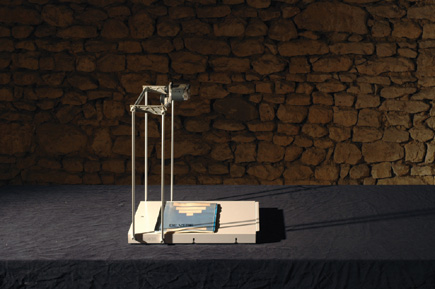 With the parallelogram arm straight up, you have a copy stand.