Jill-e Designs Medium Bags With New Updates
One of the most popular lines of Jill-e Designs bags – the versatile Classic medium bags – has undergone an update for even greater fashion and function, and expanded by one extraordinary member, the company announced.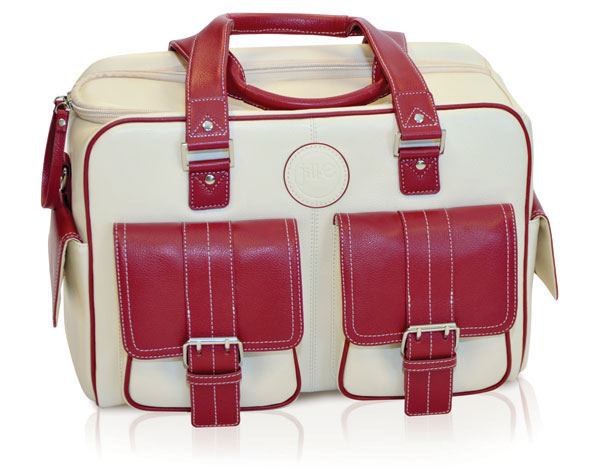 The Classic medium portfolio now features a convenient zippered slot to trolley the bag with a larger rolling bag, sturdier hand and shoulder straps and other enhancements. There's also a lush new bone-colored bag with deep red trim and all the style, sass, safety and security Jill-e Designs is known for.
Whether it's for an overnight trip, a day-long business session or a more complex photo shoot, Jill-e Designs' Classic medium bags perform and protect with style and sass. Choose between rich leather or suede, in a range of designs and colors. Padded walls and secure pockets keep belongings safe and secure, while configurable Velcro dividers allow the bag's interior to be customized for a netbook, photo equipment, business files or the "lifestyle essentials" for a special getaway. Suggested price: $239.99.
Every Classic medium bag from Jill-e Designs features:
· Padded exterior walls protect equipment and essentials
· Dual-zipper top entry for one-handed access to contents
· Adjustable Velcro dividers for interior flexibility and customization
· Strong dual carrying handles and padded, adjustable shoulder strap
· External storage pockets, internal netted pocket
· Zippered "trolley" slot for combining / stacking bags
· Dimensions (LxWxH): 14.0" x 8.0" x 9.5"
· Wipes clean with a damp cloth
For photographers, the Classic medium bags hold:
· 1-2 camera bodies
· 1 flash unit
· 1-3 three lenses
· extra batteries, memory cards, accessories