It Takes More Than Optics; It Takes Vision Page 2
www.chadmoss.com
I admire Chad Moss not only because of his great-looking website but that he also finds time to maintain an active blog. One measure of a photographer is what kind of photographs he or she has of their family, and Moss shows the way with a stylishly casual portrait of his wife and kids made in what looks like an alley. This is the first indication that he's not your father's wedding photographer. Moss is a Tulsa-based wedding shooter whose work is displayed in a fun, contemporarily designed site that reflects the joie de vivre that's ever present in his work.

His wedding photographs are full of images of spontaneous joy and can be viewed in a thumbnail grid with rollovers that enlarge a specific image or as a slide show. There's no "smile for the birdie" imagery here; his monochrome and color photojournalistic photography captures the wedding day without the kind of line 'em up and shoot 'em shots that used to pass for wedding photography. (I think, because nobody knew what else to do.) But Moss knows what to do and captures weddings in memorable photographs that you'll want to pass on to your kids and won't be embarrassed about. OK, maybe some of the hairstyles. His high school senior portraits, while somewhat formulaic, manage to break free from a form dictated by students, their schools and parents to show originality, including a web page design different than his weddings that clearly acknowledges he's pitching a different client base and moving the frame to fit the picture.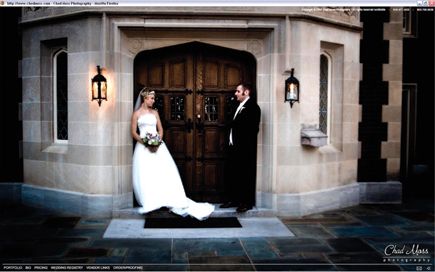 © 2007, Chad Moss, All Rights Reserved
www.jenniferhogan.com
Jennifer Hogan is another photographer with an active blog, although she calls it "News." No matter what you call it, blogging is an ideal way for portrait and commercial photographers to keep in touch with their clients by showing and sharing their thoughts and latest images. Her classy-looking site includes sections called Lifestyle, Interiors, Corporate, and Stories. "Lifestyle" consists mostly of color portraits of kids but these are not your "Kodak Moment" children but real-world kids smiling at their birthday party or crying in their crib when they should be taking a nap, but don't want to. "Interiors" is the exact opposite, featuring carefully composed and crafted moments in sometimes lavish home interiors that are skillfully executed with an eye for detail that separates good interior photography from also-rans.

Her "Corporate" images, mostly portraits of people at work or executive portraiture, are created with the same crisp professionalism found in "Interiors." The lone monochrome shot in a sea of color is notable in its drama and while black and white may be hard to sell to clients, this portrait makes a solid argument about monochrome's power. In "Stories" you'll find "Building a Western Tradition" that essentially takes you to another website with photographs of the ghosts of five generations of "life space" high in the Sierra Nevada Mountains. These impressive examples of Hogan's fine art photography show that no matter what the genre, she is one talented photographer.
© 2007, Jennifer Hogan, All Rights Reserved

LATEST VIDEO

SPONSORED VIDEO