Iomega REV 35GB/90GB Drive
Iomega Corporation (NYSE: IOM) is now shipping the new Iomega REV 35GB/90GB* drive. As an alternative to tape and other backup and archiving solutions, Iomega's new REV drive and 35GB removable REV disks deliver server and desktop backup, while also providing users with the ideal portable storage device for sharing and archiving large files.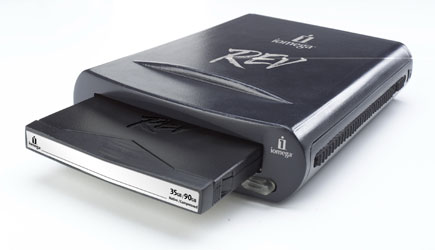 The Iomega REV drive offers the removeability of tape with the speed and ease of use of a hard drive. REV disks are said to transfer data up to eight times faster than tape, are smaller than a deck of playing cards (10 x 77 x 75 mm), and can be rewritten more than a million times (estimated). With a maximum sustained transfer rate of 25 MB/sec, and using drag and drop random access technology, REV users can copy and restore individual files in seconds.
With patent-pending advanced two-stage error correction and patent-pending automatic head cleaning, Iomega REV technology is said to achieve an error rate three orders of magnitude better than that of today's sealed hard drives. The REV drive design keeps the sensitive read/write heads and electronics sealed in the REV drive, and for increased reliability, a patent-pending air filtration system creates a virtual "clean room" environment inside the removable disk. Iomega REV disks are engineered to provide an extremely durable and reliable shelf life, estimated to exceed 30 years.
Currently, both the external USB 2.0 version and the internal ATAPI version of the Iomega REV drive are available at the Web sites of major PC OEMs and other channel partners, as well as at www.iomega.com.

FEATURED VIDEO