Interchangeable Lenses
Optics For 35mm And Digital SLRs
Although very few 35mm SLR cameras were introduced at PMA 2004, there was no shortage of new lenses. Many of the new products are very short zooms, necessary for true wide angle effects with digital SLRs or lenses upgraded for greater compatibility in digital photography. Even though this optical bonanza must be attributed to the growing popularity of digital SLRs, most of the new lenses work equally well with 35mm format equipment, so everyone benefits.

Admittedly, we're also seeing a trend toward lenses designed exclusively for use with digital SLR cameras with APS size sensors, a trend that is likely to continue, unless full-frame sensors become the norm. For the next 3-5 years though, the smaller sensors will probably remain standard in consumer-grade digital cameras. That's because of the excessively high cost of large, full-frame sensors, and because photo enthusiasts prefer smaller digital SLR cameras and lenses.

Unless otherwise stated, the following are "multi-platform" lenses, suitable for use with 35mm SLR cameras and with digital SLR cameras. Some are also optimized for superior results with digital SLRs, an issue that's discussed further in our sidebar. The few lenses designed exclusively for use with digital SLRs are identified accordingly. No matter what type of camera you own, or plan to buy, some of the following products will probably be of interest to you.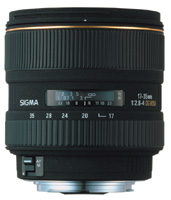 Wide Angle Zooms
Featuring an unusual range of focal lengths, the new Sigma 24-60mm f/2.8 EX DG zoom replaces the previous 24-70mm f/2.8 zoom and offers several benefits over its predecessor. Like all of the Sigma DG-series lenses, this one is optimized for digital cameras although specifics on the technology were not available; it would be equally suitable for 35mm SLR owners. It's also smaller and accepts 77mm filters (vs. the huge 82mm filters), focuses closer (to 15"), and includes internal focusing. The new optical formula is impressive, with four aspherical and two low dispersion elements, intended to provide "excellent" correction for distortion and all types of aberrations. (Street Price: $429, in Sigma, Canon, Nikon D, Minolta D, and Pentax AF mounts.)

At one time, a 28-80mm zoom was standard in camera kits, but these "normal zooms" are getting longer. For example, Canon will sell EOS ELAN 7N/7NE kits with a new EF 28-105mm f/4-5.6 (non-USM) zoom that will add about $120 (street price) to the price of the ELAN camera. That makes the 28-105mm zoom a bit more expensive than the typical 28-80mm "kit lens" but it's also a lot more versatile. This lens may also be sold as a separate item, but frankly, the EF 28-105mm f/4-5.6 USM zoom would be a better choice; while it costs $150 (street price) that USM lens is preferable because it includes the faster/silent ultrasonic focus motor.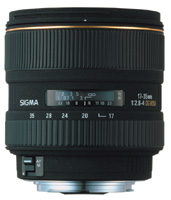 Ultra-Wide To Super Wide Angle Lenses
The shortest "multi-platform" lens currently available, the new Sigma 12-24mm f/4.5-5.6 EX DG Aspherical produces an incredibly wide (up to 122Þ) angle of view with a 35mm camera or a full-frame digital SLR. This is a true rectilinear lens at all focal lengths and not a fisheye. Mount it on a digital SLR with an APS size sensor and it will still produce an ultra-wide angle effect as an (approximately) 18-35mm equivalent zoom. Models in Canon, Sigma, and Nikon D mounts are equipped with an ultrasonic HSM focus motor for ultra-fast, nearly silent focusing; the lens also allows for manual focus override in AF mode. This lens is also available in Minolta D and Pentax mounts with a conventional
AF motor.

In order to compensate for most types of aberrations and distortion, this
12-24mm zoom incorporates four low dispersion plus two glass aspherical elements to ensure fine image quality. In my estimation, this DG-series lens will primarily appeal to digital SLR camera owners who find that most other zooms simply cannot produce the ultra-wide angle of view they need for landscapes and other expansive subjects. Do note however that the Sigma 12-24mm f/4.5-5.6 EX DG Aspherical zoom does not accept front-mounted filters such as a polarizer. Because of the exceptionally wide angle of view, it's compatible only with rear mounted gel filters. (Street Price: $649.)

The Sigma 17-35mm f/2.8-4 EX DG Aspherical zoom offers a more typical range of focal lengths and much wider apertures that will be useful for low-light shooting. This DG-series zoom features special low dispersion glass plus two aspherical elements to correct aberrations and distortion, plus HSM focus motor (in some mounts) and full-time manual focus. Other features include minimum focusing to a mere 11", internal focusing, a non-rotating front element, and a corner-cut lens hood designed for shading at all focal lengths. As expected with a fast ultra-wide lens, this is a moderately large and heavy (3.3x3.4"; 19.8 oz) zoom that requires 77mm filters. (Street Price: $439; available in the same mounts as the lens mentioned earlier.)
Telephoto Lenses
In 2002, Canon announced the development of the Diffractive Optics (DO) technology that would make lenses significantly smaller. A DO-series lens incorporates a special element with a diffraction grating; it's etched with very fine parallel grooves or slits in order to alter the path of light rays. While diffraction (bending of light rays) usually degrades image quality, the unique design actually provides more effective correction of chromatic aberration. Because the DO technology increases the refractive power of the front and rear lens group, the space between elements can be reduced, making the lens shorter, and hence lighter.

Until recently, only a single DO lens was available, the EF 400mm f/4 DO IS USM, but now there's a DO-series zoom as well, the EF 70-300mm f/4.5-5.6 DO IS USM. This one incorporates a new three-layer diffractive element that's more suitable for use in a zoom lens and is more effective than the earlier two-layer design. The addition of aspherical lenses corrects spherical aberration and the combination should produce superb image quality with low distortion, snappy contrast, and high resolution across the frame.

The new EF 70-300mm f/4.5-5.6 DO IS USM is surprisingly small, about the size of the older 28-135mm IS zoom. Other valuable features include a two-mode Image Stabilizer (IS) said to provide a full three shutter speed step advantage when shooting handheld, new USM autofocus system plus internal focusing for extremely fast AF operation. While this DO zoom works perfectly with 35mm cameras and digital SLRs with full-frame sensors, it should be a fine choice for use with digital SLRs. According to Canon, "Lens shape has been optimized and new coatings added to suppress ghosting and flaring making the lens ideal for use with digital cameras." When used with an EOS 10D or Digital Rebel, the zoom provides an equivalent focal length range of 112-480mm, great for shooting distant sports or wildlife subjects. (Street Price: $1299.)

Most 28-300mm zooms are compact, affordable lenses intended primarily for convenience, but the new Canon EF 28-300mm f/3.5-5.6L IS USM is an L-series pro lens that targets serious photographers. Replacing the EF 35-350mm f/3.5-5.6L USM lens, a favorite among photojournalists, the new 11x zoom includes some of the same features: rugged dust and moisture resistant construction, zoom friction adjustment control, and a superior optical formula. The 28-300mm lens offers some advantages over the 35-350mm zoom, including a high-powered USM focus motor for faster autofocus and an optical image stabilizer. (This is the new IS system also used in the EF 70-300mm f/4.5-5.6 DO IS USM zoom.)

The optical formula has also been improved and now includes three Ultra-low Dispersion (UD) glass elements plus three aspherical elements to correct aberrations and distortion. The new design and multilayered coatings are said to make the ED 28-300mm f/3.5-5.6L IS USM zoom ideal for use with digital SLRs that are more susceptible to reflections off the recording media than 35mm cameras. When mounted on an EOS 10D, the equivalent focal length range is 45-480mm, for great versatility especially with distant subject matter. Naturally, this 22 element pro-grade lens is large (3.6x7.2"), heavy (3.7 lbs), and expensive ($2499, list) but promises the highest optical performance in its class.

Although it will not be available until late summer, the "digitally integrated" Tamron SP AF 200-500mm f/5-6.3 Di LD [IF] will be a worthy successor to the older SP AF 200-400mm f/5.6 model. Offering an extra 100mm of effective "reach"--or an extra 150-160mm with many digital SLR cameras--this zoom will be even more useful for sports and wildlife photography. The new Di lens offers other benefits, too: superior correction of color aberrations with two low dispersion elements, better resolution and contrast, and a filter effect controller ring that allows a polarizer to be rotated while the lens hood is attached. This Di zoom will be available in Canon EF, Minolta AF-D, and Nikon AF-D mounts. (Estimated Street Price: $879.)

As mentioned in our sidebar on digitally optimized lenses, Tamron has upgraded its most popular macro lens to the Di standard. The new SP AF 90mm f/2.8 Di Macro 1:1 is similar to its predecessor but is a tad smaller and lighter, features easier handling and a more pleasing design, plus superior multi-coatings for extra flare control. Frankly, I find a 90mm macro lens a bit short for nature close-up photography, but on a digital SLR body (with APS size sensor) this one will provide a focal length of about 140mm, making it more desirable. This macro lens offers full 1x magnification on a 35mm camera, and even higher apparent magnification when used with a digital SLR, another bonus. (Street Price: $499; available in the same mounts as the lens above.)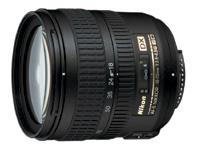 Lenses For Digital SLR Cameras
Several camera manufacturers now offer zoom lenses intended exclusively for use with digital SLR cameras with an image sensor smaller than a 35mm film frame. Such lenses are designed to match the size and characteristics of the sensor and to produce the best possible results with a digital camera. Because the image circle is smaller, the lenses are more compact than conventional lenses, and hence lighter; they are often less expensive as well.

The first Pentax zoom of this type is the SMC DA 16-45mm f/4 ED AL, which provides the equivalent of 24.5-69mm focal lengths in the 35mm format. This is a high-performance lens with both aspherical and low dispersion glass elements to control all type of optical aberrations. There's a new feature, too: a "Quick-Shift Focus System" that allows for instantly switching the focus mode from auto to manual with a slight twist of the focus ring. This is a compact and lightweight zoom (2.8x3.6"; 67mm filter size; 12.9 oz) that will be a perfect companion to a Pentax *ist D digital SLR camera. (Street Price: $429.)

Although full specifics are not yet available, Pentax is developing a second DA lens, to be released later this year, the SMC DA 14mm f/2.8 ED (IF). It will be extremely compact (2.7x3.3"; 77mm filter size) and will feature low dispersion glass, internal focusing, and manual focus override in AF mode with the "Quick-Shift Focus System." (Price and product photo not yet available.)

Olympus now manufactures only Zuiko Digital Specific lenses, including the shortest zoom on the market, the new Zuiko Digital 11-22mm f/2.8-3.5. This lens produces the equivalent of 22-44mm focal lengths when used on the Olympus E-1 with its 17.4x13.1mm sensor. In order to assure superior optical performance, the first two elements receive a new type of multi-coating to remove flare and ghosting that can be problematic with digital cameras. The optical formula also includes two aspherical elements to correct distortion and aberrations. Thanks to a floating element design, this zoom also focuses closer than most: down to a mere 0.28m (11") at any focal length. (List Price: $699.)

Clearly a professional lens and priced accordingly at $3500 (list), the new ED 150mm f/2 telephoto is equivalent to a 300mm f/2 lens in 35mm format terms. The maximum aperture is remarkably wide but the lens is not particularly large or heavy (82mm filter size; 43 oz). A telephoto of this type will appeal to some sports, portrait, fashion, and wildlife photographers and to anyone who wants to shoot in low light or make images with very shallow depth of field (a defocused background). This dust and water-resistant lens incorporates one ED (Extra low Dispersion) element and a Super ED element. A new multi-coating reduces reflections at a wide range of wavelengths, minimizing the ghosting and flaring that can be problematic with digital SLR cameras.

It's worth noting that all Zuiko Digital Specific lenses are designed to perfectly match the E-1 camera's imager so light strikes the sensor at the ideal angle. The lenses also include firmware that communicates with the camera, exchanging information that can adjust certain characteristics such as shading (vignetting) and distortion. Shoot raw format images and you can correct any distortion, vignetting, and aberrations easily in the Olympus Viewer software. When new firmware is introduced, the lens can be updated via a download (to the E-1 camera) from the Olympus website, allowing the equipment to produce even higher image quality.

Nikon continues to expand its line of DX-series lenses, designed specifically for digital SLRs with the 23.7x15.6mm sensor. The latest model, the AF-S DX 18-70mm f/3.5-4.5 G IF-ED zoom provides the field of view of a 27-105mm zoom in the 35mm format. Because it was designed to match the small sensor, the Nikkor AF-S DX 18-70mm f/3.5-4.5 G IF-ED is more compact (2.9x3"; 13.5 oz), lightweight, and affordable. For a $399 lens, the optical formula is impressive; it includes three ED glass elements to correct chromatic aberration as well as an aspherical lens element to compensate for coma, astigmatism, and spherical aberration. As an AF-S lens, this one includes the Silent Wave (ultrasonic) focus motor and internal focusing for swift, silent performance and the M/A feature for seamless switching between autofocus and manual modes. (Also available in a Nikon D70 kit, adding only $299 to the street price of the camera.)
Digitally Optimized Lenses
You'll find many references in this report to 35mm system lenses that are also optimized for use with digital SLRs and to special lenses designed exclusively for digital SLRs. Both types are said to be preferable for digital photography than conventional lenses, although specifics to support this claim are difficult to obtain from most manufacturers. (Some company reps prefer not to release "proprietary" information while others simply do not have access to that information.) However, as a general rule, digitally optimized lenses should benefit from superior multilayered coatings, for reasons that were well explained by a Tamron representative, as follows.

"One major difference between digital and film cameras is how internal reflections may occur and to what extent. These reflections can cause unwanted flare or `ghosting' [reflections in the shape of the lens diaphragm] on the final image. In a film camera, diffused reflections can be created inside the mirror box or from light reflecting off the film surface itself. In a digital camera, stronger reflections can occur from light bouncing off the sensor, since CCD and CMOS sensors are almost mirror-like, making the problem more noticeable...; that makes new anti-reflection countermeasures essential."

It's also important to note that imaging sensors are designed for optimum results with light that strikes all pixels at a 90Þ angle. With most conventional lenses, light reflected from the subject strikes the image plane at an increasingly oblique angle as you move toward the edges of the frame. (Editor's Note: Some sensors have "collecting lenses" over the array to compensate for this and redirect the light accordingly.) This can produce some darkening at the corners of a digital image, particularly noticeable in wide angle shots made at wide apertures. In a digitally optimized ultra-wide angle lens, the designers should take steps to minimize that "peripheral light falloff" for even brightness across the frame. This goal can be achieved with an optical configuration that causes light to strike all pixels at the ideal angle or with some other strategy that produces increased brightness in the corners of the frame.

Not all lenses require the same design techniques to produce superior technical quality with a digital SLR camera. And many conventional lenses already produce excellent results with all types of cameras. For example, the Tamron engineers found that their SP AF 90mm f/2.8 Macro lens was highly suitable for use with digital SLRs. When upgrading this lens to the Di (Digitally integrated) standard, they merely needed to specify new ROM chips and superior anti-reflection coatings to reduce reflections to the absolute minimum; a "slight change" in the optical design completed the optimization process.

In addition to the varying needs of specific lenses, the optimization steps probably differ from one manufacturer to another. We suspect that they also vary depending on the price of a lens. A $700 zoom probably includes more effective technology than a $199 zoom with similar focal lengths and maximum apertures. The text of this PMA report contains a few specifics on methods used for digital optimization as provided by some manufacturers, but my investigation into this issue is continuing. I'll report further on the topic in future reports after additional information is received from all lens manufacturers.

Manufacturers/Distributors'

FEATURED VIDEO