Induro Introduces Gimbal Heads
Photographers have a seemingly endless choice of support heads to perch atop their tripods: panheads, ballheads, and a wide array of other head accessories. There are times, however, when these may not be the optimum choice for special shooting situations.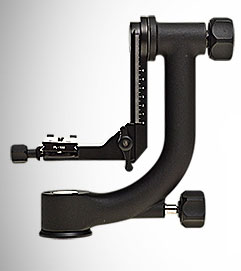 Recently, the U.S. design team at Induro, makers of the finest tripods money can buy, introduced a tripod head for sports, wildlife and nature photographers who work with very long, heavy telephoto lenses. It's called a gimbal head, and the key to its success is the ability to easily balance heavy camera/lens systems. It does so by positioning the equipment at its center of gravity and essentially making it "weightless." This provides a level of control, ease of handling and freedom of movement not possible with any other support system.
"Typically, photographers choose either panheads or traditional ballheads because that's what they're familiar with" explains Induro Product Marketing Manager Jeff Karp. "However, the gimbal head has some unique characteristics enabling it to do things other heads can't. The camera and lens, because of this unique weightless state, can be tilted up or down and stay in that position without the need to be locked in place. It also can easily move horizontally and vertically for quick, accurate tracking of fast moving subjects. This can be a big asset when photographing wildlife."
Noted landscape and nature photographer Joe Brady, who is in charge of Webinars for MAC Group adds, "We were recently in Yellowstone National Park and the gimbal head enabled me to get some extraordinary shots of bald eagles and bull elks quickly, without a lot of movement on my part. That enabled me to work quickly and quietly without disturbing the subject. I was completely sold on the gimbal head and, incidentally, so were the other people in my group. I think four or five of them have put in orders already."
When you need the maximum degree of control and flexibility, there is no better choice than the Induro GHB2 Gimbal Head. The GHB2's convenient calibrated vertical scale and height adjustable lens platform makes it easy to consistently place your camera/lens combination at the right position for repeatable results and perfect balance.
When you need a more compact outfit, the Induro GHB1 or GHBA can provide most of the control of the GHB2 at a reasonable price. The three gimbal heads range in price from $200 to $489, including an Arca-Swiss style quick release plate.
"A high speed 500mm or 600mm lens and professional camera system can cost upwards of $10,000" continues Karp. "When you consider the weight and image magnification, it becomes obvious that hand-holding this equipment is not practical. There will be too much movement and the ability to frame a shot is impossible. With a gimbal head, you can pre-select your area of focus and, without the weight constraints of a heavy, unwieldy camera/lens combo, you are freed to create amazing images."
Induro Gimbal heads should be an integral part of every sports, nature and wildlife photographer's arsenal. For an investment of less that $500 you can get the maximum performance and creative control from professional telephoto lenses.
To see more details or find a dealer in your area, go to www.InduroGear.com.

FEATURED VIDEO