Imagenomic Releases Portraiture 2 For Aperture
Imagenomic announced today the commercial release of Portraiture 2 for Aperture. This new product edition brings the power, productivity and creative flexibility that Portraiture has delivered for the Photoshop community to users of Apple's Aperture digital imaging workflow environment.
Portraiture 2 for Aperture is a newly-engineered version that fits seamlessly into Aperture digital image management, editing and output. Special features include:
· Automatic Skin Tones Mask generation and "One-click" skin retouching through a new Preset Manager, which includes image thumbnail previews, bracketing controls, custom preset creation and file sharing, notations, and visual history states;
· Advanced Skin Masking controls for selecting, feathering and refining the retouching area, edges and tonal ranges of the selected mask, including real-time previews;
· Enhancement sliders and settings for sharpness, softness, warmth, tint, brightness and contrast control, with the ability to apply these selectively to the mask area only or to the entire image, e.g. for adjusting lighting effects in software;
· Industry-leading non-destructive editing and data integrity preservation for image repurposing and superior print quality;
· Extended output options, including dynamic retouching settings optimized for the intended size of the print output;
· New User Interface selection options, multiple image batch processing capabilities, and multi-threaded/multi-processor support for maximum retouching speed and performance.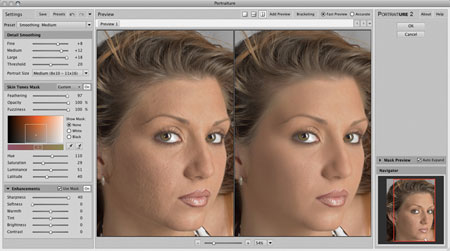 The release of Portraiture 2 for Aperture follows an extensive public beta test period involving over 1,000 registered Aperture users. This new edition has been put to use as a professional retouching tool in some of the most demanding client environments involving large production assignments requiring accurate skin retouching adjustments – often in batch processing mode – to meet tight deadlines.
Portraiture 2 for Aperture can be purchased directly from Apple (www.apple.com) or Imagenomic (www.imagenomic.com) for $199.95 (SRP). As with all Imagenomic products, free trial downloads are available for interested parties to "try before they buy."

LATEST VIDEO

SPONSORED VIDEO
Testing Tamron's SP 150-60mm G2 lens while capturing birds and alligators in Apalachicola, Florida.