How to Shoot Incredible Car Photos: Tips from Top Pro Pepper Yandell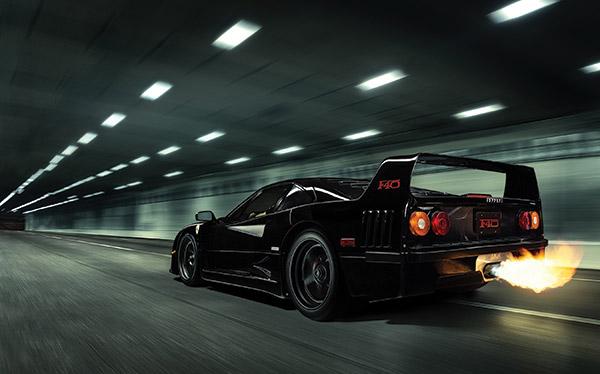 I spoke with Pepper Yandell only days before he left for Dubai on an automotive assignment. In fact, while he does shoot domestically, many of his jobs take him overseas, to the United Arab Emirates, Europe, Asia, and South America. And sometimes the work even extends to aviation. But the project doesn't end in camera.
Much of Yandell's work involves painstaking retouching and compositing. And even before he heads out on assignment, he has a vision of how things should go, tempered with an ability to adapt to any situation once he arrives on location. Yandell's approach is one that reflects a stalwart devotion to detail and an indefatigable desire to do the job right.
Revving His Engines
Interestingly, Yandell didn't start out as a car photographer. Far from it. He started out largely shooting portraiture and landscape. Then, eight years ago, fate stepped in when a good friend asked him to shoot his brand-new Audi TT. Yandell became hooked, although it took another few years—2014, to be exact—before he'd make the full commitment and go pro.
Eschewing the conventional photo studio, Yandell shoots his cars in a variety of indoor and outdoor settings. Shooting on a remote location, however, especially on foreign soil, is not without its challenges. There are always variables to be encountered. But there are ways to minimize the uncertainties.
As Yandell points out, "The biggest challenge is the fact that you've never been to this country. You are not intimately familiar with the culture, the available locations, weather, or unique shooting conditions. I always prefer to scout locations myself (using Google Earth), as that is half of what makes a great on-location image. I do, however, frequently consult with locals on spots they recommend for a shoot, so I at least have a starting point to begin my search."
Pepper's Top 5 Tips for Aspiring Automotive Photographers
1. Shoot as much as you possibly can: different cars, different colors, and different locations. Every shoot will provide a unique challenge, and a great opportunity to learn and grow.
2. When shooting for private owners, always be as respectful as possible of their cars and their privacy. They're giving you their time and money to help you build your portfolio.
3. When bidding for a commercial shoot, never sell yourself short. Set a realistic number for your time and efforts. Sometimes you have to say no and lose a job without a proper budget.
4. Fight complacency. Always work to push yourself out of your comfort zone. Try new things, styles, and methods. Growth never comes from working comfortably.
5. Surround yourself with people whose work and attitude you respect. Help them when needed, and learn from them when possible. Never step on their toes or steal their clients, and always respect the work others do.
His Mantra: Have Fun
Two words that describe a typical day for Yandell are relaxed and spontaneous. "I never try to take myself too seriously," he says, "and I'm always open to letting the plan change if a better shot, location, or idea presents itself. I started this career having fun and I do everything I can to let that spirit live. When shooting overseas, I would say that this attitude is only heightened. I make sure to take breaks, to enjoy the opportunity I've been given while doing what I love."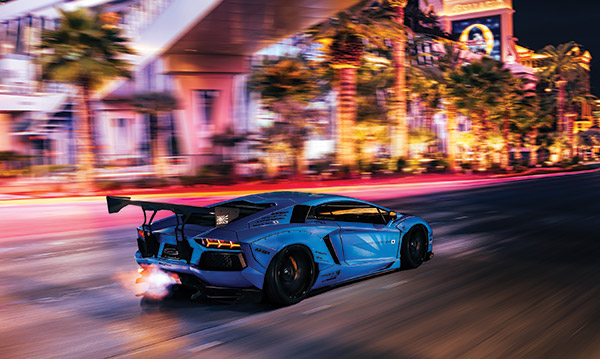 Adding to all this is a quest to show a vehicle in a fashion we haven't seen before. "The more exotic the car and location, the better," Yandell observes. "I love putting cars where they typically aren't seen, such as Lamborghinis on top of glaciers, or McLarens under the Northern Lights. I love strong contrasts, vivid colors, and powerful compositions. A healthy mix of natural beauty and surrealism."
Strobe Lighting
Whether he's shooting surrounded by four walls or in an expansive, outdoor setting, Yandell only uses one strobe: the Profoto B1 battery-powered monolight that he brings with him anywhere and everywhere in the world. "Strobe lighting is used as a tool to complement natural lighting, by accentuating certain body lines or features of a car. I always try to use both in harmony.
"I can see how it appears as if I'm walking around a car with one light blasting blindly and hoping for the best. However, I've shot so many different cars—colors, shapes, environments—I typically know exactly how I want to light it when I first start shooting. I use a one-light method as I find it most efficient. Blending the light layers together in Photoshop has become second nature. I would spend more time trying to fiddle with multiple lights if I took that route than simply moving around with one."
How-To Videos
One of Yandell's car photography how-to videos, "Liberty Walk Lambo Composite," takes us through his process as a time-lapse. He explains: "In this composite, I took a blue Lamborghini I shot in a dark empty parking lot in Las Vegas and, using Photoshop, showed it as if it were driving down one of the brightest, most well-lit stretches of road in the U.S., namely, Las Vegas Boulevard. It was important for me to add actual light reflections into the paint and windows of the vehicle, as that is naturally what occurs when a big shiny box of metal drives down such a road."
But it didn't stop with just the addition of reflections. The stationary vehicle had to appear as if it were moving. "There are many methods of getting wheel motion when taking a motionless vehicle and turning it into a motion shot," he notes. "For this particular shot, I spun the stationary wheels using Spin Blur in Photoshop, and then took a close-up shot of a stationary Lamborghini brake caliper and masked it back in behind the blurred wheel, since calipers do not spin. With shots like this one, very minimal work is done in Lightroom, I tend to do only finishing touches like bringing up shadow levels, clarity, and lens profile corrections."
He acknowledges that "the key steps differ greatly for every photo and what the end goal is. But the principal philosophy behind every edit is to arrive at a believable result where the first thing a viewer thinks is 'Wow! Cool image' and not 'Wow, that's Photoshopped.' If every image looked as it did straight out of camera, it would be a boring world for us car photographers."
Depending on the shot, the time Yandell has to spend in postproduction varies greatly. "The longest I've ever spent on one image is around 10 hours. But I've also spent as little as 30 minutes on an image for a large commercial job. It really just depends on the end result desired, and the location and demands afforded by the shoot." That said, he does spend "100 percent more time in post" than he does setting up the lighting for a shoot.
Shooting for Private Clients
Many of the vehicles Yandell shoots, especially overseas, are for private owners who take special pride in their cars. Working one-on-one with the owner affords him an indulgence a car photographer rarely, if ever, sees on assignment: he gets to drive many of these luxury cars. And that, judging from Yandell's videos on his site, is where much of the fun lies.
"It's well known that I have driven almost every exotic, sports, and luxury car that's out there," Yandell says. "I have a good driving reputation among my clients, and they trust me to take care of their cars and at the same time deliver great images."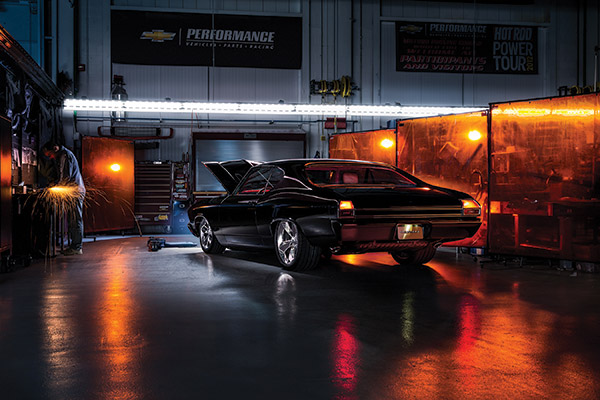 Having traveled extensively overseas, Yandell confesses that "Dubai, without question" is his favorite place to shoot cars. "I have met a very good group of people there, passionate about their vehicles and their hospitality. I have always felt welcome and like family, and all of my clients and friends there are eager to assist me in creating whatever imagery I can dream up." Judging from his truly amicable demeanor and eagerness to get the job done, that attitude on the part of his clients is easily understood.
Pepper Yandell takes automotive photography into overdrive. He doesn't settle for the tried and true. Instead he takes it to the next level, on untested ground, all the while sitting in the driver's seat, his hand firmly on the shifter.
His Favorite Photo Gear
"The 24-105mm f/4 lens, whether it was my previous Canon one, or the current Sony one. The focal length range and sharpness at f/9 this lens provides has proved invaluable, and is a mainstay in my work."
What's in His Gear Bag
• Sony A7R III
• Sony FE 24-105mm f/4 G lens
• Profoto B1 with Air Remote TTL-S
• DJI Mavic Pro
• Hoya CPL filter
• Manfrotto carbon-fiber tripod
• Really Right Stuff BH-55 ball head
Pepper Yandell operates out of Dallas, Texas, and Dubai. To see more of his work, visit pepperyandell.com; on Instagram: @pepperyandell. Yandell is also enthusiastic to share his expertise and knowledge in his workshops at liveclasscommune.com.
Jack Neubart (jackneubart.com, Instagram: @pixelperfexion) has authored numerous books and articles on photography over the years.

FEATURED VIDEO