Holiday Stocking Stuffers; What Santa Should Bring You!
"Open your presents at Christmastime but be thankful year round for the gifts you receive."—Lorinda Ruth Lowen
Submitted for your Secret Santa's approval: a list of gizmos, gadgets, and gear for the digitally-minded who "have everything" but didn't know that they really needed lots more stuff to produce that ultimate image. Use this month's column as a shopping list for your favorite photographer or grab a Sharpie and circle all of the goodies you want and leave it near where your spouse eats breakfast. It's worked for me. Thanks: A tip of the old Farace chapeau to Richard Griot of Griot's Garage (www.griotsgarage.com) for this idea.
© 2006, Mary Farace, All Rights Reserved
Lighting With Shoe-Mount Flashes
Adorama's Flashpoint Q Series Kit is a way to make your shoe-mount flash perform like studio lighting. The kit is available in A or B sizes to fit most popular camera manufacturers' flashes and includes a Beauty Dish Mini Reflector, Snoot, Diffuser Dome, and Accessories Kit. The Beauty Dish Mini Reflector is 6" wide and comes bundled with a silver deflector panel that redirects the bounced, rectangular output of a standard shoe-mount flash into a more diffused and flattering light pattern. This creates a soft, shadowless effect similar to a studio beauty dish reflector. The Diffuser Dome produces an all-around glow similar to a bare-bulb flash. The Snoot narrows the light beam for a hairlight, concentrating light in a small area and, like the rest of the kit, is secured with a touch-fastener strap. The Flashpoint Q Series Kit ($169.95) is a great addition to any camera-mounted flash but that flash can also be mounted on a light stand using Adorama's clever Universal Swivel Holder ($16.25). Check Adorama's website (www.adorama.com) to find what size fits your flash.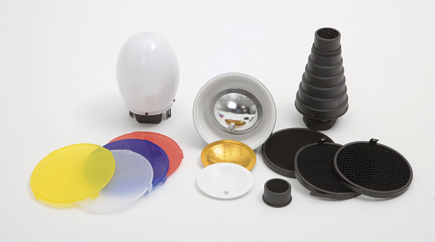 Santa's Own SSD
You don't need one of my infamous Future Tech forecasts to know that in the not-so-distant future SSDs (Solid-State Drives) are going to replace hard drives, first in laptop computers because of the beatings they can take and, as prices drop, the desktop models. Lexar Media (www.lexar.com) has revved-up its line of Crucial SSDs, including the 256GB Crucial M225 SSD that features a 250MB/sec read speed and a 200MB/sec write speed, to improve operating system boot and application load times. The new drive features a SATA (Serial Advanced Technology Attachment) 2.0 interface in a standard 2.5" drive enclosure, making installation easy. Crucial SSDs are available in 64GB ($169.99), 128GB ($329.99), and 256GB ($599.99) capacities and include a five-year limited warranty. The benefits of an SSD aren't limited to laptop computers; Crucial's SK01 External Drive Storage Kit is compatible with all three Crucial M225 SSD products and includes a 2.5" USB 2.0 external enclosure, a 3.5" SATA hot-swappable drive bay, and a 5.25" drive bay bracket. The kit comes with the same five-year limited warranty.
Micro Four Thirds Adapters
I expect that another "next big thing" will be the Micro Four Thirds system in part because of cameras such as Panasonic's Lumix G1 and GH1 along with the Olympus E-P1 that I'm currently testing for Shutterbug. Novoflex, one of Germany's leading manufacturers of quality accessories, announced a series of lens adapters that allow you to mount older analog and digital lenses onto Micro Four Thirds cameras. The adapters are made to precise standards to ensure infinity focus on these camera bodies and when used with Micro Four Thirds cameras offer autoexposure control via stop-down metering or Aperture Priority (Av). Currently, Novoflex offers Micro Four Thirds adapters for Leica M, Leica R, Nikon G and non-G, Contax/Yashica, Olympus OM, Pentax K, Minolta MD, Sony/Minolta AF, Canon FD, M42, and T2. They are available from HP Marketing Corp. (www.hpmarketingcorp.com) and are priced from $157.99-$292.99, depending on the adapter.

LATEST VIDEO

SPONSORED VIDEO