High Speed And Multi-Format
One trend has continued unabated since the first Shutterbug's Photography Buyer's Guide: As the number of digital cameras has increased, the number of scanners has decreased. My guess is that while the presence of camera-phone manufacturers at PMA 2005 does not bode well for the future of lower end point-and-shoot cameras, they will have no impact whatsoever on the need and number for better film and print scanners.

Konica Minolta's DiMAGE Scan Elite 5400 II film scanner is designed for photo enthusiasts and pros and achieves 42.

2-megapixel resolution by using a high-performance 5400dpi three-line color CCD and uses a Film Expert Algorithm that was developed with photofinishing technology. With a dynamic range of 4.8 it uses multi-sample scanning to reduce noise.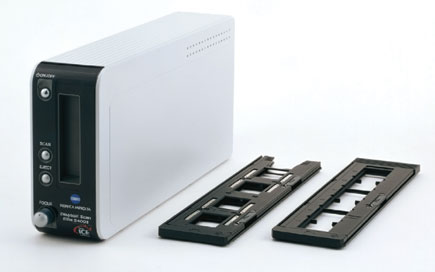 Konica Minolta DiMAGE Scan Elite 5400 II
Nikon's newest Coolscan film scanners feature a Nikkor ED lens, low-heat LED light source, and Digital ICE4 Advanced. The pricey ($1999.95) Super Coolscan 9000 ED can handle film from 16mm to medium format and has an optical resolution of 4000dpi. It will make as many as 16 passes to ensure smooth gradation of color and detail. The scanner has a three-line CCD sensor and a scanning rate of 40 seconds for 35mm film via a FireWire connection to your computer. The Coolscan V ED is an affordable ($599.95) film scanner for first-time scanner users yet produces scans at close to 22-megapixel resolution. With an optical resolution of 4000dpi and a USB 2.0 interface the Coolscan V ED scans an image in 38 seconds. Nikon's Super Coolscan 5000 ED delivers 35mm scans at 20 seconds per image and at a 4000dpi optical resolution. Priced at $1099.95, it's aimed at professional photographers, web developers, and photofinishers.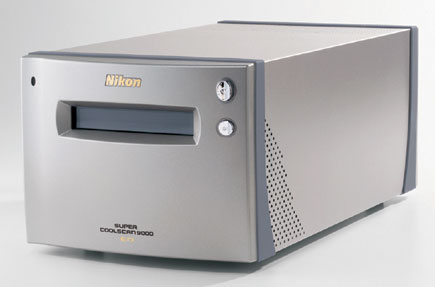 Nikon Super Coolscan 9000
Epson's Perfection 4990 Photo scanner has a 4.0 D-max and offers 4800x9600dpi resolution. My favorite feature is the large built-in transparency unit for 35mm, medium, and large format film that lets you scan an entire contact sheet at one time. I also like the LED embedded in the scanner lid that shows film scanning progress and makes me feel like (another Baltimore native) David Hasselhoff talking to KIT. There's Kodak's Digital ICE technology to remove dust and scratches. Yet all this costs less than $450, making it the best buy in the flat-bed/film genre.
All-In-Ones
Canon's PIXMA MP760 (who thinks of these names, Frodo?) Photo All-In-One lets you make prints directly from slides or negatives, includes card slots for direct digital photo printing, and features an LCD screen for viewing images. Besides prints, users can also scan and make copies at home or in the office for just $299.99.

Optimized for digital and traditional photography, Epson's Stylus Photo RX620 is an excellent photo solution for scrapbookers. It features six-color printing and full-featured photo-quality scanning capability for prints, slides, or negatives, including built-in color restoration capabilities. The Stylus Photo RX620 has a 2.5" color LCD, USB host port, PictBridge camera connection, and seven-in-one media card slot.

Manufacturers/Distributors' addresses can be found on page 176.

FEATURED VIDEO