High Capacity Lexar Pro CF Cards
Lexar has enhanced its Professional CompactFlash (CF) range with higher capacities. The new Lexar Professional 1066x 256GB CF card offers a read transfer speed up to 160MB per second and write speeds up to 155MB per second. The Professional 800x CF card is now available with a capacity of 256GB, as well as the industry's first 512GB memory card, both with read transfer speeds up to 120MB per second and write speeds up to 75MB per second. The cards dramatically accelerate workflow and provide high-speed, reliable performance to capture and transfer high-quality photos and 1080p full-HD, 3D, and 4K video.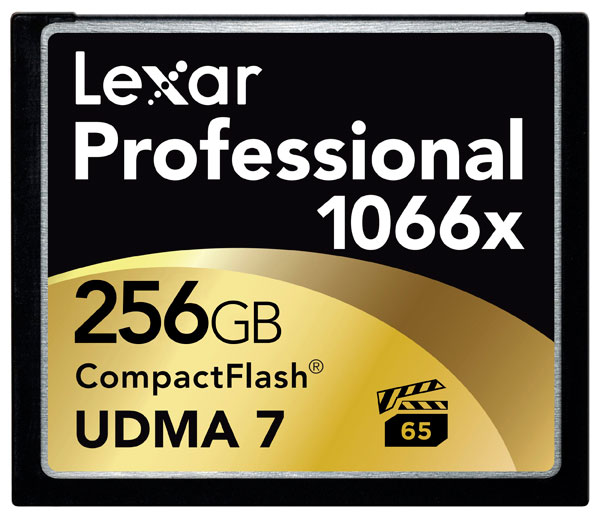 The new 256GB Lexar Professional 1066x CF card supports the Video Performance Guarantee (VPG-65) specification for professional video capture streams at a minimum guaranteed write speed of 65MB per second for compatible host devices and recording media, while the Lexar Professional 800x CF cards support the VPG-20 specification with a minimum guaranteed write speed of 20MB per second*. Compatible with all CF devices, the cards help accelerate the digital photography workflow, especially when paired with a compatible card reader, such as the Lexar Professional Workflow Reader Solution.
"More professional photographers, videographers, and even enthusiasts have expressed the need for higher-capacity and higher-speed memory cards to help them accelerate their workflow," said Manisha Sharma, director of product marketing for cards, Lexar. "With the introduction of the new 256GB Professional 1066x card and the enhanced capacities to the 800x line of CF cards, professionals have the tools available to further accelerate their workflows, allowing them to spend more time shooting on assignment and less time on post-production."
The Lexar Professional 1066x and 800x CF cards include a free copy of the latest version of the Image Rescue software, which recovers most photo and select video files, even if they've been erased or the card has been corrupted. The 256GB Lexar Professional 1066x CF card will be available in the first calendar quarter of 2014 with an MSRP of $969.99. The Lexar Professional 800x CF card will be available in the first calendar quarter of 2014 with MSRPs of $1,499.99 (512GB) and $649.99 (256GB).
All Lexar Professional memory cards come with a limited lifetime warranty and are tested in the Lexar Quality Labs to ensure performance, quality, compatibility, and reliability with more than 1,100 digital devices. For more information about Lexar products, visit www.lexar.com.

FEATURED VIDEO