Helping People See The World; The Empire Strikes Back Page 2
Kodak Plug-In Update
Kodak's Austin Development Center (www.asf.com) has updated all of their image-enhancement plug-ins. There are now three versions each of DIGITAL GEM Professional, DIGITAL GEM Airbrush Professional, DIGITAL ROC Professional, and DIGITAL SHO Professional. The Windows version is compatible with Photoshop CS3 and Windows Vista. The Macintosh PPC version works with Photoshop CS3 and earlier on Power PC-based Mac OS computers while the Mac Universal versions support Photoshop CS2, CS3, and Intel Mac OS computers, including Mac OS X 10.5 a.k.a. Leopard. You should upgrade if you have an Intel Mac and Photoshop CS2 or CS3 or plan to upgrade your system and reinstall the plug-ins under OS X or Vista.
© 2007 Joe Farace, All Rights Reserved
Twisting Pixels
TwistingPixels' (www.twistingpixels.com) Photoshop compatible plug-ins, including PixelCreation, PixelPack, PixelPaper, and PixelSampler, let you interactively create effects using more than 100 presets. PixelCreation includes 19 visual and tonal enhancement filters that let you produce fluffy clouds, moons, constellations, and celestial skies. PixelPack is a collection of filters, including RockCandy, Extrude, LabelMaker, Stain, and Texturizer. PixelPaper's filters turn your images into folded, crumpled, crinkled, curled, bent, or wavy pieces of paper, including realistic lighting and textures. PixelSampler lets you apply photographic filters such as Black and White, Contrasting Levels, Duotone, Grain, Monotone, Starlight, Starpoint, and Warm Cool. The plug-ins are available in Mac OS and Windows versions and while their interfaces have an oh-so-Windows 95 look, the results are fun.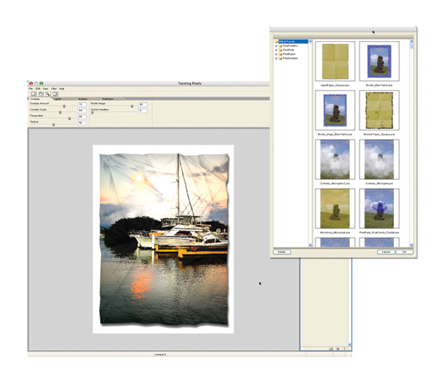 © 2007 Joe Farace, All Rights Reserved
Book 'em Dan-o
If you liked the way I showed how to create bound portfolio books in Shutterbug's Expert Photo Techniques guide, you're gonna love this new product from Peleman Industries (www.myphotobookcreator.com). The PhotoBook Creator works with Unibind's thermal binding machine and lets you make professional hardcover books or presentations in seconds. For a limited time, Unibind is offering PhotoBooks in six new colors and designs, including red, blue, black, and purple in two sizes (4x6 and 8½x11"). The 4x6 size is a perfect way to build a mini-portfolio that you can stick in your camera bag. These little books are great icebreakers for me at car shows when talking to owners and I use them to show my work when asking permission to photograph their rare or unusual automobiles.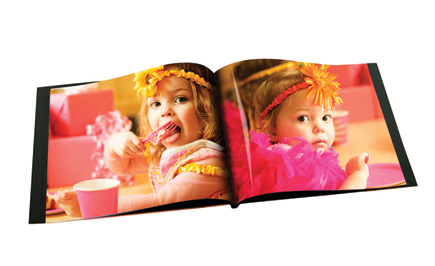 Frame It--Digitally
I've been buried with information on digital picture frames this year but one product that caught my eye and I keep in my dining room is cenOmax's (www.cenomax.com) F7024B, a beautifully-designed 7" frame that includes four interchangeable inserts to match the style and decor of any room or season of the year. Whether placed vertically or horizontally, the frame automatically rotates images for proper viewing. A built-in alarm clock and calendar option makes it ideal for your office. The $89.99 F7024B can play back image, video, and audio files from several memory card formats, including SD/MMC, Memory Stick, CompactFlash, and even xD-Picture Card. It also supports video formats and MP3 audio through built-in speakers that play music from slide shows.

LATEST VIDEO

SPONSORED VIDEO