Harman Photo Launches New Paper
The digital brand of HARMAN technology Limited introduces new 'everyday' addition to its range – HARMAN CRYSTALJET RC.
January 2009 will see HARMAN PHOTO - the digital media brand of HARMAN technology Limited - launch a new addition to its range of high-quality inkjet papers. The product, known as HARMAN CRYSTALJET RC, has been designed to offer superior levels of imaging performance from a paper that's priced for everyday use.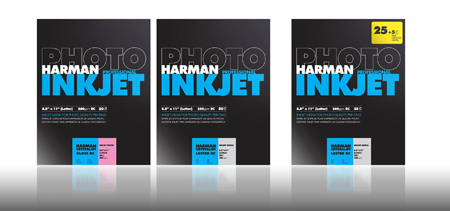 Speaking of the new product, Howard Hopwood, HARMAN's Chairman, said: "HARMAN technology was born out of the black and white side of ILFORD, one of the world's best known photo-imaging companies, in 2005 and not long afterwards we launched our own inkjet range. This range makes full use of the expertise acquired producing analogue photography products for over 125 years and even uses the same fiber base and baryta layer as our premium darkroom papers such as ILFORD MULTIGRADE IV FB Fiber."
"Thanks to this approach, these inkjet papers - which now include the HARMAN PHOTO MATT FB Mp, MATT FB Mp WARMTONE, GLOSS FB AI and GLOSS FB AI WARMTONE – are arguably some of the most capable on the market, explaining why they've become highly popular with fine art photographers, professional photographers and the serious enthusiast. However, we wanted to complement this high-end media with a paper that offers similar levels of quality but at a lower price, making it perfect for test prints and for everyday use by all photographers including amateurs. The result is the HARMAN CRYSTALJET RC range."
Like the other papers offered under the HARMAN PHOTO banner, HARMAN CRYSTALJET RC is ideal for monochrome prints and offers deep blacks as well as superb levels of detail, even in shadowed areas. However, unlike the other HARMAN PHOTO products, it is a resin coated rather than fiber based paper. It's this feature which allows it to carry a lower price.
With a 260gsm weight, HARMAN CRYSTALJET RC is compatible with the latest pigmented and dye based printers and benefits from instant dry properties. It is also available in a luster or gloss finish and in sizes of Letter, Ledger (B), Super B and A2+. Plus, to help customers get the very best results from the new paper, HARMAN has even created special profiles detailing optimum settings for most common brands of printer and made these available on the HARMAN PHOTO website (www.harman-inkjet.com)
Howard Hopwood adds: "We're genuinely excited by the introduction of HARMAN CRYSTALJET RC and the significance of this new addition to our range cannot be underestimated. Until now, HARMAN technology's extensive photo-imaging expertise has been embodied purely in high-end digital papers used by top flight photographers. HARMAN CRYSTALJET RC takes the same knowledge and the resultant gains in performance it delivers, and makes it widely available to the mass market."
To mark the launch of HARMAN CRYSTALJET RC, the manufacturer will be offering the new paper in special value packs of 25 sheets + 5 sheets free whilst supplies last.

LATEST VIDEO

SPONSORED VIDEO