Happy New Year; A New Year, A New Website
"An optimist stays up to see the New Year in. A pessimist waits to make sure the old one leaves."—Bill Vaughan
Why not make your 2009 New Year's resolution a commitment to create a new website or update that old one you made when Coolidge was president? Oh, there are lots of ways to produce a new site. You can always hire a designer, if you can find one that will do a good job and won't require hocking the family jewels, or you can do it yourself as did Mark Indig, featured below. His site was designed using Apple's (www.apple.com) iWeb software that's part of Apple's iLife package that only costs $79 and is bundled free with any recently purchased Mac OS computer.
© 2008, Joe Farace, All Rights Reserved
Not a Mac head? If you already own web design software, such as Adobe's (www.adobe.com) Dreamweaver or Flash that was bundled with a Photoshop design suite, you can buy inexpensive (less than $100) templates and cut and paste your way to homepage nirvana. A Google search of "website templates" turned up 6,240,000 hits, so you should be able to find one easily. You can take a middle ground by using a service such as liveBooks (www.livebooks.com) where they do some work and you do the rest, as my friend Ralph Nelson (www.ralphnelson.com) did. But make no mistake, no matter which method you choose, it will take work on your part to prepare images and text, but don't quit. It's your New Year's resolution.

www.tinacciphoto.com
Jason Tinacci is a Sonoma-based commercial photographer whose work encompasses the worlds of food, portraiture, and travel and is showcased in a site designed around the photographs, something often overlooked in the rush to produce something "creative looking." The site's crisp and contemporary white and black design is highlighted with gray accents and uses simple navigational arrows to display his portfolio as single or multiple images, sometimes to tell a story, other times to make a point, or just to have fun as in the classic "dog looks likes its owner" diptych.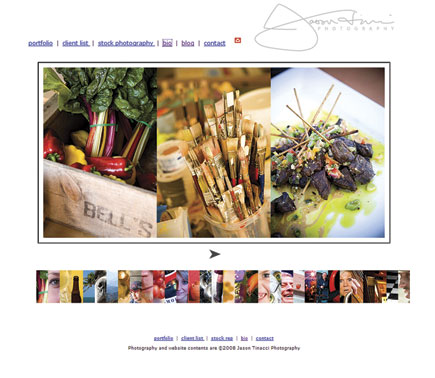 © 2008, Jason Tinacci Photography, All Rights Reserved
Tinacci's images are beautifully lit, well composed, and you have a sense of being there—as with his winemaking series—seeing parts of the process not many people outside the industry ever get to witness. That's not an accident. Tinacci serves as photographer for the Napa Valley Vintners (www.napavintners.com) and you can see some of his work on their site and learn about the job they do promoting and protecting the Napa Valley. As you click through his portfolio images, you'll gradually be astonished by the breadth and depth of Tinacci's talent, from elegant to gritty while retaining the one touch that I think best describes his photography—class. Tinacci is a busy guy and is founder and owner of TrellisCreative.com (www.trelliscreative.com), a stock agency focusing on wine and lifestyle-themed stock photography.


FEATURED VIDEO