This Happens When You Cut a Working Canon SLR Camera in Half with a 60,000 PSI Waterjet (VIDEO)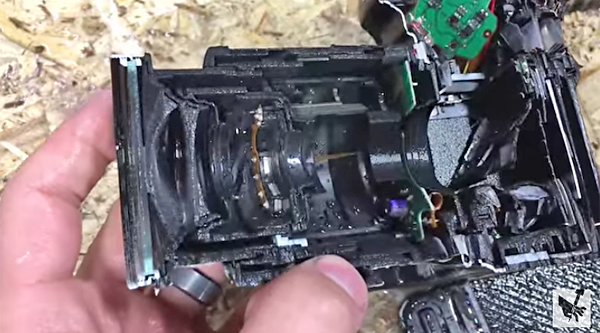 Here at Shutterbug we're not big proponents of destroying perfectly good camera gear just for kicks. But once in a while we can't resist sharing a video like this one, in which a working Canon SLR camera is cut in half with a 60,000 PSI waterjet—just to see what's inside.
The insane video below comes to you from the folks at YouTube's Waterjet Channel, who have used their powerful hyraulic cutting tool to slice apart just about everything from a shotgun and an LCD monitor to an antelope skull and a dead tarantula. Obviously, there is neither rhyme nor reason for any of this other than what some might call perverse entertainment.
Amazingly, an LED atop the camera, which is a Canon EOS Elan 7E film SLR, remains lit until the unit is sliced almost entirely in half.
If watching the video below arouses your destructive tendencies, you may want to watch a couple others we posted recently, including this one of a Nikon D5 chopped in half, and another of an hydraulic press crushing some nice Canon and Nikon cameras.
We promise to avoid this type of destructive stuff for awhile, at least until after we open our Christmas presents.

FEATURED VIDEO