Hands-On with the New Compact & Weather Resistant Pentax KP DSLR (PHOTOS)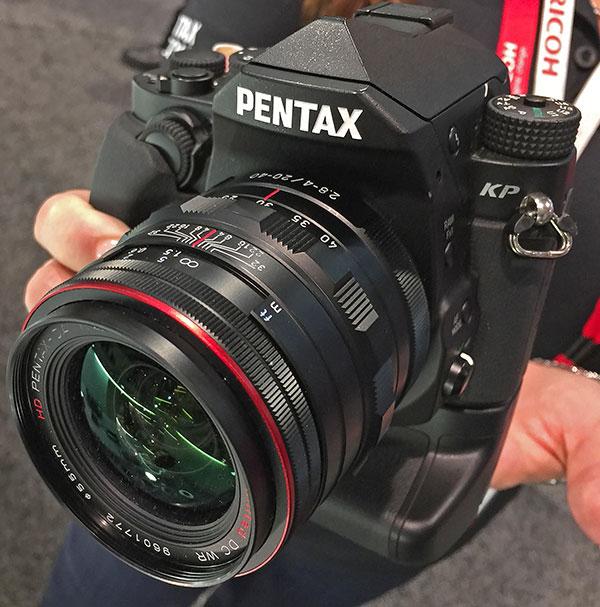 Though it was announced late last month, the new 24-megapixel Pentax KP DSLR made its official debut at the WPPI show in Las Vegas this week and we put our grubby little paws all over this compact yet rugged APS-C sensor-based DSLR. What impressed us most was that despite the camera's slim build – it weighs only 1.4 pounds and is small enough to fit into a laptop bag – the Pentax KP looks and feels like a serious pro-level DSLR.
It's also weather resistant and while we haven't had a chance to seriously test the new Pentax KP out yet, it seems like it would make an ideal travel camera for outdoor photography, particularly if you're heading to places where rain, snow, or sleet might be in the forecast. (And as we noted in a recent article, those are actually great conditions for going out shooting.)
Here are a few keys specs of the Pentax KP:
• New 24-megapixel APS-C CMOS sensor
• Advanced, 5-axis shake-reduction system that compensates for camera shake up to 5 stops for better low-light performance and hand-held shooting with telephoto lenses
• A top sensitivity of ISO 819,200
• High-speed continuous shooting at 7 frames per second
• Dustproof, weatherproof body with 67 points of sealing
• Designed to function in temperatures as low as 14° F
• 27-point AF system designed to provide precise focusing under lighting conditions as low as -3 EV
• Full-HD video capture
• External microphone terminal
The Pentax KP officially goes on sale on February 25th -- in the black and silver versions you see in our photos in this story -- for $1,099 (body only). Read more about the camera here.
And check out our hands-on photos of the new Tamron 70-200mm f/2.8 G2 lens, which was also making its debut at WPPI.

FEATURED VIDEO