Globetrotter
Taos Digital Workshop Focused On Learning, Creativity, And Fun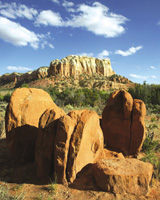 Our afternoon at Ghost Ranch was a highlight of the workshop. In the great outdoors of New Mexico, we had the opportunity to put our traditional photography skills to work. For this shot, I used my 16-35mm set at 16mm and set an aperture of f/11. I used a polarizing filter to darken the sky.
"It's the light Rick. You have to see the beautiful quality of light that you find only in Taos." That's what George Schaub, Shutterbug's Editorial Director, told me shortly before our Taos Digital Photo Workshop, which was held in April of this year.
Well, on day one of our workshop, I found out that George was right about the light. It is gorgeous. The sky is a deeper shade of blue than I have ever seen--and I have seen many a sky around the world. The late afternoon and early morning colors seem to be "warmer," too. What's more, scenes look incredibly sharp, perhaps because of the extraordinarily clean air.
The wonderful quality of light set the tone for the workshop, which was lead by George, Joe "King of the Plug-ins" Farace, Michael "Mr. Nice Guy" O'Hollaren, and myself. Special presentations were made by Dave Chu, who was on hand to demonstrate Epson's fine printers, and Janice Wendt, who demonstrated the nik Color Efex Pro! and nik Sharpener Pro! plug-ins for Photoshop (and other plug-in compatible programs).
Simply put, the instructors had a blast working with the 64 participants who traveled to Taos from all around the country not only to learn about digital imaging, but also to learn about the basics of photography, such as "seeing the light," composing for creative pictures, and making vs. taking pictures.
In between my teaching sessions (and learning sessions from my fellow pros and students), I had an opportunity to take a few shots of my own. In this column, I'd like to share some of my favorites, which illustrate some of the points we discussed in the workshop.



LATEST VIDEO

SPONSORED VIDEO