Globetrotter
Photographing Beauties And Beasts In Florida; Focus Your Lens On Butterflies, Birds, And Big Cats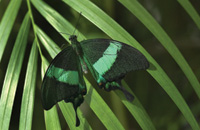 (Canon EOS-1Ds, Canon 50mm f/2.8 Macro lens, Canon MR-14EX Macro Ring Lite.)
Photos © 2004, Rick Sammon, All Rights Reserved
Some travelers who visit the Sunshine State go to see a famous mouse with big ears and a funny duck with a sailor's outfit. Others go to experience and to be part of the wildlife, including the night owls who stay out 'till the wee hours of the morning at Miami's famous South Beach.
Me? I go to Florida to photograph real animals with my digital SLRs. Five of my favorite places to shoot are Big Cat Rescue in Tampa; Butterfly World in Coconut Creek; The Key West Butterfly & Nature Conservatory in Key West; Parrot Jungle Island in Miami; and Wildlife Inc. in Anna Maria.
For shots of the birds and cats, I suggest packing a medium telephoto lens and a long telephoto lens or zoom. I found my 100-400mm zoom for my digital SLR just perfect for shooting in all of the locations (except at Wildlife Inc., where I shot with my 28-105mm zoom). You'll also need a flash for daylight fill-in flash photography. For your butterfly shots you'll need a macro lens and, for the best lighting, a ringlight. Forget your tripod. You can't use it in the butterfly centers. What's more, it's impractical to use a tripod when photographing fast-moving subjects in small areas.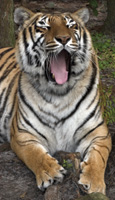 (Canon EOS-1Ds, Canon 100-400mm IS lens at 300mm.)
Here's a bit about each location:
Big Cat Rescue--More than 150 cats representing 23 species (lions, tigers, snow leopards, bobcats, lynx, and so on) are on display...in cages. But, and here's the big but, the spacious wire cages have openings that are wide enough for you to stick your lens through. To "erase" the wires in the background of your photographs, you'll need to shoot with a telephoto lens set at a very wide aperture. Work hard at composition and f/stop and you'll completely eliminate the distracting wires in the background. It's shady at Big Cat Rescue, so be prepared to set your digital camera's ISO to 400, and if you use film, pack ISO 400.

Butterfly World and The Key West Butterfly & Nature Conservatory--Both centers have hundreds of butterflies to photograph. Butterfly World has more species and a greater number of what some call "flying flowers." Go early in the day when the butterflies are most active. Be patient! Don't run up to a butterfly and scare the heck out of it with your camera. Rather, walk around slowly or stand in one place for a time. Spend a few hours at these centers and you'll get dozens of great shots. Set your ISO to the lowest numbers to capture the detail in the butterfly's wings. Use a small aperture for maximum depth of field. And don't forget your flash!
Canon EOS-1Ds, Canon 28-105mm lens at 105mm.)
Parrot Jungle Island--You'll find more than 3000 exotic animals and 500 species of plants in this 18+ acre facility. Get there early in the day before busloads of school kids flood the park with their enthusiasm. Skip the "shows" and focus on the parrots and macaws on their perches. Use your telephoto lens and a wide aperture to blur the background for natural-looking shots.
Wildlife Inc.--You'll need to make a personal appointment with Gail Straight, the owner of Wildlife Inc. She has many exotic birds for you to photograph and an orange iguana that's almost 3 ft long. You can get up close and personal with her critters so you don't need a long telephoto lens. A flash, however, will help you get sharp shots of the animals, which are mostly in the shade. Contact Gail through her website for an appointment.
(Canon EOS-1Ds, Canon 70-200mm lens at 150mm, Canon Speedlite 550EX.)
Rick Sammon's 23rd book, "Flying Flowers," will be in stores this fall. For information on Rick's other books and how-to Adobe Photoshop CDs, see www.ricksammon.com.
Contact Info
Big Cat Rescue
12802 Easy St.
Tampa, FL 33625
(813) 920-4130
www.bigcatrescue.org
Butterfly World
3600 W Sample Rd.
Coconut Creek, FL 33073
(954) 977-4400
www.butterflyworld.com
Parrot Jungle Island
1111 Parrot Jungle Trail
Miami, FL 33132
(305) 258-6453
www.parrotjungle.com
The Key West Butterfly &
Nature Conservatory
1316 Duval St.
Key West, FL 33040
(800) 839-4647
www.keywestbutterfly.com
Wildlife Inc.
PO Box 1449
Anna Maria, FL 34216
(941) 778-6324
www.wildlifeinc.org

LATEST VIDEO