Globetrotter
Colors Of The Kuna; Unique Travel Portraits Await Visitors To Panama
A few years ago I had the wonderful opportunity to photograph the indigenous people in Kuna Yala, an archipelago of 365 islands that lies a few miles off Panama's Caribbean coast. Some of my pictures of the Kuna were published in this column.

Back then, I was fairly new to digital photography: I shot only JPEG files, used a 4-megapixel digital SLR, packed several 512MB CompactFlash cards, and saved my pictures each day on a CD. At night, on my laptop (an Apple PowerBook G3 with a whopping 192MB of RAM), I played around with my pictures in Photoshop 7.0 to see how they could be enhanced--using the little knowledge I had at the time of Photoshop.
All Photos © 2005, Rick Sammon, All Rights Reserved
This past May I returned to Kuna Yala with my wife, Susan, and son, Marco. I wanted to share the experience with them of living with one of the most beautiful and proud tribes I've encountered in my 30 years of traveling around the globe.

On my recent trip I shot only raw files, used my Canon 11.1-megapixel digital SLR, packed about a dozen SanDisk 2GB CompactFlash cards, and saved my pictures each day on DVDs. At night, after making copies of my "keepers," I played around with them on my laptop (an Apple PowerBook G4 with 1GHz processor and 768MB of RAM) in Photoshop CS--using the Advanced Mode in the Adobe Raw plug-in window.

Wow! What a big difference in technological advancements a few years made in the evolution of digital photography. Great news for all of us digitalphotographers!

In fact, digital photography is advancing at lightning speed, especially when it comes to raw processing. Keeping up with the latest and greatest gear, hardware, and software is a must. At times, it's stressful--like when a computer freezes or when pictures are seemingly lost on a memory card. But if you don't keep up, you'll be lost in the dust of digital technology.

During my recent trip to Kuna Yala, I was thinking about the fast-paced life we lead as digital image-makers. But I was also thinking about something else: how life on these small islands has not changed much in three years for most of the people. For many, life has not changed much in a lifetime. On some of the remote islands, only a thatched hut tells us that someone lives there.

If you are looking to take some wonderful travel portraits, set against a background of beautiful tropical islands, check out Kuna Yala. Panama City is only a 21/2 hour flight from Miami. San Blas, the main entry point by air into Kuna Yala, is only another hour away by small plane.

Here's a look at some of my favorite pictures from the trip, along with some digital photography tips:
If You Go!
Overview: In Panama City you'll find many of the creature comforts you are accustomed to in the US: convenience stores, nice hotels, banks, rental agencies, and many fast-food restaurants. You can use Panama City as a home base for a trip to Kuna Yala. Not all of the islands have electricity, so bring some extra batteries. We stayed at the San Blas Hotel. It's a very humble place, but electricity is available--when the generators are running. The hotel offers boat trips to neighboring islands. When traveling from island to island, bring plastic bags to keep your camera and gear dry, or better yet, use a camera bag with a built-in "raincoat," (a.k.a.) a foldable plastic cover.
Getting There: Panama City is about 21/2 hours from Miami. A passport is required, but no visa is necessary.
Currency: US dollar.
More Information: IPAT (The Panama Tourist Bureau), PO Box 4421, Zone 5, The Republic of Panama; (800) 231-0568, (507) 226-7000; www.visitpanama.com or www.ipat.gob.pa.
The first two pictures of a young Kuna woman were taken on the island that is pictured in the beginning of this column--on two different days. Talk about a way-cool shooting destination! By the way, the Kuna women dress like this every day of the year. They are proud people that exude dignity.
| | |
| --- | --- |
| | |
When composing a portrait, I feel that the background is almost as important as the subject. Here I positioned a young Kuna woman against a background of the molas (intricate hand-sewn designs) that she was selling. Molas are a very important part of Kuna life, so I included them in this portrait because they help to tell the story of the Kunas. On my Canon 70-200mm Image Stabilization lens, I chose the 100mm setting and used a wide aperture to slightly blur the busy background, but not wide enough so that the molas were entirely blurred. As always, I chose the raw format to record the maximum amount of detail in the scene. The raw format also offers a bit more exposure latitude than the JPEG format, which helps to get a good exposure of a scene with lots of highlights and shadows.
If I could only take one accessory with me on a trip, it would be a flash--for fill-in flash photography. A flash can save the day when a subject is strongly backlit, as was the case when I took this picture of a Kuna woman, who was standing in the shade of a palm tree on a bright, sunny day--when the ocean and sand behind her were several f/stops brighter than my subject.
A basic fill flash technique is to put your camera on Program, activate your flash, reduce the flash output to -11/3 stops. Your goal should be a picture that does not look like a flash picture; you just want to brighten the subject's face and add some "catchlight" to his or her eyes. If, when you check your camera's LCD monitor, the subject's face is too dark, you can set the flash output to -1 or maybe even to 0. The great thing about digital flash photography is that you see your results immediately, and can make flash exposure adjustments to get the perfect shot right on the spot.
The camera looks both ways, in picturing the subject we are also picturing a part of ourselves." That's my favorite photo expression. I keep it in mind whenever I am photographing a person--because I know that my attitude, the image and feeling I project, will be reflected in my subject. In this portrait, I was more serious than I was when I took the first picture of the young Kuna woman in this column. As a result, this woman looks more serious--which was the feeling I wanted to capture in my picture. So, when you are picturing a subject, keep in mind that the camera looks both ways. If you do, you'll get a higher percentage of pictures that you like. Also keep in mind that when taking a portrait, the eyes must be in sharp focus. If they are not, you've missed the shot.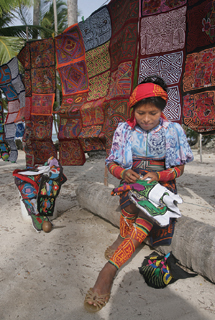 LATEST VIDEO