Globetrotter
San Diego Wild Animal Park, Up Close And Personal
Many animals come right up to the safari vehicles in the park. For shots like this, a wide angle zoom and flash setup will help you get a nicely composed and exposed photograph.

Photos © 2001, Rick Sammon, All Rights Reserved
For many wildlife photographers, nothing beats an African photo safari. The sprawling plains of Kenya, Tanzania, Botswana, and South Africa seem to offer endless photo opportunities, from dawn to dusk.
I have been to Africa four times, most recently as the host of three ESPN Canon Photo Safari programs. I, along with my guest, John O'Hurley (J. Peterman on TV's Seinfeld), took some very nice pictures. We had incredible sightings, including three lion "kills"--perhaps not considered great photo opportunities by everyone, but events that do vividly illustrate the cycle of life in Africa.
So, when my good buddy Lou Desiderio asked me to join him and a few fellow shooters on a "photo safari" at The San Diego Wild Animal Park (part of The Zoological Society of San Diego, which includes the world-famous San Diego Zoo), I thought, that's nice. I'll get some good shots of captive animals on some hills not too far from downtown San Diego.
Well, here's why I began this article by telling you about my African photo safaris: I can honestly say that the photo safaris, actually called Photo Caravan Tours, conducted by the San Diego Wildlife Park offer very good photo opportunities--you get up close and personal with many of the animals. Plus, the tours are lots of fun; you are with fellow photographers who love to photograph wildlife and who love to talk about the technical and artistic sides of photography!
For pleasing animal portraits, try following this tip: The name of the game is to fill the frame€with the subject.
To simulate the feeling of an African photo safari, photographers are taken on safari-type vehicles through the 1800 acre wildlife preserve. The rolling hills and plains of the park are home to more than 3500 animals representing about 260 species from Africa and Asia. Animals include cheetah, rhino, giraffe, bison, water buffalo, antelope, and several bird species. All the animals are rather peaceful; you probably will not see a "kill." However, if you are lucky, you may get slobbered on by a giraffe that leans over and into the vehicle looking for a tasty treat. Or, you may see a goat jumping out of a tree. (I actually have a picture of that, but because the action happened so fast, my photo is a bit blurry and poorly composed, so I'd rather not share it with you.)
I had so much fun on the Photo Caravan that I'm going to take my son and my wife on this totally cool adventure. I know they will enjoy it, as animal lovers and picture takers. Plus, I highly recommend the Photo Caravan to photographers who want to get good animal shots, and who perhaps want to practice for a real African photo safari.
In animal photography, one of the keys to a successful photograph is to focus on the eyes.
Tour Tips
If you go on a Photo Caravan Tour, which lasts a few hours, here are some tips to help you get the most out of your experience.
Pick up a brochure. Take a few moments before your tour and pick up a brochure on the park. You'll get a good idea of the animals you'll be seeing and photographing in their environment. Pack light. About a dozen people can fit in the open-top safari trucks. While traveling through the park, photographers sit on benches that are on either side of the trucks. When a photo opportunity presents itself, the guide stops and everyone starts shooting. The less gear you have, the more you'll be able to move around and get into a good shooting position. Photo vests with big pockets for accessories, including lenses, are a good idea.
Shoot tele and wide. I was self-contained: over one shoulder I had my Canon EOS-1 V with a 17-35mm zoom lens, on the other shoulder I had my Canon EOS 1N with a 100-400mm IS zoom. That setup let me get shots of distant animals as well as animals that came right up to the vehicle. Steady as you shoot. Even when the vehicle stops, there is movement, created by everyone moving around. Therefore, you need to shoot at fast shutter speeds not only to stop the action of the animals (if that's the effect you want), but you need fast shutter speeds to avoid blur caused by camera shake. In situations like that, image stabilizer and vibration reduction lenses are a godsend. So is fast film (and fast ISO settings on digital cameras). I used Kodak Ektachrome 200 often pushed one and even two stops (if the animals were in the shade). Tripods are out, but a monopod may help you get sharp shots.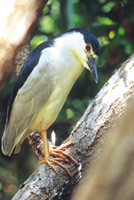 Pack a telephoto lens or telephoto zoom, flash and flash extender for your Photo Caravan, and you'll be able to get nice shots of birds resting in shady trees.
Be patient and courteous. Everyone on the tours wants to get good photographs. Remember, when you join a Photo Caravan, you are on a team. If you all work together, you'll all get good shots. Pack a flash and flash extender. Because the vehicles have to stay on roads and can't always get into the perfect position for a perfect picture, you sometimes have to add light. I found my flash and flash extender to be an invaluable accessory, not only to fill in harsh shadows, but also to add some "catchlight" to the animals' eyes.
Keep it clean. The safari trucks kick up fine particles of dirt, just like they do in Africa. Keep a lint-free cloth handy and wipe the front element of your lens every once in a while. And, to avoid dust getting into your camera, try to only change lenses when the vehicle is not moving. Also try to only change film when the vehicle is stopped.
For more information on The San Diego Wild Animal Park, and the world-famous San Diego Zoo, which I also visited, call (760) 747-8702. Detailed information is on The Zoological Society of San Diego's web site at: www.sandiegozoo.org.
Want to see more of Rick's photographs, and get some more great tips? Check out his new "how to" e-book on a CD-ROM entitled, The Camera Looks Both Ways. Drop Rick an e-mail for ordering info: ricksammon@aol.com.