Globetrotter
Post Cards From Maine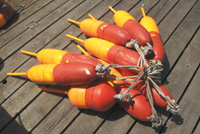 Photos © 2003, Rick Sammon, All Rights Reserved
If you are looking for a picturesque setting in which to photograph landscapes, seascapes, and people, I highly recommend Maine. The light is wonderful, and so are the people. You can use Rockport or neighboring Camden as your home base. Both towns have plenty of motels and bed and breakfasts, but you need to make a reservation well in advance, due to the popularity of the area and the number of festivals (including the July Lobster Festival) that draw tourists from around the country.
Here are two tips for traveling and getting great shots: First, you will notice as you read through this column, I only used two lenses for this photo shoot. When traveling, I found that traveling light has an advantage: I don't miss shots hunting through my camera bag looking for lenses. Second, drive around on back roads as much as you can. You'll find countless photo ops, from buildings to people to scenery.

Belfast is about an hour's drive north of Rockport. The people in this quiet, waterfront town are friendly and enjoy being photographed. I photographed Bill Kief, owner of Kief's Barber Shop, with my 16-35mm lens set to 35mm. I used a small aperture to get everything in focus. I made this picture by asking Bill to pose with the colorful sign and barber pole outside his store. In Photoshop, I lightened Bill's face just a bit.
Pemaquid can be a one-hour or a several-hour drive south of Rockport (if you take your time and photograph along the way). In Pemaquid, the main attraction is the Pemaquid Lighthouse, which is surrounded by spectacular granite rock formations--these also make wonderful photographic subjects. For my shots of the lighthouse, I set my 16-35mm lens to 16mm and pointed my camera up toward the lighthouse's beacon. A small aperture helps to get everything in focus. A polarizing filter helped to darken the sky, which I darkened even more in Photoshop. The fence was my foreground element, which added a sense of depth to the scene.

Rockland is a 15-minute drive north of Rockport. Go down to the fishing dock in the early morning and you'll find lobster and fishing boats--if the catch was good and the boats are in. If the boats are still out, as they were one day when I was there, focus your camera on the scenery.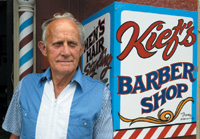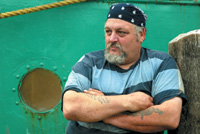 Camden Harbor is filled with wonderful sailing boats, which make nice subjects. For perhaps a more creative image, try to capture a boat's reflection. Underexpose just a bit to bring out the colors in the scene. For this shot, I used my 28-105mm lens set at 105mm.

As a travel photographer, my number one goal is to get nice people pictures. That's because a) I love to photograph people, and b) in the travel features I write for the Associated Press, my editor wants people pictures. In Rockport, I found the people especially friendly and eager to be photographed. I photographed this girl in the shade, where the soft light was flattering to her face--and freckles. I set my 28-105mm lens at 105mm. That setting, combined with a wide aperture, blurred the background. In Photoshop, I removed some of the green cast on the girl's face caused by the sunlight passing through the leaves.

Sure, this is a typical snapshot of lobster buoys. But it's the kind of shot that makes it into travel articles--because it actually tells a story: each lobster boat has its buoys painted in a unique way so that their traps can easily be identified. If you plan to get your photos published, look for pictures that tell a story. For this shot, I set my 28-105mm lens at 28mm, pointed and snapped the shot.

Want to end a day with a sunset cruise? Set sail on a cruise from Camden. There are several boats from which to choose. I took a two-hour cruise on the Windjammer Appledore and sailed on the calm seas for two hours. I photographed the harbor and passing boats. The tour cost $25. Good fun! For tour information, call (207) 236-8353.
Sea captains can make great subjects. For this photograph, taken in Rockland, I asked the captain to stand by the hull of his boat, which provided a non-distracting background. The pillar on which he is leaning, the porthole, and the yellow hawser (technical name for yellow rope) are all elements that add to this "environmental portrait." For most of my portraits, I like to shoot on overcast days, when the soft light is flattering to the subject. My lens for this shot was my 28-105mm set at about 50mm.
Rick Sammon is the author of "Rick Sammon's Complete Guide to Digital Photography." See www.ricksammon.com for details.

LATEST VIDEO

SPONSORED VIDEO