Globetrotter
Doin Cuba Digitally; New Technology In Old Cities
"You snooze you lose" is one of my favorite photo expressions. Following my own advice, I got up early one morning in Trinidad and spotted this man on his donkey. I raised my camera and snapped off three shots before he rounded the corner.
Photos © 2001, Rick Sammon, All Rights Reserved
In March of 2001, I set off for a week-long jaunt to what turned out to be one of my favorite shooting locations: Cuba. My plan was to spend half my time in Old Havana, the oldest part of Havana, and the other half in Trinidad, a small town that's about a five-hour car ride from Havana. I wanted to photograph the vintage cars from the 1950s and 1960s, as well as the people of Cuba.
Old Havana and Trinidad, in addition to their frozen-in-time feeling, have another thing in common. Both 16th-century cities are UNESCO-declared World Heritage Sites. That means the beautiful buildings are protected from architectural change.
My Cuba shoot, however, was to be quite different (technically) from any of my other shoots: I was going totally digital for the very first time.
Going totally digital meant much more than simply bringing my Canon EOS D30 (and 17-35mm zoom and 70-200mm zoom) and my Kodak DC4800 Digital Zoom (my back-up, snapshot, grab shot, and "late night having fun" camera). It meant packing all the stuff I needed to save my digital files, as well as to work on them on-site when I was not shooting. So, I also took several memory cards, my SanDisk CompactFlash card reader, my Mac PowerBook G3 laptop with a built-in CD writer, Adobe Photoshop and several plug-ins (including nikSharpener Pro!), extra rechargeable batteries, and battery chargers.
There is a big difference between taking a picture and making a picture. I made this picture by asking the man to move his red Chevy from the street into this parking lot--in front of that great blue wall.
Shooting In Cuba
I'll always remember my first day of shooting in Cuba, which started 20 minutes after I got out of the airport. While being driven to my hotel, I spotted some kids playing in a park. Because I love photographing kids, I asked my driver to pull over. He did and I jumped out of the car, my Canon D30 in hand. I walked up to the kids and started taking pictures--showing them what they looked like on the camera's LCD screen. Now many kids in America have seen digital cameras, but they are still a novelty--a big novelty--in Cuba. These kids were thrilled with seeing their pictures, laughing while pointing to themselves and their friends on the tiny TV screen.
As you can imagine, these strangers instantly accepted me. And that is exactly my goal when taking pictures of people. I want the subject to like, or at least accept me, in a matter of seconds or at the most a few minutes. If I fail, the picture fails.
So I think I owe the success of my Cuba people pictures, at least in part, to the fact that my digital cameras made my photo sessions interactive--much more interactive than they would have been with a film camera.
What's more, the LCD screen showed me what I was getting, which made the sessions more productive--and fun--for me. Plus, by using the magnifying feature on both my cameras, I could "zoom in" on the image on the LCD screen, so I could see if a subject's eyes were closed or if the eyes were in sharp focus (a must, in my book, for people pictures).
As I mentioned, my Canon D30 was my pro/prime camera. Several of the camera's menu items helped me maximize a shooting situation. For example, I could shoot the way-cool cars on a street in bright sunlight with the ISO set to 100. Then, I could switch the ISO to 400 and photograph a person in the shade--or I could move indoors and take a picture with the ISO set at 800 or 1600. Changing ISO settings at the touch of a button is much easier than switching rolls of film. (By the way, just as it does with film, grain in a digital camera increases as the ISO setting increases--but in digital cameras grain is technically called "noise.")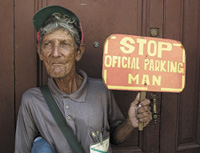 This might be my favorite picture from Cuba because it tells a story of someone who charges a few cents for watching parked cars.
One thing I did not change from picture to picture was the file size. Because I hoped for a "keeper" each time that I pressed the shutter release button, I set the file size to Large JPEG--which is more than adequate for making knockout 8x10" prints, as well as for reproduction in magazines. As this was my first totally digital shoot, I was a bit superstitious--about saving my digital pictures (digital files). Each night I downloaded them onto my laptop, did some basic enhancing, and saved them into folders on my hard drive. Then I saved my pictures on a CD, which I burned on my PowerBook's built-in CD burner. So, my pictures were saved on my hard drive and on a CD. After burning a CD, I erased my memory cards.
Enough tech talk.
During my week in Cuba, I met some of the friendliest people I have met in 20 years of traveling the globe. In fact, in Old Havana, I was invited to have a lobster dinner in the home of a stranger (the girl in blue sitting on the blue car) I met on the street one afternoon.
All the people--street performers and musicians and just people doing their thing--were happy to let me take their picture. And they were happy when I gave them the expected $1 per picture.
Cubans love foreigners. Perhaps they are extra friendly in the hope of getting someone to come to their home for dinner or to buy some cigars or to take them out to a nightclub for an evening of dancing, etc. Yes, I did that, too!
I do hope that you can photograph in Cuba someday soon. If you go, my #1 tip is to wear comfortable shoes and walk the streets (including the side streets) from dawn to dusk (don't forget a lightweight tripod and a flash). Photo ops are everywhere: cars, people, and buildings. You may even spot--and get a photograph of--some wild and crazy American dancing up a storm in one of the clubs, several of which feature all-girl salsa bands!
You can see more of Rick's Cuba photographs in his e-book, "The Camera Looks Both Ways," available through www.ricksammon.com.
Some Valuable Info For Cuba
Permission To Photograph: Even if you are not a professional photojournalist, you can get to Cuba to shoot. Participating in a photo workshop is one way to get there. The Maine Photographic Workshop (www.theworkshops.com) offers programs throughout the year.
In addition, you can obtain a license request form by writing: US Department of the Treasury, 1500 Pennsylvania Ave., Washington, DC 20200. You can also call: (202) 622-2480 or fax: (202) 622-1657.
Currency: The official currency of Cuba is the US dollar--cash. You can't use a credit card issued by a US bank.
Hotels: Most hotels in Old Havana cost about $100 a night per person. Another option is to stay in someone's home for about $25.
Getting There: Air Jamaica (www.airjamaica.com) has flights from Montego Bay to Havana. Cubana Air (www.cubana.cu) offers flights from Nassau. Mexicana Air (www.mexicana.com) flys from Cancun.
Travel Documents: You'll need a passport to travel to Cuba. A tour operator can help you get a Cuban travel visa, which you must have to enter Cuba.
Tour Operators: The Center for Cuban Studies ((212) 242-0559; www.cubaupdate.org) and Global Exchange ((415) 558-9490; www.globalexchange.org) can help you arrange a trip to Cuba. I used a travel agent in Canada, ScubaCan International: (888) 799-2822.
Getting Around: I had a prearranged guide and private car for my trip to Cuba, set up through a travel agent in Canada. You can do that on-site, take cabs (very old or relatively new), or you can rent a car.
Food: You can have dinner at a fine restaurant for $50 or $60. You can also eat at a cafe for about $10. Another option is to be invited into the home of a local resident. Cost is about $15 and the food is good to okay.
Best Time To Go: November through March have little rain, and the temperature ranges from 70-80F.

LATEST VIDEO