Globetrotter
Destination: Fort Worth, Texas; The Land Of Family Photo Fun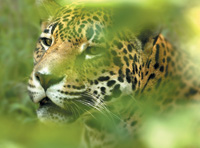 Jaguars are among the 5000 animals from around the world that can be viewed at the Fort Worth Zoo. You'll need a telephoto lens or telephoto zoom to get nice headshots. If the animal is hiding behind some leaves, you may want to focus manually.
Photos © 2003, Rick Sammon, All Rights Reserved
Over the years I've made three trips to Fort Worth, Texas. I go there for several reasons: the friendly people, the "Old West" feel of the Stockyards, the great barbecue, and, of course, the photo opportunities.

On my July 2003 trip, I brought my wife, Susan, and son, Marco. Our family fun started on a Saturday at the Fort Worth Stockyards, which is about an hour's drive from the Dallas/Fort Worth Airport.

At 10am, as they do each Saturday (weather permitting), we saw real-life cowboys and cowgirls drive a small herd of longhorn cattle down Exchange Avenue (the town's main street), from the Stockyards Station to the Cowtown Coliseum. It's a sight to behold as the cowhands "head 'em up and move 'em out." For a photographer like myself, it's a unique opportunity to get some interesting pictures. If you shoot the cattle drive, know that you'll be shooting into the sun. You may want to use your camera's exposure compensation and add +1 to your exposures. Also watch out for lens flare.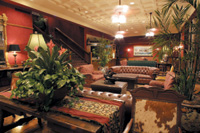 The lobby of The Stockyards Hotel, built in 1907, gives guests the feeling that they are stepping back in time. If you plan to take low-light shots like this, pack a tripod in your saddlebag.
There is lots more to do in the Stockyards, including taking a short trip on the Tarantula steam train, with its turn-of-the-century passenger cars; participating in the Murder Mystery Theater, run by the comedy group The Gunfighters; experiencing the Stockyards Rodeo, complete with calf roping and rodeo clowns; and dancing and listening to country music at Billy Bob's, often called "the largest honky-tonk in the world." However, we had to pack our saddlebags for the next leg of our long weekend trip to Fort Worth: a visit to the Fort Worth Zoo and to two of the local museums. So, the next morning we packed up our modern-day stagecoach and headed out of town.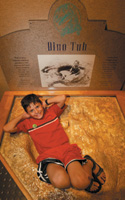 Marco Sammon rests comfortably in a simulated dinosaur footprint at the Fort Worth Museum of Science and History. The museum offers dozens of interactive exhibits for children of all ages. Use fast film or a high ISO setting on your digital camera because you can't use a tripod in the museum.
We are a family of dedicated animal and nature lovers. So naturally, we were excited about visiting the Fort Worth Zoo, which boasts approximately 5000 animals, most of which are in simulated natural habitats, and many separated from visitors only by a waterfall or river. I had heard about the zoo, but the exhibits exceeded my expectations. The highlight, for me, was photographing a jaguar hiding in the brush--just like the jaguars I've seen in Belize, Central America. If you go, pack your telephoto lens or tele-zoom.

For my son, a real fun spot was the Fort Worth Museum of Science and History. It's is a giant playground for kids. Interactive exhibits include: DinoDig, where you can actually dig for dinosaur bones and sit in a footprint of a dinosaur; Explorazone, where kids learn about science, color, magnetism, and motion in an electrifying exhibit; and Hands on Science, where kids get a grip, so to speak, on science experiments.

So long, partner. Happy trails.
If You Go
Places To Stay
The Stockyards Hotel
109 E. Exchange Ave.
Fort Worth, TX 76106
(800) 423-8471
www.stockyardshotel.com
Fort Worth's Stockyard Station is the best location from which to view the daily longhorn cattle drive, right through the center of town. Real-life cowboys and cowgirls ride the herd.
Miss Molly's Hotel Bed & Breakfast
1091/2 W. Exchange Ave.
Fort Worth, TX 76106
(800) 996-6559
Dinner Theater
Stockyards Murder Mystery Theater
Visitors Center
130 E. Exchange Ave.
Fort Worth, TX 76106
(817) 626-5252
www.stockyardsmurdermystery.com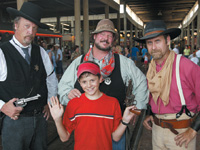 Three members of the Western comedy group, The Gunfighters, hold up "greenhorn" Marco Sammon in the Fort Worth Stockyards. The Gunfighters give performances in and around the Stockyards, and some members perform in the Stockyards Murder Mystery Theater. All members promote gun safety. In situations like this, use daylight fill-in flash to eliminate shadows caused by cowboy hats.
Rodeo
Cowtown Coliseum
Fort Worth Stockyards
121 E. Exchange Ave.
Fort Worth, TX 76106
(888) 269-8696
www.stockyardsrodeo.com
Historic Train Ride
Tarantula Train
Grapevine Vintage Railroad
709 S. Main St.
Grapevine, TX 76051
(817) 625-7245
www.tarantulatrain.com
Zoo And Wildlife Center
Fort Worth Zoo
1989 Colonial Parkway
Fort Worth, TX 76110
(817) 759-7555
www.fortworthzoo.com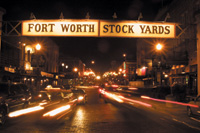 The photo fun doesn't stop in Fort Worth when the sun goes down. For nighttime shots like this, use a tripod and relatively long exposures (5-20 seconds). And be careful if you stand in the middle of the street, as I did for this shot!
Museums
Fort Worth Museum of Science and History
1501 Montgomery St.
Fort Worth, TX 76107
(888) 255-9300
www.fortworthmuseum.org
General Information
Fort Worth Convention & Visitors Bureau
415 Throckmorton
Fort Worth, TX 76102
(800) 433-5747
www.fortworth.com

LATEST VIDEO