Get Round Tuit
Organizing Your Travel Photographs With Imagebase Software
For under $30, ixla Explorer can create thumbnails and catalog your travel images. When a thumbnail is clicked, the view changes from a traditional thumbnail display to a large image and a scrolling thumbnail window.
Photos © 1998, Joe Farace, All Rights Reserved
All of us have made solemn vows that someday we are going to put our travel photographs in an album or arrange the slides into a slide show for family and friends to enjoy, but somehow we never get around to it. For example, what happens when you get back from a trip? You send all the film you shot during your travels to the photo lab, but more often than not, they sit, untouched, in the envelopes or boxes they were delivered in. It will take more than great computer software to give you the "round tuit" you need to get organized, but image database--sometimes just called "imagebase" --software can help organize your photographs into digital albums you can e-mail to friends or place on the World Wide Web (WWW) for everyone on the planet to see. Even if you're a travel photography pro and sell stock images from your treks, imagebase software can help you file, then locate a specific image a client may be requesting.

Just as there are different kinds of travel photographers, imagebase software is available in three major categories: Digital Albums, Catalogers, and Media Asset Management programs. The first category produces a digital version of the kind of scrapbooks and albums that photographer's traditionally use to display images, and programs, like Photo-Recall, provide an interface that mimics this kind of album. Catalogers are aimed at advanced amateurs and professional photographers. Unlike digital albums, catalogers let you browse through many different images on the screen at the same time, and software, such as Kudo Image Browser, can display miniature images allowing you to view hundreds of photographs at the same time. Because catalogers let you browse through an image collection, they are sometimes called, erroneously I think, "browsers." Media asset management software is specifically designed for large graphics and stock photography firms and run on networks that can be accessed by individual artists or researchers. Because they are designed for industrial strength applications and have prices that run in the five figures, media asset management programs are not included in this story.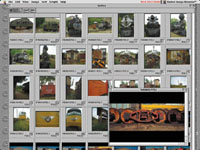 Kudo Image Browser has an attractive interface but doesn't display Photo CD images, like these, as well as some of the other cataloger programs mentioned in the text.
Lets Get Digital. Using an imagebase program means you must have to have your photographs in digital form. This is not as hard as it sounds. You don't have to have all of your images digitized, just some of them. Start by digitizing the images from your most recent trip. Using Kodak's FlashPix, Photo CD, or PictureDisc, Konica's Floppy Shots, or Seattle FilmWorks Pictures on Disk processes, you can have your images digitized the same time they are processed. If you prefer, you can also digitize them yourself using any one of the growing numbers of moderately priced scanners. When deciding on a file format to save your images, you should consider the platform you will be using. Most album programs are Windows-based, while almost all catalogers and media asset managers are available for both Microsoft Windows and the Mac OS.

Your images need to be in digital form because imagebase software, unlike traditional database programs, displays a small picture, or "thumbnail," of the images in a selected group. Imagebase programs typically store thumbnail files separately, leaving your original images untouched. That thumbnail, along with any caption information you add, will help immediately identify an image you've been searching for. A powerful feature of imagebase programs is the ability to caption, describe, and locate specific images. How an imagebase accomplishes all of these tasks is what sets them apart from one another. When shopping for software to catalog your travel photographs here are several characteristics you should keep in mind:
· The program must be able to read different graphics file formats. There are over a hundred graphics file formats and unlike designers and desktop publishers who must be able to catalog many file formats, photographers should standardize on a few, such as Photo CD, FlashPix, GIF, JPEG, TIFF, or BMP, and make sure that's how they create their digital images.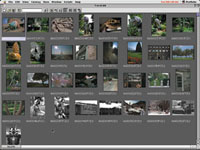 Extensis Portfolio lets you customize the look of the user interface. The default for this Mac OS catalog is a white background, but the author used the program's controls to change the color and caption typeface used.
· The program should be able to display your file as a thumbnail. Not all image file formats have the capability to display thumbnails, so not all imagebase software will display every image file type. If a file format does not contain thumbnails, programs such as ThumbsPlus and ixla Explor-er will automatically create them for you.

· A good imagebase program should be able to add "keywords" to your photographs, then be able to search for the images that have those words associated with them. When assigning keywords, use those characteristics that identify it beyond a description of "pretty shot of yellow flowers." A photograph of a cluster of black-eyed Susans, could have keywords that could include "Dickey-ville, Maryland" (location where the image was made), "state flower" (it's Maryland's state flower), "Preakness" (a wreath of black-eyed Susans is presented to the winning horse in each year's race), or other words that let you search for and find an image.

· Finally, a good imagebase includes a lengthy description field that lets you make detailed notes about the image, including its format, where it's located, or what kind of media it's stored.

There are so many different imagebase programs that fit into the first two categories it would be difficult to mention all of them in a single story. Instead, I've tried to introduce you to some representative products in each category and show you the possibilities each of the products offer to help you manage your collection of images. Since many companies offer trial versions of their programs, I suggest you visit their web sites and download any imagebase product that interests you.

Digital Albums. Using one of the most attractive interfaces in this category, LMSOFT Album lets you assemble photographs, video clips, and sound files into multimedia albums. A five-button tool bar provides access to all of the program's functions and over 100 templates are included to guide you through the creation of an album by clicking and dragging into spaces provided. Text fields are included for titles and sound files can be added to each page for the creation of slide shows. The finished albums can be turned into stand-alone files which can be distributed by e-mail or on removable media, such as a CD-R disc or Zip disk.

G&A Imaging's PhotoRecall has a Library module that lets you store and view images in your choice of album, bulletin board, or film strip formats. Captions below each image show the photograph's title and location on your hard disk, Photo CD disc, or removable media. PhotoRecall allows you to capture images directly from digital cameras and other TWAIN devices, such as a scanner. You can search collections for keywords associated with a particular photograph. Once a group of images is stored in a collection, you can print the album or run an on-screen slide show or e-mail images directly from an album. PhotoRecall's Darkroom module includes a tool set that the average digital imager will find useful for cleaning up less-than-perfect photographs. Controls include Rotate, Resize, Crop, Flip, Invert, and Vignette. Two especially cool commands are Map to Sphere and Map to Cylinder, which wrap your image around the shape specified.

Presto! PhotoAlbum is designed for TWAIN-compliant digital cameras, scanners, and other image capture devices. The program has a "real" photo album-like interface that includes predefined album styles, rings, and templates. You use drag and drop tools to create, manipulate, or view your photos. You can also drag and drop frames, clip art, special effects, and textures as well as use the program's built-in image-editing function to rotate, resize, and color balance your images. Other tools let you add captions and special text effects to the pictures. The Photo Browser mode lets you view thumbnails of all of the photographs in an album. You can export an album as an HTML (HyperText Markup Language) file for your web site or create a stand-alone file that can be e-mailed or shared with friends via removable media disk.

Catalogers. ArcSoft's PhotoBase is a cataloger that lets users create collections of photographs, sound, video clips, or document files for storage and retrieval. You can acquire images from digital cameras, scanners, or any TWAIN-compliant device. Image files can be stored and searched by name, description, date, or any other information entered in the program's data fields. You can print selected images or an entire thumbnail collection in large, medium, or small formats, including descriptions and other information from the data fields. To spruce up the output, you can add frames and backgrounds to the thumbnails. The program lets you create slide shows, web presentations, and video postcards. PhotoBase's image editor lets you crop, rotate, sharpen, and make color adjustments to any image and a "hotlink" bar lets you launch third party programs for image editing, page layout, word processing, or Internet browsing.

Digital Arts and Science's Image AXS has an optional a dark gray interface that makes thumbnails pop off the screen. The program can catalog, retrieve, and display photographs, video clips, and audio files. The program uses what it calls "smart" keywords for electronic cataloging that consists of seven user-definable alpha-numeric fields, a 32,000 character text field, and a dozen file information fields. Each catalog can contain over 16,000 records and the display size of all the views can be adjusted by the user. The original files can be stored anywhere on your local drive, removable media, CD-ROMs, or on remote volumes. An upgraded version of the program, ImageAXS Pro, is designed for professional photographers who want to publish a portfolio of images on a CD-ROM or the WWW.

Extensis Portfolio includes 53 file translators; some of which allow it to create thumbnails for Windows-based files that don't have this information imbedded. Any catalog produced with the Mac OS or Windows version of Portfolio can be read on the other platform. The program is multi-user, something that is an extra cost option for some high-end catalogers and multiple users can access and edit a shared catalog over at network at the same time. An Administrator function controls which users can make changes, can add or remove items, or can modify keywords and custom fields. The program lets you specify additional information about each image, such as publication date or catalog number. You can also export catalogs to HTML code to create custom web pages from one of existing galleries either as they appear on screen or using your own templates.

Using drag and drop, Imspace System's Kudo Image Browser converts digital images into thumbnail catalogs. It automatically adds additional information about each image file, such as name, location, path, size, and type. The program allows you to add descriptions and keywords to the thumbnail record. Kudo supports most Macintosh and Windows image file formats and offers "Place Modules" that let you drag and place images from a catalog directly into Quark XPress, Adobe Photoshop, PageMaker, Premier, or Illustrator, MetaCreation's Painter, and Macro-media Freehand. The package includes scripts that automate tasks, such as, the printing of slide labels. In addition, Imspace offers Kudo Internet Multimedia Suite for Windows 95/NT4 only. This package is a set of three programs that will help photographers with web sites organize, find, view, print, use, convert, and share collections of photographs.

NewSoft's Presto! Image Explorer displays thumbnails of image files by name, file type, date, and size. Photographs can be located on your hard drive or imported from TWAIN-compliant scanners and digital cameras. You can use Image Explorer to arrange your collection in different folders, add properties, and manage image files--including renaming, deleting, and sorting. The program lets you customize the thumbnail size, view options, and number of folders. Image Explorer lets you view an image before actually opening it, or you can double click to launch your preferred image editor. A Presto! Image Explorer window can be docked at the top, bottom, left, or right of your screen while you use another program.

One cataloger that was designed by photographers especially for photographers is PhotoExplorer by PhotoSoft. Since David Brooks did an in-depth review of the product in Shutterbug's January issue, I recommend you read his comments for more information or visit their web site at www.photosoft.com. Information about new and updated imagebase programs is also regularly found in my "digital innovations" column.
Between Albums And Cataloger
Lying in the twilight zone between catalogers and digital albums are a class of programs that accomplish many imagebase functions and offer capabilities that many photographers will find useful.

Andromeda Software's PhotoTiler is a plug-in that's designed to work with Mac OS and Windows 95/NT versions of Adobe's PageMaker page layout software. It can create a contact sheet from your image collection for organizing and editing. The plug-in lets you control margins, rows, columns, distance between images, and even provides cropping control. While lacking a serious search function, PhotoTiler can be used for web pages, photo albums, catalogs, digital contact sheets, or as a lightbox for image layout, inspection, and viewing.

Cerious Software's ThumbsPlus is a graphic file viewer, locator, and organizer that simplifies the task of finding photographs, fonts, and animations. You can use ThumbsPlus to browse, view, edit, crop, or copy images to the Clipboard. One of its most useful features is the ability to generate thumbnails from files that don't have that capability built-in. ThumbsPlus can also create a slide show from selected photographs, install files as Wallpaper, and print individual files or thumbnails as a catalog. As I was completing this story, ThumbsPlus 4.0 was in final beta testing. The new version offers enhancements as well as a Mac OS version for the first time. Version 4.0 has a new tool bar and the ability to find similar and duplicate images along with sort options such as similarity, orientation, or image size. It lets you have multiple customizable thumbnail views (small, large, custom, list, and report) and the ability to work with user-definable fields for categorizing and searching. Thumbs Plus 4.0 offers digital watermarking using Digimarc technology found on more expensive programs, such as Photoshop.

The ixla Explorer is a browser, viewer, organizer, cataloger, and file format conversion utility. Like ThumbsPlus, ixla Explorer will create thumbnails of images stored in your computer. To view thumbnails in either large, medium, or small sizes, all you have to do is click on a folder. When you find the image you're looking for, double click to view it full size. You can drag and drop your images into a catalog and add information to each image--including title, keywords, and description. A keyword search lets you find photos by name, title, date, and more. You can view, find, print, import, sort, cut, copy, paste, zoom, convert, and catalog your images. ixla Explorer supports TWAIN scanners, flash memory cards, PC Cards, and Zip disks as well as popular image file formats. The program supports digital cameras by simply dragging and dropping photos directly from your camera into the program.
Manufacturers/Distributors
Andromeda Software, Inc.
699 Hampshire Rd.,
Ste. 109
Thousand Oaks, CA 91361
(800) 547-0055
(805) 379-4109
fax: (805) 379-5253
www.andromeda.com
ArcSoft
46601 Fremont Blvd.
Fremont, CA 94538
(510) 440-9901
fax: (510) 440-1270
www.arcsoft.com
Canto Software, Inc.
330 Townsend, Ste. 217
San Francisco, CA 94107
(415) 905-0300
fax: (415) 905-0315
www.canto-software.com
Cerious Software Inc.
1515 Mockingbird Lane, Ste. 910
Charlotte, NC 28209
(704) 529-0200
fax: (704) 529-0497
www.cerious.com
Digital Arts & Science Corp.
1301 Marina Village Pkwy
Alameda, CA 94501
(510) 814-7200
fax: (510) 814-6100
www.dascorp.com

DogByte Development, Inc.
612 Moulton St., Ste. 7
Los Angeles, CA 90031
(800) 9-DOGBYTE (800-9-364-2983)
fax: (323) 276-5275
www.dogbyte.com
Eastman Kodak
343 State St.
Rochester, NY 14650
(800) 235-6325
(716) 726-7260
www.kodak.com
E-Book Systems
444 Castro St.,
Ste. 412
Mountain View, CA 94041
(650) 964-4140
fax: (650) 964-4142
Extensis Corp.
1800 SW First Ave., Ste. 500 Portland, OR 97201
(800) 796-9798
(503) 274-2020
fax: (503) 274-0530
e-mail: info@extensis.com
www.extensis.com
G&A Imaging Ltd.
975 St. Joseph Blvd. #227
Hull, QC
Canada J8Z 1W8
(819) 772-7600
fax: (819) 772-7640
www.ga-imaging.com
Imspace Systems Corp.
2665 Ariane Dr., Ste. 207
San Diego, CA 92117
(619) 272-2600
fax: (619) 272-4292
www.imspace.com
IXLA USA Inc
17 Jansen St.
Danbury, CT 06810
(203) 730-8805
fax: (203) 730-8802
e-mail: ixla@ixla.com
www.ixla.com
LMSoft
5253 Parc Ave.
Montreal, Quebec
Canada H2V 4P2
(514) 948-1000
fax: (514) 948-0511
www.lmsoft.com
NewSoft America Inc.
47470 Seabridge Dr.
Fremont, CA 94538
(510) 445-8600
fax: (510) 445-8601
www.newsoftinc.com
PhotoSoft Inc.
PO Box 209
Marlboro, NJ 07746
(732) 617-1904
fax: (732) 617-9294
www.photosoft.com
SlideScribe
7685 Washington Ave. S
Minneapolis, MN 55439
(800) 345-4118
(612) 942-7909
fax: (612) 942-7852

FEATURED VIDEO