Long Haulers: Our 10 Favorite Photo Backpacks & Camera Bags for Outdoor Photography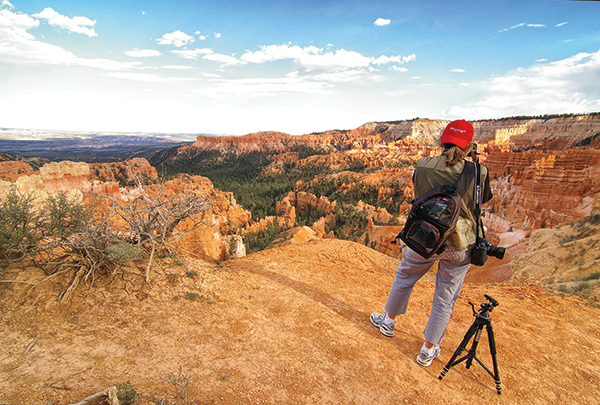 "When words become unclear, I shall focus with photographs. When images become inadequate, I shall be content with silence."—Ansel Adams
This January issue's theme was outdoor photography and other than architectural interiors and studio photography, more images are probably captured out of doors than indoors. This column's focus is on camera bags for landscape, nature, and wildlife shooters, whose needs are different from their urban counterparts. Kelly Moore, for example, manufactures fashion bags (see the December 2016 Geared Up column) and offers the beautifully crafted Woodstock Backpack ($229) that's probably better suited for Rodeo Drive than Jellystone Park.
Yet many aspects of bag design remain the same for urban/nature shooters, such as ease of access, adequate protection, and quality construction, while other criteria are more important for outdoor photographers, such as weatherproofing from extreme heat and cold, rugged but comfortable support systems, marine-grade zippers, and rain covers. Does style play a part? I think so. Wildlife shooters may want colors and designs that blend in with the environment while landscape photographers may not care about style at all. No matter what you photograph there's a bag or backpack for you. Maybe even more than one. Camera bags, it seems, are like potato chips, "you just can't have one."
A Backpack for Backpackers
MindShift Gear's BackLight 26L backpack ($249) is available in the awesome Greenfield color (pictured) or Charcoal. The pack's padded rear compartment has touch-fastening dividers, providing room for an SLR, four to six lenses, a speedlight, and accessories. Front access is provided by unzipping a back panel, then sliding off the shoulder straps and using the waist belt to rotate the pack, all without removing the pack. Under a rear compartment lid are two zippered, clear-mesh accessory pockets. Atop the pack are pockets for a smartphone and a wallet and either side of the backpack has slip-in pockets with a cinch strap for storing water bottles, gloves, or a cap. Front pockets have room for a headlamp, chargers, and energy bars. When securing gear, the pack's side compression straps can be used for tightening the load and are part of a tripod/monopod attachment system.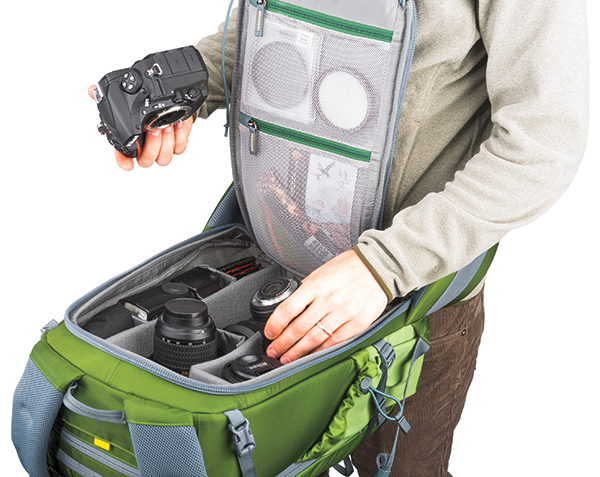 Who's It For: Real jumping-up-and-down backpacking photographers.
Why I Like It: An impressive combination of clever design along with quality construction and value make the BackLight 26L a standout.
A Daypack for Hikers
Hikers might like Think Tank Photo's Speed Freak V2.0 ($159) because it offers a way of accessing gear without removing the bag. The Speed Freak holds an SLR and two to three lenses in a compartment that opens away from you for access and security; only you can see inside since the top lid shields against any snoops. The bag can be worn as a shoulder or waist pack and has a grab handle for those decisive moments. The top's zipper gives you access to gear without having to unzip the entire lid. The bag is beautifully sewn together using ballistic nylon and YKK zippered pockets. There's a lanyard to attach keys or an accessory storage pouch. The Speed Freak comes with a rain cover secured by another lanyard to prevent the cover from blowing away in strong winds.
Who's It For: Both casual and more serious hikers. You can wear it as a belt pack or over your shoulder (like I do).
Why I Like It: Although I'm only an occasional hiker, I find the versatile Speed Freak essential on the trail and in urban environments.
Backpacking Italian Style
Sporting the best product name this side of the Mediterranean, Manfrotto's Off Road Stunt backpack ($149) is aimed at extreme sports photographers for transporting action cameras and related gear. The pack has a rigid shell with two removable inserts along with touch-fastening, padded dividers for storing up to three action cameras, such as a GoPro or a Sony A7 with a 24-70mm lens and accessories. There's a dedicated GoPro mount on the shoulder strap with attachment points for securing a GoPro pole on the rear of the pack. The Off Road Stunt backpack has padded shoulder straps, a sternum strap, a padded waist strap, and a cushioned back panel with a padded rear compartment with a tab closure for a 12.9-inch tablet. The pack is nicely crafted in nylon with a water-repellent coating and comes with a rain cover.
Who's It For: GoPro'ers and snowboarders who need to schlep their gear to the slopes.
Why I Like It: Manfrotto bags combine traditional design with more modern elements along with a sense of flare that could only come from Italia.
Backpack UK Style
A rucksack is a bag with shoulder straps, allowing it to be carried on someone's back, typically made of a strong, waterproof material and used by hikers. In other words, it's a backpack. Billingham's Rucksack 25 ($499) stores and protects an SLR and up to five lenses in a main compartment with a sleeve for a tablet and padded, removable dividers for organizing gear. For weather protection, the rucksack uses rain guard-protected zippers, a drawstring closure, and Stormblock fabric with a butyl rubber layer. It has a top handle along with padded, adjustable shoulder straps that have attachment points for adding gear. A back panel with a padded spacer fabric provides cushioning and increased airflow. Optional Avea pockets may be attached to leather patches on either side of the rucksack.
Who's It For: Outdoor photographers who want to travel light and in style.
Why I Like It: As an admitted Anglophile, I have an affinity for Billingham's well-crafted bags that combine over-the-top construction with understated, traditional looks.
Serious Photo Backpacking
Lowepro offers the Pro Trekker 450 AW ($244) and larger Pro Trekker 650 AW ($264). The difference is that the 450 AW holds one to two professional SLRs, one with up to a 400mm f/2.8 lens attached, while the 650 AW fits two to three pro SLRs, one with up to a 600mm f/4.0 lens. If you have lots of gear, the 650 AW is the way to go, but for those who prefer to travel lighter—remember you have to carry all that gear—the Pro Trekker 450 AW is the better option. It also holds four to six lenses, two speedlights, a tripod/monopod, and a 15-inch laptop. The bag is made from 630D Oxford nylon with a 1000D Cordura base. For load-lifting, Lowepro's ActivLift System Harness is ergonomic, breathable, and transfers weight from your waist to your hips. For extra support and storage, the backpack's removable lid doubles as a waist belt/pack with multiple pockets and a mesh-covered back. A built-in rain cover with cinch straps and a rain flap provides protection from the elements.
Who's It For: Outdoor and nature photographers, although if you're going backcountry, their Whistler BP 450 AW has a suspension system to ease load carrying and evenly distribute weight.
Why I Like It: Like many of you, when I think photo backpack I also think Lowepro, and their Pro Trekker AW series offers outdoor-friendly features like an adjustable harness and waist belt along with a hydration reservoir.
Urban/Suburban
Ona's Nylon Camps Bay camera and laptop backpack ($409) seems mostly aimed at the urban photographer and is available in waxed canvas and leather, yet I think some landscape photographers will like the size (17x13x6.5 inches) and storage capacity. Camps Bay has a padded main compartment for an SLR with an attached 70-200mm f/2.8 lens and up to seven additional lenses and accessories. It will also accommodate a 17-inch laptop. Made from 1050D ballistic nylon with leather accents and solid brass hardware, the pack has an air mesh back panel to wick away moisture and an exterior zippered accessory pocket.
Who's It For: The weekend or aspiring landscape photographer.
Why I Like It: While not inexpensive, the Camps Bay is exquisitely crafted.
One of the things I like about Domke bags is that they were created by Jim Domke, a real photographer, and while the bags have evolved over the years, there has been a steadfast commitment to quality. Next Generation bags include the Viewfinder series and while I favor the smaller Director model ($199), I expect most outdoor photographers will prefer the larger Image Maker ($229). Made from sand-colored Cordura, it has an 11x8-inch zippered tablet sleeve as well as expandable zippered front and side pockets to keep gear available without opening the bag. A rear slide pocket holds maps or a note pad. Access to the interior is via a top double YKK zipper or metal thumb clasps on the front flap, which features a touch fastener with a built-in silencer to eliminate any ripping sound that might disturb wildlife. The bag has side rain hoods and an "anonymity flap" to protect contents. Each bag has a numbered identification plate and if you lose the bag, the finder can contact Domke, who will then contact you.
Who's It For: Weekend or aspiring landscape and nature photographers, however, it is useful for urban adventurers as well.
Why I Like It: Experience with my own Domke bags has proven them to be bulletproof and long-lived. And I like their style.
Ape Case's ACPRO2000 digital SLR and laptop backpack ($124), while relatively small (15.4x19.25x10.1 inches), will hold an SLR with a 70-200mm f/2.8 lens attached as well as four to five other lenses, accessories, and a 16-inch laptop in its own padded compartment. Zippered storage compartments hold small gear, including filters, cables, and memory cards. The bag is made from water-resistant nylon and comes with a built-in, pull-out rain cover. An adjustable harness system allows the bag to be tailored to your body and a sternum strap keeps it balanced. Inside, there are multiple movable dividers in bright yellow that can be configured to fit your gear and, Ape Case claims, help illuminate the interior in low light. There's a tripod holder comprised of a tuck-away pocket for the feet with an adjustable strap for the legs. The bag is backed by a lifetime warranty.
Who's It For: Hikers and backpacking photographers looking for an affordable backpack that combines style and function.
Why I Like It: I like the rugged look and bargain price point, marking it as a best buy.
Not Just for the Birds
Not everybody likes backpacks, which is why Vanguard's Endeavor Bag 900 ($129) is such a standout. It's a shoulder bag designed for birdwatchers and nature photographers for carrying a spotting scope, binoculars, camera gear, a tripod, and a guidebook alongside water, food, and a laptop/tablet. It has a horizontal divider that locks into place to create a platform for taking notes. The bag is water-repellent with an anti-scratch material covering the bottom for protection when setting on the ground. It has a padded rear panel and an ergonomically shaped shoulder strap with a double-sided carrying handle. Endeavor uses XXL silicone zipper pullers and has modular dividers and dedicated pockets. A watertight pocket keeps personal effects clean and dry, while a heat-insulated pocket keeps snacks fresh. There's an attachment for a spotting scope/tripod/monopod and a total coverage rain cover.
Who's It For: Birdwatchers, hikers, and photographers who enjoy nature, but the bag is practical enough for city use, too.
Why I Like It: It doesn't look like a camera bag, which bodes well for urban exploring, and it also looks nice.
Ain't No Mountain High Enough
Mountainsmith offers something that, I think, is unique: the Lariat 55 WSD ($219) that's intended for the female backpacker. The great-looking Huckleberry Cordura fabric color aside, the Lariat 55 was designed specifically for a woman's body and is useful for extended trail or urban treks. The roll-top lid closure packs well with a full or a light load. The Lariat 55 has a torso ladder sizing system, a forward-pull waist belt, back panel padding, and a lightweight aluminum suspension. Pockets include a smartphone-sized waist belt, a side-canted water bottle, pass-through compressions straps, and lash points for tools. An outer pocket converts to a detachable daypack with shoulder straps for short trips from camp or summit assaults. A U-shaped zipper on the front is practical for urban travel when you want to retrieve gear in tight places like trains or hostels. And Mountainsmith offers a lifetime warranty on their products.
Who's It For: Female backpackers and adventure travelers, although I like the Huckleberry color a lot.
Why I Like It: I elicited Mary's opinion and while she also likes the color, the features and design seem well suited to athletic and practical women like her.
Those with long memories may remember the Joe Farace Reporter backpacks and Mary Farace Daypacks sold by a Shutterbug advertiser. While no longer available, they still hold my Canon gear along with bags from Think Tank Photo. My mirrorless cameras and Mary's Nikons reside in her beloved Artisan & Artist bags while Billinghams hold my Olympus mirrorless and Leica and Zeiss film cameras. Need details? Check the Gear sections of joefarace.com and mirrorlessphototips.com.

FEATURED VIDEO