Fun In The Digital Magic Kingdom
We are producing a new generation of "millennials" whose ABCs include MP3, JPEG, and X Box, and whose imaging tools don't include their parents' silver-halide technology. Even toddlers expect to see their photographs on an LCD preview screen a few seconds after Mom or Dad trips the shutter. These children also expect the images to come bundled with a healthy dose of entertainment and fun. They won't be disappointed by the trends, tools, and technology unwrapped at a PMA show that's ready to take on whatever the world might throw at it.
Digital Point-And-Shoot Cameras
Don't let the ears fool you boys and girls, there's nothing Mickey Mouse about the new digital cameras at this year's PMA show. If there is one product that captures a perfect blend of imaging and fun that permeated the Orange County Conven-tion Center, it was the StyleCam Blink, a tiny, unbearably cute digicam from SiPix. Blink is a 640x480 CMOS-based digicam that also functions as a Webcam and lets you create "streaming snapshots" by continuously clicking the shutter and then assembling an AVI (Video Clip Interleave) file with the bundled software. It's so small you can hang it around your neck on a lanyard and it is the ultimate icebreaker for the digital dude or dudettes wearing one. Oh yeah, did I mention the camera costs $39.99? In other SiPix news, the company's SP-1300 is a 1.3-megapixel camera with a 1.8" LCD preview screen, 2x digital zoom, and an 8MB Com-pactFlash card. Their SC-2300 costs $179.99 and has many of the features of the SP-1300 but 2.1-megapixel capture. Like all SiPix products, it's aimed at the Windows user.
Canon's PowerShot digital camera line-up now includes the A40, A30, and A100. All three have the ability to record video clips and print directly to one of Canon's snapshot printers, such as their compact 300dpi CP-100 Card Photo Printer. The A40 is a 2-megapixel model, while the A30 has a 1.3-megapixel capture and both incorporate a 3x optical zoom (35-105mm equivalent). The entry-level A100 is a single focal length 1.2-megapixel camera that provides Vivid, Neutral, Sepia, and Black and White capture modes as well as 420x320 video. The WP-DC200s waterproof case is an optional accessory for the A40 and A30 and has a depth rating of 100 ft.
Rollei's d41com 4.1-megapixel digicam has a nine-element 3x Rollei D-Apogon zoom lens that includes Macro mode. It includes autofocus, programmed AE, single frame and continuous shooting (with shutter speeds from 2 sec to 1/500 sec), and five auto flash modes. The 1.8" LCD with 2x magnification capability lets you peek at images on the bundled 16MB CompactFlash card. The German-built Rollei d530flex is a 5.24-megapixel SLR with 95 percent viewfinder accuracy, TTL metering, and a hot shoe that accepts the dedicated Rollei f28 flash and other units. In RAW mode, the camera produces 6MB files, which translates into 18MB TIFF files that are stored using PC Card (PCMCIA) compatible media.
Vivitar's $499 ViviCam 3725 is a 3.3-megapixel camera--with a 4x optical zoom and a 2x digital zoom--that can be used as a Webcam, a feature that's clearly a trend in digicam design and is on its way to becoming a "check list" item. The ViviCam 3725 accepts CompactFlash and can record uncompressed TIFFs, JPEGs, and video clips. Also new are ViviCam 10 and ViviCam 20 cameras that feature 8MB of internal memory and VGA resolution.
The Argus DC3300 combines 1.3-megapixel image capture with a digital voice recorder in a streamlined form factor that includes a 1.5" LCD preview screen. The bundled 32MB SmartMedia card has enough memory to store lots of voice or video data. Captain Kirk would feel comfortable with the Argus DC2300 Photo Phazer, a ray gun shaped digicam that has 8MB of built-in memory and holds 66 still images. The $130 camera can capture video clips and be used as a Webcam.
Putting a new spin on spinning lenses, Nikon's small yet coolly-styled CoolPix 2500 is a 2-megapixel camera with an inner-swivel lens that lets you shoot from every possible angle--including 180 self-portraits. It features Nikon's built-in One-Touch Upload button for transferring images to your computer or the web.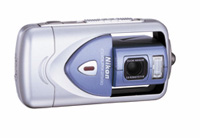 The Minolta Dimge X is a small, light digital camera that is so cute the SiPix Blink had megapixel envy. It features a 3x optical zoom lens (37-111mm equivalent) and a 2x digital zoom when you need more reach. The stainless steel and aluminum body contains a 2-megapixel CCD along with a fast CPU that starts up in 1.8 sec. The Dimge S404 offers 4-megapixel resolution along with an all-glass Apochromatic 4x Minolta GT zoom lens with a focal length equivalent of 35-308mm. Shown "under the table" were two new digicams that will be introduced after PMA. The Dimge F100 is the first digital camera with Area autofocus (Area AF), Subject Tracking autofocus, and automatic digital subject program selection. You point it at a person and it locks onto them like a laser beam, even outlining the subject in red. The F100 features 4-megapixel resolution, a 3x optical zoom Minolta GT lens, and a 2.5x digital zoom wrapped in an elegant Tiffany-style design. The Dimge 7i features 5-megapixel resolution, a 7x optical zoom, and incorporates an autofocusing system that's 2x faster than the Dimge 7. In Program and Aperture Priority modes, the Dimge 7i's shutter speed tops out at 1/4000 sec. The UHS (Ultra High Speed) drive mode can capture approximately seven frames per second.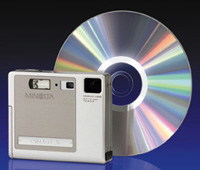 Sony put on a fashion show at one of Orlando's hot spots to launch their new Cyber-shot digital cameras. The latest Cyber-shot P Series offers multi-point autofocus, multi-pattern, and pre-flash exposure metering, and does a surprisingly good job creating MPEG Movie HQX video files mit sound that are only limited in size by how large a Memory Stick is used. The DSC-P31 and DSC-P51 are 2-megapixel models and the top of the line DSC-P71 produces 3.2-megapixel images. The DSC-P31 and DSC-P71 cost $220 and $400 respectively, while the DSC-P51 is $300. The MVC-CD250 and MVC-CD400 CD Mavica digital cameras use 80mm CD-R discs which Sony considers a "digital archive" solution, and the Confirm-before-Write option lets you decide if an image is worth saving before burning to a CD. The MVC-CD250 has 2-megapixel resolution, 3x optical and 2x digital zoom, three-shot burst mode, and the ability to capture MPEG HQX video clips. The MVC-CD400 provides 4-megapixel resolution images, captured through an f/2 Carl Zeiss lens.
Leica's 4-megapixel CCD Digilux 1 digicam has a form factor echoing their traditional rangefinder cameras. Produced in cooperation with Pana-sonic, the Digilux 1 has a die-cast magnesium body, optical viewfinder with diopter correction, and 2.5" TFT LCD monitor display. A removable focusing hood reminds me of Hasselblad or Rollei folding waist-level finders and blocks light from the LCD screen. The TIFF capture option lets you get the most from the 33-100mm (equivalent) f/2-2.5 DC Vario-Summicron aspherical lens. Images are stored on a 64MB SD memory card that can hold 32 high-resolution images or 484 images at the lowest resolution. The built-in flash offers several modes including redeye reduction, and an external flash is optional. For outdoor nature photography, you can attach the Digilux 1 via an adapter to a Leica Televid 77 spotting scope.
Not counting the FinePix S2 Pro SLR Bob Shell discusses elsewhere, Fuji has three new digicams. The 2-megapixel FinePix 30i is the wallet-sized successor to the FinePix 40i and serves as a portable MP3 player--one of last year's trends. It also has Webcam capabilities, which is one of this year's trends, and sells for $399. Fuji's FinePix F601 Zoom uses a third-generation 3-megapixel Super CCD chip. The FinePix S602 zoom produces a 2832x2128 image with a Fujinon EBC-coated 6x optical zoom lens. The camera captures VGA digital video at a rate of 30 fps, which Managing Editor Bonnie Paulk watched me do at Fuji's stand. The FinePix S602 Zoom offers dual media options and SmartMedia along with IBM's 1GB MicroDrive can be inserted into the camera's CompactFlash (Type II) slot.
Spectra's VGA resolution Stylus-C@m stores 107 digital images, can capture up to 16 sec of digital video, and fits in your shirt pocket. With the bundled stand, you can turn it into a Webcam and the software bundle includes some of Arcsoft's best programs. Their 4-in-1 digital "pen" camera offers 1.3 megapixels and has a built-in flash.
Kodak's EasyShare DX4900 is a 4-megapixel camera with an all-glass aspherical 6x zoom lens, 2x digital zoom, and costs under $399. The EasyShare dock, which makes the camera even easier to use, is optional but I consider it an indispensable accessory. Kodak claims that prints as large as 20x30" can be made from the DX4900 using Ofoto's (www.ofoto.com) online printing service and Editor George Schaub asked me to check that claim out in a future review. The new Kodak Advantix EasyShare combines APS film camera functions with full digicam capabilities--not just preview--in a single $200 package, including digital dock.
Panasonic incorporates Leica lenses in its Lumix digital cameras. The DMC-F7 and DMC-LC20 are 2-megapixel models, while the DMC-LC40 and DMC-LC5 offer 4-megapixel capture. All Lumix cameras use SD/MMC and an 8MB, 16MB, or 32MB SD memory card, depending upon model, is included. Most feature both 3x optical and 2x digital zooms. Panasonic's new MultiCam camcorders are a convergence item; if digicams can capture video clips and camcorders produce still images, maybe all we really need is one capture device. The MultiCams are certainly a step, albeit a small one, in that direction and feature USB ports and a SD card slot. The PV-DV602 and PV-DV702 can capture 1.3-megapixel images, while PV-DV52, PV-DV202, and PV-DV402 add Webcam capabilities. The winner for unexpected design was Pentax for creation of the DigiBino DB100 digital camera binoculars, although Meade Instruments also showed one at PMA. The DigiBino DB100 has a 1/3" CCD measuring 0.8 megapixels matched to 7x magnification, which is equivalent to a 280mm lens in 35mm format. With 16MB of built-in memory, the DigiBino DB100 is capable of recording and storing up to 100 JPEG files in Fine mode. Images can be previewed on the 1.6" LCD screen and the DB100 can be connected to a TV. Pentax offers the more traditional Optio 230 2-megapixel digicam; its coolest feature being a 3D-image mode for stereoscopic shooting! The 3x zoom lens is the equivalent to a 38-114mm lens and the swing-out LCD screen folds out through 180.
Konica's Digital Revio KD-400Z and KD-310Z offers SD/MMC and Memory Stick storage capabilities. The KD-310Z has 3.34-megapixel capture and a 3x zoom lens. The KD-400Z has a 4.13-megapixel CCD and both models can capture video clips.
Casio's GV-10 is the digicam equivalent of a 4x4. It's engineered to be dust and water-resistant making it ideal for the beach. The GV-10's 1.23-megapixel imager and 1.6" LCD preview screen are wrapped up in a tough fiber glass body that's enclosed in a high-elasticity elastomer for great shock resistance, making it the perfect camera to toss in the back of your Hummer.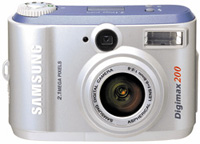 Samsung has eight new Digimax digital cameras: The $199 Digimax 130 is a 1.3-megapixel camera with a 2x digital zoom. It has a 1.6" LCD screen and is bundled with an 8MB Com-pactFlash card. The 2.1-megapixel Digimax 200 has a large viewfinder plus a 1.5" LCD and a $269.99 price tag. The 2.1-megapixel Digimax 220SE costs $399.99 and features an f/5.8 lens that's equivalent to 38-115mm along with a 1.8" LCD screen. Samsung's Digimax 230 has an autofocus 3x optical zoom and a 2x digital zoom lens, a 1.6" LCD screen, and is bundled with an 8MB Compact Flash Card. The 3.3-megapixel Digimax 330 has an autofocus 3x optical zoom, a 2x digital zoom lens, and a real image zoom finder. The Digimax 340 is a 3.3-megapixel digicam with an autofocus 3x optical zoom and a 2x digital zoom lens. The 3.3-megapixel Digimax 350SE is a camera with a 1/1.8" CCD, bundled with a 16MB CompactFlash Card. The big enchilada is the 4.1-megapixel Digimax 410 with a suggested price of $679.99. It has an autofocus 3x optical zoom and a 2x digital zoom lens, bundled with a 16MB CompactFlash card.
While the big news at Kyocera was the Contax N Digital, there were also two elegant and compact point-and-shoots worth noticing. The Kyocera FineCam S4 is a small (think deck of cards) 4-megapixel camera with a zoom lens the equivalent of 35-105mm. The S4 uses SD or MMC media, which are currently available up to 256MB, which translates into more than 500 images in "normal" mode. The slim S3x is a 3-megapixel digicam that offers 3x optical and 2x digital zooms and a 1.5" LCD preview screen for previewing and editing.
Benq, formerly Acer Communications and Multimedia, let me make some images with their tiny DC 300mini digicam that weighs a mere 1.7 oz. Benq's DC 300mini provides dual-mode image capture (still and video) in a lightweight design that costs $99.
Medium & Large Format Digital Backs
Kodak's 645 medium format Professional DCS Pro Back 645C and 645M digital camera backs offer 16-megapixel resolution, ISO equivalent of 100-400, and LCD display. Its form factor is almost identical to a 120/220 film back and easily fits into the Contax 645AF and Mamiya 645AF systems. The 645C and 645M digital camera backs are compatible with all host camera functions, including autofocus and provide for zooming, cropping, and repurposing. An optional anti-aliasing filter assures high image quality. The backs have a burst rate of one frame every 1.63 sec and a burst depth of eight images, and feature a video port for image review and an AC power adapter.
Digital Lighting Gear
Photographic Research Organization (PRO) let me play with two new digital electronic flash units--the Promaster FTD 5750 DX and FTD 5550 DX. These dedicated TTL flash units are optimized for high-end digital cameras as well as 35mm SLR cameras. Five interchangeable modules are available to fit Nikon, Canon, Olympus, and Sony digital cameras. The Promaster FTD 5750 DX has a three-position zoom flash head (wide, normal, and telephoto), along with a wide angle diffuser panel that covers a 28mm lens. It has a secondary fill-in flash, front and rear flash ready lights, and auto power off to conserve battery life. The Promaster FTD 5550 DX flash unit's head tilts upward a full 90 and swivels 180. The FTD 5550 DX flash head also tilts down by 7, making it useful for macro photography. PRO also offers a digital flash bracket that works with their flash units and your digicam.
Nikon's SB-80DX Speedlight is designed for Nikon digital and traditional cameras and has built-in wireless TTL and manual functions, built-in modeling flash, along with custom settings. The tiny SB-30 Speedlight, with its built-in infrared Remote Commander, allows for triggering of multiple flash units in wireless mode and has the potential to be used for the "studio in a shoebox" concept envisioned by photographer Gary Regester (www.plumeltd.com) years ago.
RTS, Inc. showed me the ultimate digital lighting setup for photographing products. The Tri-Light Digital Lighting Kit is built around the translucent Bowens Cocoon that you place objects inside and direct light through. The Cocoon is available in three sizes for small, medium, and large products and eliminates digital highlight blooming to produce a natural look while retaining all of the original objects' sparkle. The kit includes two Red Wing light stands and a pair of Bowens Tri-Lights. These cool "hot" lights, three flicker-free fluorescent tubes, produce the equivalent of a 375w tungsten light with no heat or UV output so they can be placed close to the Cocoon to create the minimum aperture for greatest possible depth of field.
Printers & Scanners
Polaroid, who has had more than their share of bad hair days lately, are plugging through like the techno troopers they are with new products in digital and traditional self-processing film. Their new SprintScan 4000 Plus 35mm film scanner offers FireWire and USB connectivity and enhanced dynamic range with a 4.2 D-max.
Canon's D1250U2F flat-bed scanner includes built-in 35mm slide and negative scanning capabilities along with USB 2.0 connectivity, meaning data throughput can reach 480MB/sec--twice as fast as standard USB. The scanner has an optical resolution of 2400x1200 and 48-bit color depth providing more than 281 trillion possible colors.
Imacon's Flextight 2848 is a glass-free, two-in-one scanner that consists of a virtual drum and an electrostatic flat-bed, and offers non-interpolated optical resolutions from 960-6800dpi along with the ability to scan up to 100MB per minute. It can handle transparencies and prints up to 312x445mm up to a maximum 10mm thick. The scanner offers true 16-bit color with a 4.8 D-max in a single pass. Pacific Image Electronics' PrimeFilm 3600PRO operates at 3600dpi optical resolution, producing a digital image of approximately 17.8 million pixels (5100x 3445) with a dynamic range of 3.4. Their new PrimeFilm MF2400 is a multi-format film scanner that handles negative film up to 4x5".
The Kodak Professional ML 500 Digital Photo Print System can produce an 8x10" high quality photo in only 13 sec, and as many as 270 8x10" prints per hour or more than 500 5x7" prints per hour. It has a suggested list price of $19,995.
SiPix's new business card printer outputs 2x2.5" prints using a thermal color transfer method and costs $179. It will print from any Windows-based computer via a USB cable. It will also print directly from SiPix's SP-1300 camera.
Canon's ink jet printer line-up now includes three new six-color Bubble Jet photo printers and two four-color printers. The photo printers include the S9000 wide format printer that can produce 13x19" output and the S900 and S820 with letter-sized output. All three feature high-density nozzles that produce 1200dpi output and inks that, according to Canon's studies, should last approximately 25 years (www.usa.canon.com/consumer/lightfast). All five printers, including the S750 and S520 SOHO models, use individual ink tanks that have an optical sensor that will trigger an on-screen warning when ink is low. All these printers can make borderless prints on 4x6 and letter-sized papers as well as support the new Exif print standard.
The big news from Epson was shown away from the show floor and included three new seven-color printers, one desktop model, and two others for large format applications. Yes, kiddies seven colors, the new one being a light black for more depth. The Stylus Photo 2200 is slightly larger and less expensive ($699) than the six-color 2000P. The Stylus Photo 2200 is a seven-color 2880x1440dpi printer that uses Epson's UltraChrome pigment inks that have a lightfastness rating of 80 years on their Watercolor and other fine arts paper and 44 years on Premium Luster, Glossy, and Semi-gloss media. Not only does the Stylus Photo 2200 support borderless and roll paper printing, it has a built-in paper cutter so you can set up a long print run using roll paper and leave it unattended while it prints. Like all Epson Stylus Pho-to printers it's compatible with Mac OS and Win-dows computers. Interface is through parallel, USB, and FireWire (IEEE 1394) so throughput with any kind of modern computer should be fast. The output quality I saw was nothing short of amazing for a printer of that price.
The other new Epson printers are Stylus Pro 7600 and 9600 large format models sold through Epson's Professional Graphics division (www.prographics.epson.com). They are identical in all features except the width of the paper they accept. The Stylus Pro 7600 is a 24" printer, while the 9600 uses 44" media. These are seven-color printers, too, with three user-exchangeable black ink cartridges. There's Photo Black ink for traditional photographic and ink jet coated media, Matte Black for matte or plain paper output, and Dual Matte that's optimized for situations where speed is more important than image quality. The prints I saw made with these printers set a new standard in ink jet reproduction.
Image Enhancement Software
The 800 lb gorilla has landed. Contrary to the rumors circulating at MacWorld Expo that Adobe was going to release Photoshop 7.0 "sometime this summer" it appeared in February at the PMA show. A new File Browser lets you view thumbnails and metadata such as color profile, date modified, and Exchangeable Image File format information that's generated by digital cameras. The new Healing Brush lets you remove scratches and other flaws while preserving the image's shading, lighting, and texture. Traditional painting techniques (pastels and charcoal) with dry and wet brush effects can be used to add special effects. A new Pattern Maker plug-in lets you select any area of an image and automatically generate a seemingly endless collection of backgrounds. The enhanced Liquify (think KPT Goo) plug-in lets you more easily distort images and warp them into oblivion. At long last, there's a built-in spell checker that can perform search-and-replace. Photoshop 7.0 can save files using the XMP (Extensible Metadata Platform), a new standard developed by Adobe for embedding metadata in application files. Photoshop 7.0 is compatible with Mac OS 9, but has been optimized for Mac OS X and Windows XP.
Pictographics showed me their new iCorrect EditLab Color Editing color correction and editing plug-in. Because it treats color with familiar terms such as hue, saturation, brightness, and contrast, iCorrect EditLab is intuitive and easy to use. Working in Auto mode, iCorrect EditLab automatically analyzes an image and sequentially sets each of its four color control areas (gray balance; white/black point; brightness/contrast/saturation; and hue selective) to an optimum starting point. Like iCorrect Pro, who remains in the product line at a lower price, the new plug-in lets you correct skin tones without affecting gray balance or the image's tonal range. iCorrect EditLab for Macintosh and Windows is available for $99.00 at www.picto.com.
nik Multimedia and Wacom Tech-nologies collaborated to produce penPalette software that offers a quick, easy way to selectively apply enhancements to any photographs. The eight standard penPalette Filters include Warm Tone, Cool Tone, Contrast, Colorize, Add Noise, Despeckle, Soften, and Contrast but you can add other nik Multimedia filters that can be accessed like the built-in filters. The filters are built around the Wacom tablet's abilities to provide tilt and pressure sensitive pens as well as the air brush fingerwheel for dynamic brush control. The penPalette comes with demo versions of nik Multimedia filters and tools preloaded.
Applied Science Fiction, the Austin-based tech firm that gave us the ICE3 suite for film scanners, is offering Photoshop compatible plug-ins that can improve your images. Digital ROC automatically restores color quality to faded digital images regardless of the originals' condition. Proprietary algorithms from the mind of Doctor Al analyze color gradients and determine the optimum tonal curve for each color channel to remove color casts from faded images. My experience with a beta version showed substantial improvement with scans of some 35-year-old 126 (don't even ask) slides. The Digital SHO plug-in helps unlock details hidden in shadows caused by exposure problems. You can download free Mac OS or Windows trial versions of both from www.asf.com.
One of digital imaging's Holy Grails is the production of large prints from small image files. The latest attempt at this bit of alchemy is Celartem, whose Vector Format for Zooming technology (VFZ) is designed to scale, compress, archive, view, and zoom up to 1200 percent as well as print at fine art quality. The concept behind VFZ's six-level file structure reminds me of Live Picture's IVUE and even FlashPix, but a Celartem executive told me it can be used to track, manage, and protect digital images with no quality loss and is easily converted into TIFF, JPEG, or BMP formats.
On a similar quest, LizardTech launched an upgrade of Genuine Fractals and the Genuine Fractals' PrintPro plug-in for increasing resolution and size of digital images without degrading image quality. Version 2.5, which is available for Mac OS and Microsoft Windows, offers an improved user interface, enhanced batch capabilities, and added CMYK image support.
Memory & Storage
Lexar Media tweaked its Pro Series 16x CompactFlash cards to boost write speed for the Canon EOS-1D and claims a 15 percent speed increase when shooting with the EOS-1D's RAW format. Their new Memory Stick does its "E.T. phone home" imitation and lights when writing to protect you from removing it until it's finished, thereby preventing lost data.
Maxtor Corporation has an 80GB Personal Storage 3000DV, a 7200rpm external hard drive with FireWire (IEEE 1394) connectivity. The 80GB Personal Storage 3000DV is useful for backing up internal hard drives or file sharing between Windows and Mac OS systems. Maxtor's Personal Storage 3000XT provides 160GB and operates through a FireWire interface to archive and store vast amounts of audio, video, graphics, image, web, and presentation files.
The best way to transfer images from a digicam to your hard drive is with a card reader. SanDisk offers a family of three ImageMate dual slot readers that work with CompactFlash and one other format, with the second choice being SmartMedia, Memory Stick, or MMC/SD. SanDisk's 1GB CompactFlash card is designed to store a variety of file types, such as video, still images, or music, but for digital photography, they recommend the Ultra CompactFlash card that's specifically designed for high-performance digital cameras and has a sustained write speed twice the rate of the company's standard products.
Memorex offers a USB-based 6-in-1 Universal Card reader that can read and write all of the current solid state memory card formats including Memory Stick, CompactFlash (Type I and II), Smart-Media, SecureDigital, and MultiMedia-Card. The Mac OS and Windows compatible Universal Card Reader has a price of $59.99.
SimpleTech's key chain-sized card readers accommodate all of the commonly available memory card types and plug directly into your computer's USB port, thus eliminating the need for cables, batteries, or external power source. The readers are compatible with computers running Microsoft Windows 95, Mac OS 8.1, or newer versions of each OS.
Delkin Devices has a 6-in-1 Reader/Writer that supports all current memory card formats and is available as an external hockey puck-shaped device or an interval version, which should be a great space saver for most digital photographers' desktops.
Digital Tools And Accessories
Image management, album, and slide show programs were everywhere at PMA, emphasizing the fun of what to do with digital images after you've captured them. One of the most fun programs I've used in years is PhotoParade, which combines animation, graphics, music, and narration with your own digital photos to produce entertaining slide shows and screen savers that are compatible with Mac OS and Windows computers. Music fans will be glad to know that Callisto Corporation added support for MP3 music files in Version 3.0.
SmARTlens Corporation offers a sophisticated yet easy to use image management/storage software program called SmARTfolio. The user experience is designed to be similar to sitting at the kitchen table working with photos, albums, and photo corners. The package includes lots of album designs and simple editing tools. You can add text or send the finished project as e-mail.
CrazyTalk is a software tool for creating speaking animated characters from any digital image without the use of any additional hardware or software. Reallusion updated CrazyTalk and Version 2.5 adds several enhancements to simplify photo animations and produce professional-grade output. This is must-have fun software.
PhotoVisor 1.5 from SimVentions lets you add text and voice to digital photographs and arrange them to music. Collections can be saved into a Windows-based file format called PhotoVisor Album (PVA) that can be shared with family and friends.
Hewlett-Packard, who's been in the news these days probably more than they like, is offering an inexpensive ($24.95) program, called Memories Disc Creator, that's designed to allow photographers to create slide shows of their images complete with music that can be written onto a DVD disc and played through the DVD player connected to a TV set with no computer in sight.
Tiffen expanded its line of MegaPlus add-on digital lenses for digicams and DV cameras to include most popular lens diameters, such as 30mm, 37mm, and 43mm. The 37mm and 43mm models accept traditional Tiffen filters such as circular polarizers, UV, and special effects such as Star filters.
Hakuba has lots of new digital goodies including the best memory card holders I've found in both soft plastic or rugged metal models. If you're tossing your CompactFlash, SmartMedia, or Memory Stick cards into your camera bag, shame on you; get a Hakuba Digital Media Storage Case in silver, titanium, or colorful plastic, so you don't lose or damage them. The larger cases (under $12) come with an insert that lets you store a PC Card (PCMCIA) adapter. Their CompactFlash and SmartMedia Storage Wallet provide a soft solution to the same digital dilemma. Hakuba's Digital/Computer Organizer is a stylish carryall tailored in black nylon with multiple compartments for media, batteries, adapter, cables, and filters. It's an indispensable item for the travel photographer. Hakuba's filters for digital cameras include a ND4X, Circ-Polarizer, and Lens Guard. Each filter is available in five sizes and, like all Hakuba gear, is modestly priced.
Cokin lets you add special effects to your digital images without software with its Digi-Filter system that includes two filter holders designed specifically for digital cameras. Finished in a soft silver color, one looks identical to the standard Cokin "A" filter holder, while the other is an infinitely adjustable model that attaches to the bottom of point-and-shoot digicams. The system includes Digi-Accessories as well, including filters, hoods, and adapter rings, naturally called "Digi-Rings."
Digital Custom was a surprise, and I was impressed with their samples. They offer digital retouching of images from amateur to professional photographers. You upload your image file through their web site and tell them what you want. They return an estimate and if it's OK with you, they do the work and e-mail you a URL to download the finished image.
Printing Standards For Digicams
Just before PMA, the Japan Electronics and Information Technology Industries Association published the new Exif 2.2 (Exchangeable Image File) format standard. With Exif 2.2, print matching information such as contrast, saturation, sharpness, gain control, captured scene type, and digital zoom ratio used during capture will now become standard digital camera image parameters. Exif supports information that is useful for printing, embedded in a JPEG file header, although some imaging software, including Apple's iPhoto, removes this information if the image is modified in any way. Epson's Print Image Matching (P.I.M.) technology, which is part of Exif 2.2, ensures P.I.M.-enabled digital cameras and P.I.M.-enabled printers work together to create the best possible prints. With P.I.M., camera manufacturers can set critical image specific parameters in the JPEG file for printing, such as gamma level, colorspace, contrast, sharpness, brightness, saturation, shadow point, highlight point, and color balance, to ensure optimum results for each digicam model. A complete list of P.I.M.-compatible products is available at www.printimagematching.com.
There are sure to be one or two digital products I missed at this most digital of all recent PMA shows, so stay tuned to upcoming installments of my Digital Innovations column to keep up-to-date with all of the latest news on digital imaging products.

FEATURED VIDEO