Fujifilm X-A3 Mirrorless Camera Review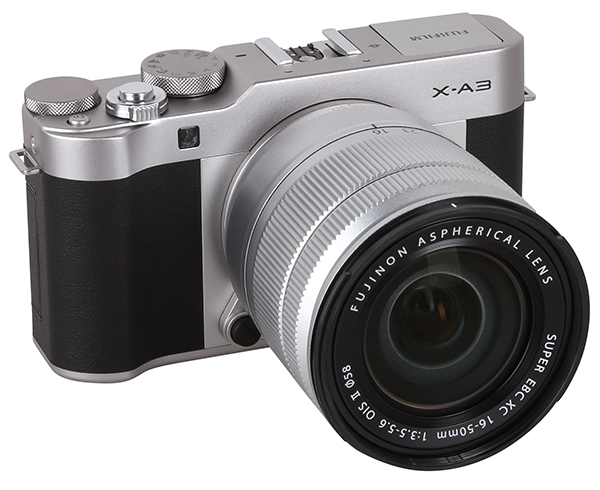 (Editor's Note: Lab Review lab tests and comments are supplied by BetterNet, Shutterbug's TIPA-affiliated testing lab and edited by George Schaub. TIPA is a worldwide association of photo and imaging magazines.)
The retro-styled Fujifilm X-A3 is the latest in the company's X-A Series mirrorless cameras. The Fuji X-A3 is a more affordable option for those interested in a mirrorless interchangeable lens system camera that also includes some features found in the company's premium product lines.
Features, Build & Handling
The Fujifilm X-A3 has a retro design and is very compact with an updated 24MP CMOS sensor, image processor and AF system. The X-A3 also includes a special "eye detection mode" in its face detection feature, allowing the photographer to choose the subject's right eye or left eye; to have the camera choose automatically; or to turn the feature off. The company's claim that the camera is "selfie-optimized" is backed up by an extended AF system in part dedicated to that end.
Composing, focus and image parameter controls are solely through the Fujifilm X-A3's large LCD; there is no optional EVF finder available for this model. The updated LCD finder has 1.04 million RGB-dots and is touch sensitive and "gestural", a la smartphone controls, including a single tap for focusing and shutter release and swiping to playback and move through saved images. In our tests we found touch focusing very fast and accurate, with few problems other than when shooting in extremely low lighting conditions.
We also found the Fujifilm X-A3's continuous shooting mode performed well—up to 6 frames per second in full resolution at up to ten frames in sequence. If the photographer chooses a slower framing rate--approximately 3fps –the camera can capture to 50 images in a row. The shutter system cooperates fully with mechanical shutter speeds up to 1/4000 sec and electronic shutter speeds up 1/32,000 sec. For still and video selfies the screen tilts upwards 180 degrees: in addition, when thus positioned the vertical command dial turns into a shutter release button.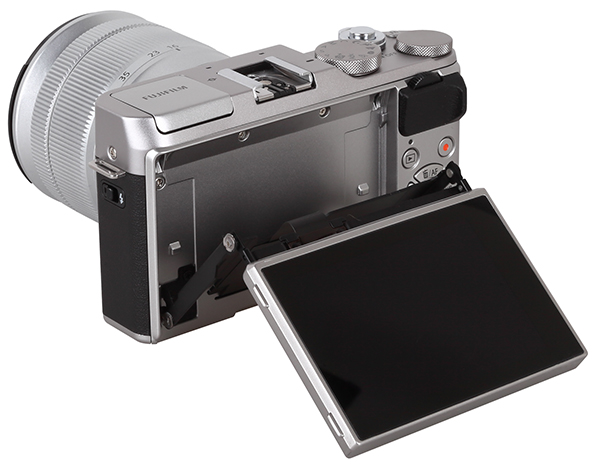 The Fujifilm X-A3 offers a variety of shooting modes and numerous electronic helpers. Most are easily accessible via the main dial on top of the camera. Next to the classic P/A/S/M mode options there's an Advanced Mode for creating pictures with special effects or even for multiple exposures.
The Advanced SR AUTO Mode on the Fujifilm X-A3 is like full Auto that optimizes shutter speed, aperture and other settings "recognizes" 14 scene types and selects the most appropriate settings. Another option is SP Mode, a shortcut to scene modes like landscape, food or portrait. To get there even faster, typical scene modes such as Portrait, Sport, Night and Landscape are accessible directly via the dial mode. Finally, there's a Custom Mode to save preferred camera settings. There is no direct Video option (see Video comments that follow).
Comments on Image Quality
Color: The Fujifilm XA-3 reproduced the color test chart with an average saturation of 114 percent, thus images are slightly over saturated. Red and blue nuances are boosted the most, although images look natural with a slightly cool touch. The automatic white balance system displays a slight shift to blue and magenta, although nothing is out of bounds. Bright skin tones shift bit into the magenta area, with somewhat boosted pink tones. Dark skin tones shift to red and yellow thus are somewhat warm. Color differentiation is good except for very saturated reds, which can in some instances lose textural detail.
Sharpness: The Fujifilm X-A3 reached very high results in our resolution tests. It reproduced the ISO 12233 chart with 3814 of 4000 lines per picture height (nominal resolution of the sensor is 6000 x 4000 pixels). The test-image of the chart is very clear with accurate contrast and clear lines with no clipping warning. The portrait shot, on the other hand, shows accentuated contrast, so the model's face looks very clear and sharp. But very fine details, like the model's hair, show a slight lack of resolution.
Noise: Despite the fact, that the Fujifilm X-A3 don't uses an X-Trans-Sensor, the camera performed very well in the noise tests. Its ISO range is from ISO 200 to ISO 6400 (expanded range is ISO 100 to ISO 25,600). Up to ISO 3200 the luminance noise level stays below 1.0 percent; at 6400 it reaches 1.12 percent. Color noise is nearly invisibly because it's suppressed up to ISO 6400. This suppression is very discreet up to ISO 800. At faster ISO settings it's similar to film grain. From ISO 1600 and up small artifacts appear but details and contrast lines stay visible and distinguishable.
The dynamic range tests show good results. The camera achieved its maximum at ISO 400 with 11.2 f-stops. Overall, the dynamic range reaches from 9.86 f-stops to 11.2 f-stops, with 10.8 f-stops at ISO 6400.
Video Formats and Handling
The Fujifilm X-A3 offers standard video features. There are no high-end modes but overall the camera yields very good quality video in a quick and easy way. The recording options are simple and clear: recording is possible in HD (1280 x 720 pixels) and in Full HD ( 1920 x 1080 pixel), both with 24, 50 or 60 frames per second. At first glance these seems to be no reason to choose the lower-res HD mode; however, specs reveal that maximum recording time in HD is 27 minutes while in Full HD is 14 minutes. Movies are saved to MOV files with H.264 compression.
Videos can be recorded using different exposure modes and uses the parameters set in the photo mode. If changes are desired during recording the lack of a video mode dial means changes like aperture size or shutter speed have to be made while recording has already begun. Interestingly, the ISO setting in the photo mode made prior to recording ignores the selected ISO speed, which must be chosen in a separate operation using the video menu. Also, the ISO is limited to ISO 400 at the lower end.
Despite this bit of awkwardness, initiating video recording is made very easy by pressing the record button on the back of the camera and we feel that the targeted user of this camera will in all likelihood not be put off by the above. One other attractive feature is that the sensitivity of the microphone can be adjusted.
Comments on Video Quality
The measured resolution of the Fujfilm XA-3 is very good. In Full HD mode it recorded the ISO 12233 test chart with 1043 of 1080 lines per picture height. However, this result is achieved with heavy electronic support that results.
In strong contrast, accentuated lines and saturated colors. The processor does a very good job in correcting most of the possible moiré effects and produces videos that are lively and contrast-rich, albeit a little bit artificial looking.
Video color reproduction is similar to that found in still photo mode. Colors were reproduced very exactly with some exceptions in the reds and blue tones, which shift a bit in the darker shades. The gray test pattern shows a slight shift into cooler areas but skin tones are reproduced very well.
The noise tests showed very good results, thanks to the image processor, with noise factors below 0.5 percent. Dynamic range is similar to the photo mode result: the measured f-stops range from a maximum of 10.2 stops to 8.28 stops at ISO 1600.
Pro:
+ Good image quality
+ Many helpful modes for amateurs
+ Fast and simple operational concept
+ Very compact
Con:
- Closely packed buttons
- Missing viewfinder
The Fujfilm X-A3 sells for $599 as a kit with a with the XC 16-50mm f/3.5-5.6 OIS II lens. More info here.
(Lab Review is where we publish web-exclusive lab reports on cameras. To read more Lab Reviews, click on the Reviews tab on the top navigation bar of this page. New photo gear reports are published frequently, so check Reviews for more equipment evaluations from Shutterbug writers.)

LATEST VIDEO