Fujifilm X100s Camera Review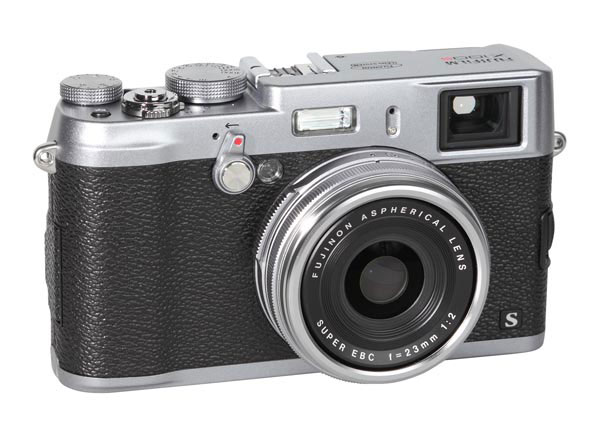 Fujifilm's X100s follows the X100 and offers enhanced imaging features and functions. The most important difference is the new sensor--the X-Trans CMOS sensor uses aspecial RGB mosaic pattern and offers higher resolution compared to the sensor in the X100. The new sensor has special mirco lenses that result in a very sharp and brilliant image, which is then enhanced further with the camera's new EXR II image processor.
The new RGB pattern used by this sensor requires new de-mosaicing-algorithms. Adobe Photoshop CS6 and Lightroom offer these in their updated Camera Raw Plug-in 7.4 and Lightroom 4.4.
The X100s has a high quality, largish body and is designed like a classic analog rangefinder. A lens ring is ued to change aperture size (f/2.0 to f/16). For shutter speed settings it offers a large dial on the top, which allows the user to select full EV-steps (1/15s, 1/30s, 1/60s); 1/3EV intermediates (1/20s, 1/45s) can be achieved by using the setup dial on the back. If the shutter speed dial and aperture lens ring are set to "A" the camera will work in P-automatic mode. By changing one of these exposure parameters the photographer can work in shutter-priority or aperture-priority mode – or in full Manual.
A second dial on the top allows for EV compensation by +/- 2 EVs. This is a very handy and comfortable control. A user defined function button (FN) offers fast access to ISO speed settings, for example. Using the Q-button on the back allows the photographer to change all image parameters (ISO speed, WB, JPEG compression, film simulation mode, aspect ratio and more) very quickly.
The camera offers a 2.8 inch LCD screen with 460,000 RGB dots; it should be noted thatother current high-end cameras offer larger LCDs with higher resolution. Instead of using the LCD screen the photographer can use the "hybrid viewfinder" of the camera. It is an optical viewfinder with electronic overlays of, for example, the shutter speed settings. In addition, the hybrid viewfinder can be used as an ELV (electronic viewfinder). One added benefit of this viewing mode is the inclusion of the EVF's "magnifier" (an electronic loupe function) that aids when focusing maunually. The electronic viewfinder function can also be used as an image reviewer and is an aid when shooting movies, which the camera does in Full HD at up to 60 frames per second.
Comments on Image Quality
Color: The Fujfilm X100s creates images with lower saturation than most other APS-C sensor size cameras. The mean/average saturation is 95.92% . When reproducing the color test chart the automatic white balance causes a slight shift into the cooler color areas. The average level of difference between the image colors and the given values of the calibrated charts are on a low level. Only green/bluish hues show an aberration worth mentioning. Skin tones are reproduced very nicely. Dark skin tones are perfectly matched; brighter skin tones have a slighly high magenta rate.
Sharpness: The camera offers very crisp and detail-rich images. The test chart was reproduced with 3027 lines in picture height, which is nearly the nominal sensor resolution of 3264 lines in picture height. The electronic sharpness filtering is on a low level and therefore even extreme contrast lines have a natural look without halos on contour lines. The differentiation of red nuances could be a little better, but is still on good level.
Noise: The results in our noise tests are excellent. The luminance noise remains on a low level at all ISO speed settings, even at ISO 6400. More important is the very good color noise filtering. The curve in our "pixel noise" test result shows congruent characteristics for all three RGB channels. This means that there are only a few noise artifacts noticeable in images taken with the X100s.
The dynamic range results are very good: The camera offers a maximum of 11.4 f-stops and keeps this high level up to ISO 3200 setting (10.4 f-stops).
Price: With 23mm f/2 fixed lens: $1299.
Contact: www.fujifilmusa.com
Pro
+ compact camera in stylish retro design
+ superb image quality due to very good lens system
+ hybrid viewfinder can be used as optical viewfinder with additional overlay information and as an imagereview monitor
Con
- missing swivel monitor
Image Tech lab test and comments by Betternet, Shutterbug's TIPA affiliated testing lab. Edited by George Schaub. For more lab test reviews click here: http://www.shutterbug.com/category/image-tech.

LATEST VIDEO